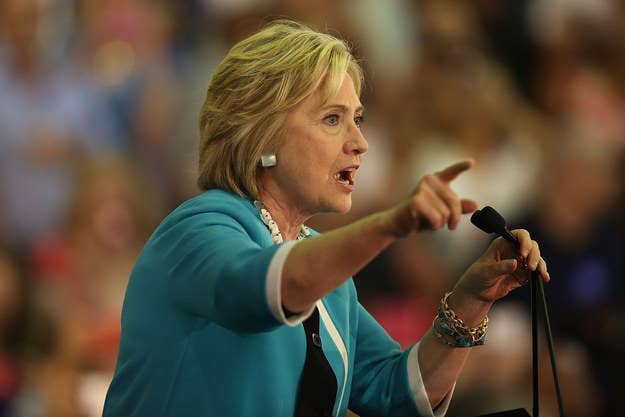 The day after the shooting that killed nine people at Oregon's Umpqua Community College, Hillary Clinton called for a "national movement" strong enough to rival the National Rife Association, which she described as "an intense, dedicated group" of gun lobbyists who "scare politicians and say, 'We will vote against you.'"
Clinton, who has made new gun restrictions a regular feature of her speeches on the campaign trail, addressed the shooting at a rally in Florida on Friday.
In other recent appearances, Clinton has advocated specifically for universal background checks on gun-buyers — an initiative that failed in Congress under President Obama.
The deaths in Oregon on Thursday amounted to the 45th school shooting this year, according to the gun control group Everytown. At her campaign event in Florida, Clinton invoked past mass shootings, saying, "People should not have to be afraid to got to college like this one, or go to the movie theater, or go to bible study."

"What is wrong with us that we can't stand up to the NRA and the gun lobby and the gun manufacturers that they represent?" she said to cheers from the crowd.

"Here's what the other side counts on," Clinton said. "They count on really having an intense, dedicated group that scare politicians and say, 'We will vote against you.'" Republicans, she told supporters, "put the NRA ahead of American families."
Clinton promised that, if elected, she would "never relent" in trying to pass new gun measures. She acknowledged that passing new measures — which Obama was unable to do even in the aftermath of the mass shooting at Sandy Hook Elementary School — would be what she called "a political mountain to climb."
"But you don't get anything done in this country if you don't start by calling it out," Clinton said. "We need to make every politician who sides with them to look into the eyes of parents whose children have been murdered and explain why they listened to the gun lobbyists instead."
What Democrats need, she said, is a "national movement" to pass "new, effective gun control measures," like her husband President Bill Clinton's in the '90s. "There are a lot of ways for us to have constitutional, legal gun restrictions. My husband did. He passed the Brady bill, and he eliminated assault weapons for 10 years. So we're gonna take them on. We took them on in the '90s. We're gonna take them on again."