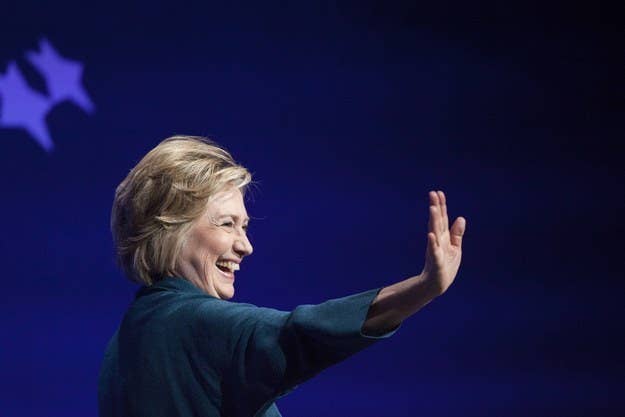 Hillary Clinton has added another stop to her upcoming book tour: a two-hour event at a Costco warehouse in Northern Virginia's Pentagon City.
Clinton appeared at the same store in 2003, while promoting her first memoir, Living History. During that extensive publicity swing, Clinton spent hours in big-box stores like Costco, Wal-Mart, and Sam's Club, talking with every person who came to her table and signing books until her wrists needed icing.
On her swing through the country this summer to plug Hard Choices, her new memoir, Clinton may return to that same level of engagement.
Since stepping down as secretary of state early last year, Clinton has had limited interaction with audience members and fans at her public events. She has filled her schedule with paid speeches at trade groups, think tanks, and universities. At those venues, Clinton often disappears from view as soon as the speech is over.
Her book is said to focus on her four years at the State Department. But many expect the publicity tour to take shape as a preface to her possible presidential bid. Many Democrats hope Clinton will run for president in 2016, and she has said she'll make up her mind about another campaign before the end of the year.
The stop at Costco is scheduled for June 14, from 11 a.m. to 1 p.m., according to the store's "author signing" webpage. A Clinton spokesman confirmed the event.
Other stops so far scheduled for the Hard Choices tour include two appearances in Canada, one in Texas, and another in San Francisco.
Simon & Schuster, the publisher, has not released information about other stops.
The book has already sold through its first printing, pre-selling $1 million in copies, according to a brief in Politico's Playbook newsletter on Tuesday morning.
Hard Choices hits bookstores on June 10.