Hillary Clinton As Surrogate: More Like The Main Attraction
People left the room Thursday after Clinton finished her opening remarks for Gov. Andrew Cuomo. The former secretary of state continues workshopping a speech that could double for a presidential campaign.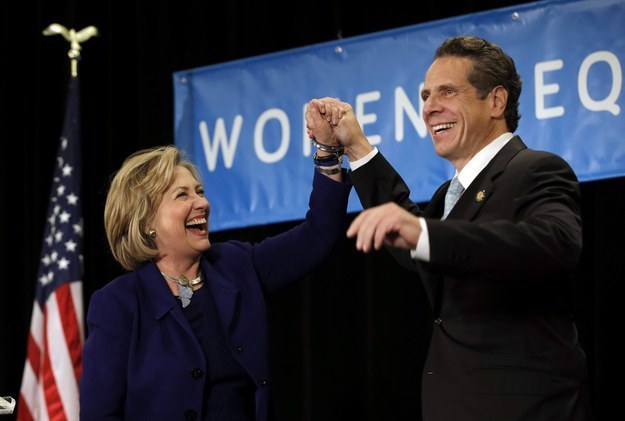 "This is the country where if you work hard, you can make it. And each generation is supposed to have it a little better than the one before."
"That's why I'm here today," Hillary Clinton said to an audience of hundreds.
"I want you to know how much I believe in electing Andrew Cuomo and Kathy Hochul," Clinton said.
Oh, right: the governor of New York and his running mate. Them.
It was easy to forget at the "Women's Equality" campaign rally on Thursday at a hotel in Midtown Manhattan that the crowd of 500 were spending their late workday morning in a banquet room for Cuomo, and not the former secretary of state.
At a string of rallies this month on behalf of Democratic campaigns, Clinton has often overshadowed the actual candidates. The dynamic is typical of the heavy-hitting surrogates who drop in on races to draw a crowd and raise hundreds of thousands.
But with Clinton, who appears closer than ever to another presidential run, the effect is more dramatic.
When Christine Quinn, the former speaker of the New York City Council, took the stage at the Cuomo-Hochul rally to make introductions, the crowd was tepid, responding somewhat half-heartedly to her listen-and-repeat routine.
"We need more energy in here, I can tell," Quinn said. But upon first mention of the "special guest," the audience came alive. When Clinton came on stage with Cuomo, someone screamed, "We love you, Hillary!" And at the podium, Clinton could not start her speech for about a minute because the "2016!" chants were too loud.
After Clinton finished her speech and Cuomo took the stage, about two dozen attendees could be seen exiting the Grand Hyatt banquet room.
Since returning to the campaign trail at the start of October, Clinton has attracted fevered supporters — and toyed with a stump speech that could double as a message to Democrats for her presidential campaign.
At each event, Clinton has made subtle tweaks to her remarks. But each speech has hardened around the same core issues: equal pay for women ("Let's not kid ourselves — we have not achieved equality"), raising the minimum wage ("a lot are working harder than ever to stay in the middle class…without a living wage"), and education and health care for working families ("our most vulnerable families have had the least support").
Clinton has filtered the policy message through a personal lens: her new granddaughter, Charlotte Clinton Mezvinsky, born late last month. She said she supported Cuomo "not just because I've known [him] for a long time." He served as Bill Clinton's housing secretary in the '90s. "It is because I'm now a grandmother."
"There is something about a new life in your family that really does focus you on the future, doesn't it?" Clinton said.
Cuomo, she said, was the "right leader at the right time with the right plan" — it's a line she has used in at least two other speeches, one for Tom Wolf, the gubernatorial candidate in Pennsylvania, and another for Mark Udall, the U.S. senator from Colorado. But the line — a more aspirational twist on the message of "experience" from her 2008 campaign — would work for Clinton next year.
The hometown crowd was particularly friendly to Clinton at the event in New York, where Clinton served for eight years as a U.S. senator.
But the same routine has played out in other states, too. At a rally in Pennsylvania — the first of her public midterms events — Wolf had to send Clinton off stage so that he could finish his speech uninterrupted by a screaming crowd.
"I'm the one running for governor," he said, seeming to be only half-joking.
After Cuomo spoke, telling the crowd he hoped Clinton would do "something really, really, really big" in the future, the former secretary of state stuck around for pictures for about 25 minutes, until the room had almost cleared out.
Cuomo spoke with a large gaggle of reporters near the front of the room. But on the other side of the banquet hall, as she moved around the room with a retinue of aides and secret service members, an even larger swarm crowded Clinton.