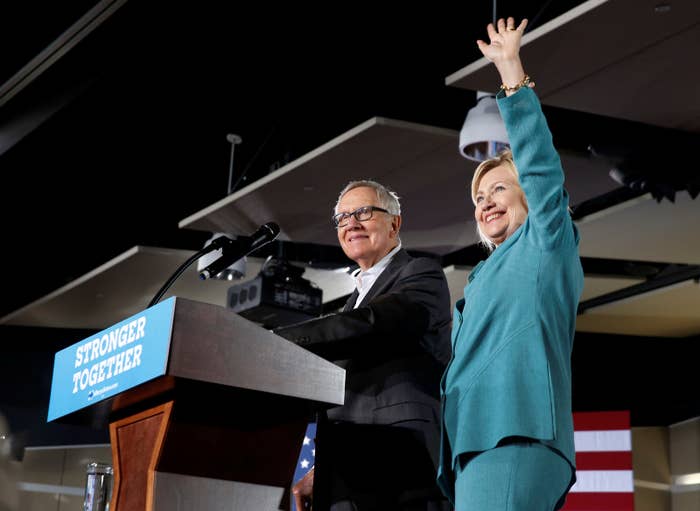 LAS VEGAS — Sen. Harry Reid warned Democrats to not get too cocky here on Thursday, just as Hillary Clinton is scaling back advertising in Virginia and Colorado, signaling the campaign's self-assuredness against Donald Trump in two cornerstone swing states.
"Don't be overconfident," the U.S. Senate minority leader told a crowd of 1,050, introducing Clinton at a union hall in Las Vegas.
As donors and officials in the Republican Party panic over Trump's last two weeks on the campaign trail, Clinton is set to suspend television ads in Colorado and Virginia, Politico reported Thursday. Priorities USA, the multimillion-dollar super PAC supporting Clinton, will also scale back ads in the two states.
National polls, meanwhile, show Clinton leading Trump by as much as double-digits.
Reid told reporters that while he worries about complacency among Democrats, he believes the Clinton campaign could make inroads in states that usually swing Republican, particularly Georgia and Utah, where voters are resistant to Trump.
"I think you're going to find that that's a wise decision," Reid said, when asked about the scaled-back advertising strategy. "I hope the map is expanded, it would be good for the country. That's why I think she's doing the right thing by not dumping all of her resources into Colorado and Virginia."
He volunteered Georgia, Arizona, and Utah as ripe ground for Clinton. The senator said he was "confident" that she would make the trip to campaign in at least Arizona and Georgia this fall.
President Obama, he noted, "never stepped foot in Georgia," but lost the state by about 8 points four years ago.
And Utah?
"Utah, Utah, Utah!" Reid told reporters in the back of the union hall. "They don't like Trump. He's their nominee. I know that's far-fetched, but I think [Clinton is] gonna be sending people up to Utah."