Gun Control Forces Should Take A Page From Immigration Fight, Top Democrat Says
Steny Hoyer predicts immigration will pass the House because lawmakers feel the pain on election day. "Democracy works."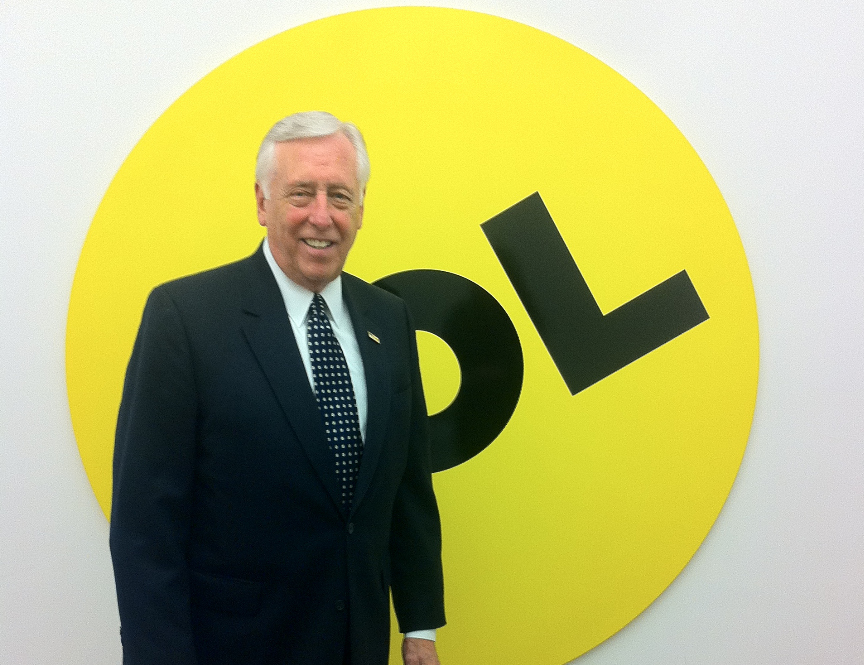 House Minority Whip Steny Hoyer has a blunt bit of advice for gun control activists: get your people to the polls to make lawmakers pay, and one day you may be in the place where immigration reform advocates now find themselves.
"There is a great voting activism for immigration reform," Hoyer said in an interview Tuesday afternoon at BuzzFeed's New York office. "There's public awareness on gun violence, but whether there is an activism behind it like there is with immigration — there's not as broad and active support, which makes a difference."
What pushed immigration to the top of the legislative list for President Barack Obama and for Congress, said Hoyer, was the call for immediate action on the issue following last year's election, in which 71 percent of Latinos voted for the president over Republican candidate Mitt Romney.
"Democracy works. Nor should we be cynical about that," said Hoyer, a veteran member from Maryland. "When a large group of people want something and come to the polls and vote that way, politicians take notice. That's what democracy is all about."
Hoyer added that with the kind of sweeping gun control legislation called for by President Obama — an ambitious package that would include a reinstated assault weapons ban, universal background checks on gun sales, and a 10-round limit on gun magazines — Congress would face the added difficulty of opposition from Second Amendment advocates like the National Rifle Association.
"You have people who oppose immigration reform but they're nowhere near as focused and energized [and] politically [influential] as the NRA," he said.
Of the measures proposed by President Obama, the magazine limit and background checks, said Hoyer, will fare the best in Congress. Asked if the assault weapons ban would have little chance of passing the Republican-controlled House of Representatives, Hoyer said, "I don't know that, but I assume it."
"The public will have an effect," Hoyer continued, adding that recent public opinion polling shows the vast majority of Americans — 91 percent according to a Quinnipiac poll this month — support universal background checks. "Assault weapons are less so in terms of public support," said Hoyer.
"I think [Senate Majority Leader Harry] Reid is not that all sure an assault weapons ban could pass the Senate," Hoyer said. "I think he does believe that magazines and background checks can."
But Hoyer doesn't see gun control having the same political ramifications for Democrats as it did in 1994, when Republicans used the razor-thin passage of President Bill Clinton's crime bill, which included gun control provisions, to take down moderate Democrats in Republican-leaning districts. "The environment has changed very, very substantially since 1994," he said.
Not only is public consensus shifting on issues like gun control and immigration, Hoyer argued, but internal divisions within the Republican Party — in which he said members are "locked into a very rigid ideology by the Tea Party" — may further aid Democrats in legislative battles and win them seats in the midterm elections next year.
"The Republican Party is a deeply divided party at this point in time, and our party is not a divided party" said Hoyer, citing Louisiana governor Bobby Jindal's remark last month that the GOP was becoming "the stupid party."
Hoyer maintained that Democrats would win back the House in 2014 — they'd need to pick up at least 17 seats to gain a majority — in part by retaining the 49 seats the party won last fall. "The 49 people that won are an extraordinarily strong group of people, which means I think we're going to be able to hold almost all of them," he said.
Meanwhile, said Hoyer, Republicans will continue to play out what he calls a "wonderful proclivity for self-destruction."
"Politics is not only about you doing well, but your opponent not doing so well," Hoyer said. "Like any athletic contest, sometimes you're hot and sometimes you're not — if you're hot and the other team's not, then we beat Duke. Go Maryland!"