Gillibrand Raises Money For Female Candidates — And Builds A Power Base
More than $1 million this cycle. Refighting old battles over women's rights "is not only frustrating, it's demeaning," she says.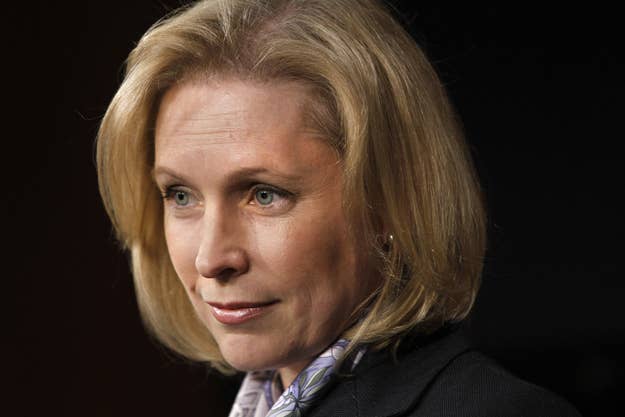 Over the weekend, Sen. Kirsten Gillibrand crossed the $1 million fundraising mark — not for her own cruising reelection campaign, but for female Senate and House candidates running races tighter than her own.
Gillibrand says that the push to raise cash for these women — in total, there will be 20 congressional candidates who will benefit, as well as five women running for Wisconsin State Senate — is a way of advancing "the women's movement as the solution."
"Whether you're looking at a tough economy or any problem, the solution is women," Sen. Gillibrand told BuzzFeed. "When we're electing fewer women, we're moving in the wrong direction."
Helping fellow party members ascend is a time-honored way of building your own power base in American politics, but Gillibrand's explicitly feminist approach marks a new twist on that project. She's become a kind of one-woman Emily's List, and appears likely to be in a position to collect on many debts of gratitude in the fall. But the junior senator from New York brushes off any connection to her own ambition, and argues that women's presence makes substantive changes to public life.
Gillibrand points, in particular, to the appointment of five women to the Armed Services Committee by Speaker Nancy Pelosi in 2006. "That changed the nature of the debate on the committee," said Gillibrand. "Gabby Giffords was the first person who said, you know, 70 percent of these men and women are coming home with post-traumatic stress disorder. She turned the focus toward the men and women fighting in these wars. It just creates a better outcome when woman are at the table."
Gillibrand has undeniably tapped into a rich and growing vein in American politics and campaign finance. Most of the money she's raised — $715,000 of the $1 million — has come from solicitations through emails alone, an aide said.
Gillibrand's campaign has sent out twelve emails in the last month, and only two have focused on the Senator's own record. More often, Gillibrand will ask her rolodex of supporters to donate directly to the campaigns of Senate candidates like North Dakota's Heidi Heitkamp, or to candidates running what Gillibrand called in an Oct. 14 email "super-tight House races against extreme Tea Party candidates."
"This is an issue I've cared about for a long time," said Gillibrand, who started a campaign in 2010 called Off The Sidelines that encourages women to run for office. But the Senator has become increasingly frustrated with the debate this year over women's right to contraceptives and equal pay.
"We have a huge problem when the third bill that was introduced [in the Republican-led House] was a bill that redefined rape," said Gillibrand, "and when we have a Republican nominee whose 'hero' is [Wisconsin Governor] Scott Walker, who just got rid of equal pay for women."
Enjoying a wide lead in her own race against attorney and Romney legal advisor Wendy Long — the most recent Quinnipiac poll has Gillibrand up 37 points — the New York Senator has had enough political legroom to become an aggressive Democratic voice in 2012.
At the Oct. 18 Missouri Senate debate, Sen. Claire McCaskill made no mention of her opponent Todd Akin's comments about " legitimate rape," but the following day, Gillibrand did.
"Akin is leading Claire by four points," wrote Gillibrand on Oct. 19. "This is after Akin's offensive remarks about everything from 'legitimate rape' to whether Claire is 'ladylike' enough to be a Senator. We absolutely have to do something about this."
And indeed, it's Gillibrand's anger — her anger about Akin, about the debate over women's health care, about the possibility Democrats won't have a single female governor in office after November — that drives her fundraising for female candidates.
"I think Todd Akin takes the cake," said Gillibrand. "The way he has demeaned women through his statements, though his actions, is incredible. These are the types of people we have in Congress."
Despite speculation that Gillibrand's fundraising efforts are part of a bid to head the the Democratic Senatorial Campaign Committee in 2014 — and even make a run for the presidency in 2016 — Gillibrand says no to both.
"She's not trying to be a lone wolf here," Communications Director Glen Caplin explained. "She's trying to support [DSCC Chair] Patty Murray."
Asked if she wants a greater leadership role in the Senate next year, she says simply, "No."
Gillibrand's campaign seems just as determined to deny the Senator has plans to take on more leadership. "She is very happy with the committee assignments she has," says Caplin.
(And at 45 years old, Gillibrand is still young. After being apponted to fill Hillary Clinton's seat in 2009, the former corporate lawyer hasn't been in the Senate but four years.)
Gillibrand has even mentioned publicly that she would support Clinton were she decide to run in four years. But Caplin adds that "privately she says all the time she hopes Hillary runs. Hillary is such a singularly important figure for her."
Gillibrand explained that those who speculate about her political ambition "may not know me well," she said. "This is just who I am. This has informed my life since I was a young woman. My whole life in politics has been defined by my grandmother."
Her grandmother, Polly Noonan, was a women's activist and mainstay in Albany politics under Mayor Erastus Corning. Noonan ran a grassroots organization whose mission was to engage women in the area.
"Women are tired of fighting the battles that they thought their mothers and grandfathers had won," said Gillibrand. "It's not only frustrating, it's demeaning."