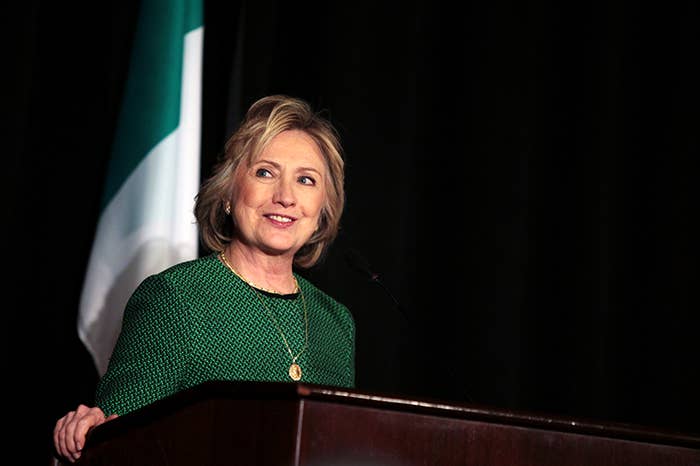 Hillary Clinton has a growing team of strategists and advisers who are already building her all but certain presidential bid — but they have been and will be working strictly as unpaid volunteers until the campaign's formal launch.
An undisclosed number of future staffers, including those in line to serve as top aides, have worked for free ahead of an expected spring announcement.
Those future staffers, and subsequent hires, will be paid for work rendered after the formation of a campaign entity, sources close to Clinton confirmed. (The Federal Election Commission also gives potential candidates who decide to run a 15-day window before they must declare. Staff could be paid for that period.)
Nick Merrill, a Clinton spokesman, said the former secretary of state is technically in the "testing the waters" phase of a campaign. In that period, as defined by the FEC, potential federal candidates may explore the feasibility of a run — with such activities as polling or travel — without announcing.
"She hasn't made a decision about running. She is currently 'testing the waters,' as the Federal Election Commission calls it," Merrill said on Monday night. "Like anyone considering running for office, she has the support of many individuals who have agreed to volunteer their time to help her make this decision."
Expenses that Clinton has incurred during this period have been paid out of pocket, a source familiar with the likely campaign said. Under federal election law, if Clinton does make her candidacy official, those expenses will be reported.
The bevy of high-level operatives who have been working on a volunteer basis is a testament to the draw of a Clinton campaign — and to the sparse field of candidates on the left: The former secretary is the only game in town for most Democratic operatives looking to work on a presidential race this year.
Just one Democrat, former U.S. Sen. Jim Webb, has opened a presidential exploratory committee. Martin O'Malley, who recently finished his last term as governor of Maryland, has only said he is considering a White House bid.
Clinton does not hold public office or maintain an established political entity, unlike the Republicans expected to run. Former Florida Gov. Jeb Bush launched his Right to Rise leadership PAC in January of this year and has used it to hire staff. Wisconsin Gov. Scott Walker also set up a committee, Our American Revival, that same month. Others, like Sen. Rand Paul, have had associated PACs since before the 2016 cycle began.
It is not clear how many staffers are now working for Clinton as volunteers.
In recent months, the names of senior aides advising Clinton have steadily leaked to the press. Some, such as pollster Joel Benenson, maintain their own firms representing other clients.
Robby Mook, the strategist set to manage the campaign, was said to have helped Clinton's office on political matters last year, while also working as a consultant to other groups. State and federal filings show Mook was paid during the 2014 cycle by the Democratic Governors Association, a PAC supporting Sen. Mark Warner, and a PAC for Gov. Terry McAuliffe, the longtime Clinton fundraiser whose Virginia gubernatorial campaign Mook successfully managed in 2013.
Mook's longtime campaign partner, Marlon Marshall, is also helping the Clinton team. After leaving his job at the White House in January, Marshall returned to 270 Strategies, the consulting firm he co-founded.
Senior and mid-level staffers for other departments, including finance and communications, have been brought onto the campaign more recently.