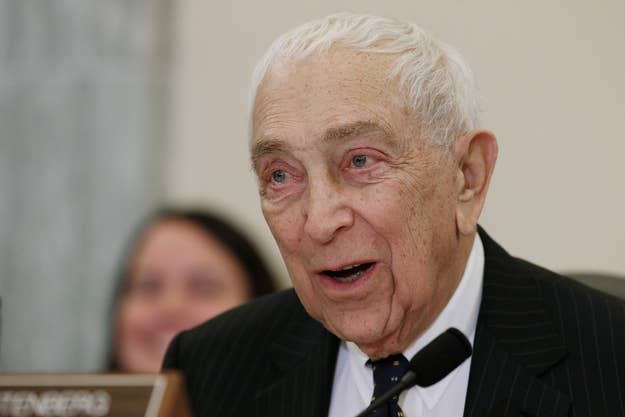 New Jersey voters will have a chance to vote for a successor to Sen. Frank Lautenberg, who passed away Monday morning, on Election Day this November, though Gov. Chris Christie could schedule a special election earlier if it is deemed "advisable," according to New Jersey law.
That will kick New Jersey's Senate race into high gear in the coming days, particularly on the Democratic side where Newark Mayor Cory Booker and Rep. Frank Pallone, who has not announced his campaign, have for months been prepping for a potentially bruising primary battle.
Booker announced his interest in replacing Lautenberg last December, before the senator had even announced his retirement — a move that roiled many in the state party apparatus, including Lautenberg.
Booker had previously said he wouldn't announce his Senate campaign formally until after this year's governor's race, in which he is a prominent surrogate for state Sen. Barbara Buono, Christie's Democratic challenger.
But the race to fill Lautenberg's seat this year, now accelerated, will push the Booker campaign into action months ahead of schedule. Pallone, a New Jersey Democrat long thought to be interested in Lautenberg's Senate seat, will also have to decide whether or not to launch a campaign.
Meanwhile, Christie could look to install a placeholder Republican in the interim, according to state law.
New Jersey statute 19:3-2 states the following:
19:3-26. If a vacancy shall happen in the representation of this State in the United States senate, it shall be filled at the general election next succeeding the happening thereof, unless such vacancy shall happen within 70 days next preceding such election, in which case it shall be filled by election at the second succeeding general election, unless the governor of this State shall deem it advisable to call a special election therefor, which he is authorized hereby to do.

The governor of this State may make a temporary appointment of a senator of the United States from this State whenever a vacancy shall occur by reason of any cause other than the expiration of the term; and such appointee shall serve as such senator until a special election or general election shall have been held pursuant to law and the Board of State Canvassers can deliver to his successor a certificate of election.
Lautenberg, the veteran Senate Democrat, passed away early Monday morning at 89 years of age. He died at New York-Presbyterian Hospital from viral pneumonia at 4:02 a.m., his office said.
Lautenberg had been considering a reelection bid for what would have been his sixth term, but decided in February that he would retire following this term.
A special election, particularly with a character like Booker, will inevitably distract from the gubernatorial contest between Christie and Buono, who is trailing the popular incumbent governor by 30 points and needs all the party support she can rally from inside and outside the state. But what Buono will lose in visibility, she could gain in turnout with Booker's name on the ballot.
Christie has not announced yet how he will proceed.
This post has been updated.