Frank Lautenberg Retires To Avoid The "Silly Season"
A decision, made in the last 24 hours, to protect his legacy. The Senator is "very upbeat" about finishing his fifth and last term, says a source.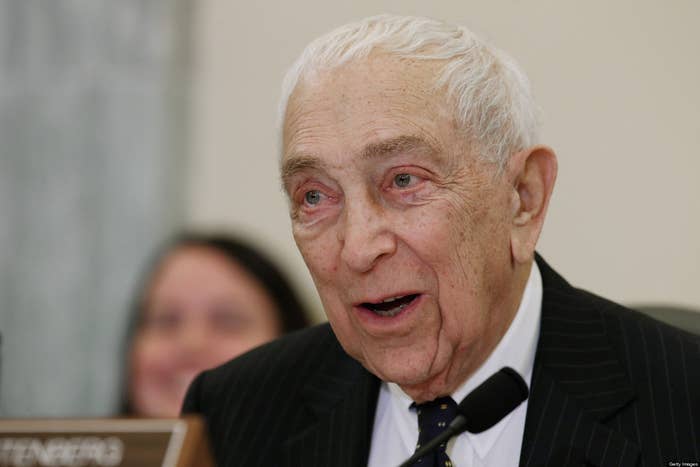 Frank Lautenberg, New Jersey's 89-year-old U.S. Senator, announced Thursday afternoon that he would not seek re-election in 2014 — a decision he made only in the last 24 hours and intended to preserve his legacy, a Democratic source close to him told BuzzFeed.
"There's been conversation going about this for quite a while, but he got closer this week to making that decision. There wasn't one thing that prompted it" said the Lautenberg source. "In the last 24 hours, he just reached that point. Things started rolling in motion this morning."
When the Senator announced his plans to staff and confidantes Thursday morning, the message was "very upbeat," said the New Jersey Democrat. "It wasn't filled with nostalgia. It was all about the future, and the next two years. He is committed to putting the same intensity and vigor into the rest of his term as he's had his entire career."
Within minutes of Lautenberg's public announcement, reported first by the Star-Ledger, the Senator's colleagues in the state — including New Jersey Democratic Chairman John Wisniewski and Congressman Frank Pallone — were ready with their own statements for the press.
Lautenberg will formalize his decision to retiree at an event Friday in his hometown, Paterson N.J., where the tenor of the occasion will focus on "the Senator's accomplishments, not the politics," said the source, referring to hyped-up media attention surrounding Lautenberg and Newark mayor Cory Booker, who announced in December that he'd "consider" a run in 2014 for the senior Senator's seat.
A potential Lautenberg-Booker primary was attracting a level of scrutiny from the press that could distracted from the legacy the Senator very much wants to preserve as he concludes his fifth term.
"Once he reached that personal decision, this was a good time to do it," said the Lautenberg confidante. "It allows him to focus on the term and full two years in front of him without the distraction of the silly season."
In tandem with the retirement announcement, Lautenberg's office released an extensive 13-page document titled, "A Record of Accomplishment."
"It's important to make sure that story is out there, and that that story gets told. He really is a true American story," said the source, pointing to Lautenberg's service in World War II — he will be the last sitting World War II veteran in the U.S. Senate — and to what the document calls his "historic five-term Senate career."
Lautenberg spent Thursday afternoon in his Washington, D.C., office, making phone calls to "colleagues in the Senate and people across the board," said the source. "He's taking a lot of phone calls and getting a lot of phone calls."
With regards to the timing of the announcement, the Lautenberg confidante said only, "There's not that much to it. People will try to draw theories. What is clear that he was going to do things on his own terms, when and how he wanted to. That's what this displays. He decided that now was the time he wanted to do it, and so he did it."
Asked if Lautenberg would support Mayor Booker in his run the Senate seat, the source noted that the race is still more than a year away. "I think there's a long way to go before that decision is made. There's a governor's race first, so there wouldn't be any reason for anyone to be making any endorsement," the Lautenberg source said.
Pallone, who has served New Jersey in Congress for 20 years, has long expressed interest in succeeding Lautenberg, but only when and if the Senator decided to retire, showing a particular deference to his colleague that Booker never did. (Without Lautenberg in the field, though, the Congressman faces an uphill battle against Booker. Recent polling by the liberal group, PowerPac, has Pallone with 8 percent of the vote, compared to Booker's 48 percent.)
"When the dust settles," the source added, Lautenberg will give his endorsement.