Frank Lautenberg Aide Slams Cory Booker For "Morning Joe" Interview
"Booker is stealing [Lautenberg's] ideas and marketing them as his own," an aide charged.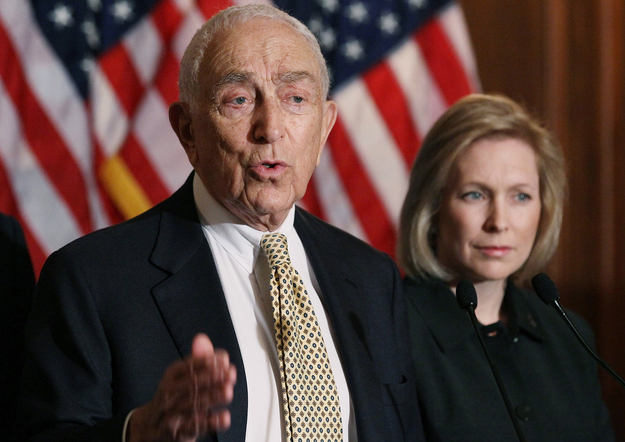 The latest sticking point in the intra-party war between Cory Booker and Frank Lautenberg — whose Senate seat the Newark Mayor intends on running for in 2014 — is an appearance Monday morning by Booker on the MSNBC show, Morning Joe.
An aide to Lautenberg told BuzzFeed that the mayor spent the morning on set touting Lautenberg's gun control legislation without giving proper credit to the senior Senator.
"Instead of giving Senator Lautenberg credit and showing him the respect that he's earned, Mayor Booker is stealing his ideas and marketing them as his own," said the Lautenberg aide.
On Morning Joe, Booker urged Congress to close gun sale loopholes that allow United States citizens to purchase guns without background checks at gun shows. The Mayor also said that people on the country's "terrorist no-fly list" should be banned from purchasing guns.
"If you were on the terrorist no-fly list, you can't get on a plane, but you could go to gun shows in America, you can go to the private market, internet sales and buy trunkload full of weapons," said Booker on the show.
The aide pointed out that both policy initiatives have been championed by Lautenberg for years. In 2007 and in every subsequent Congress, said the aide, the Senator introduced legislation that would ensure terrorists be banned from purchasing firearms and explosives. And a bill to close the gun show loophole was introduced by Lautenberg as early as 1999.
In a press release Monday morning, Lautenberg urged Vice President Joe Biden's task force to include in their recommendations to the president his bills on the two gun control measures mentioned by Booker, as well as an additional bill that would ban high-capacity magazines.
The charge from the Lautenberg aide that Booker is "stealing his ideas and marketing them as his own" points to the tensions bubbling up between the two New Jersey lawmakers.
Although Booker continues to talk about his Senate run as a mere "possibility," the uncomfortable dynamic has become increasingly bitter in recent weeks.
Sources in the state told BuzzFeed earlier this month that Lautenberg was offended by the challenge from Booker, and a Lautenberg aide told Politico last week that Booker's choice to run for the Senate seat was "shameful."
Booker, meanwhile, tried on "Morning Joe" to deflect attention from his Senate run. "The focus right now, frankly, for all of New Jersey should be our two Senators," he said. "We should be supporting Frank Lautenberg, supporting Bob Menendez. And me, I have a big job to do here in Newark."
Lautenberg will likely decide before June of this year whether he will retire or run for re-election and face Booker in a Democratic primary.