Evangelical Group Calls For Path To Citizenship, "Biblical Approach" To Immigration Reform
A radio ad buy across four states this week while Congress is home on recess. "As Christians, we should be known by our love," says Castellanos.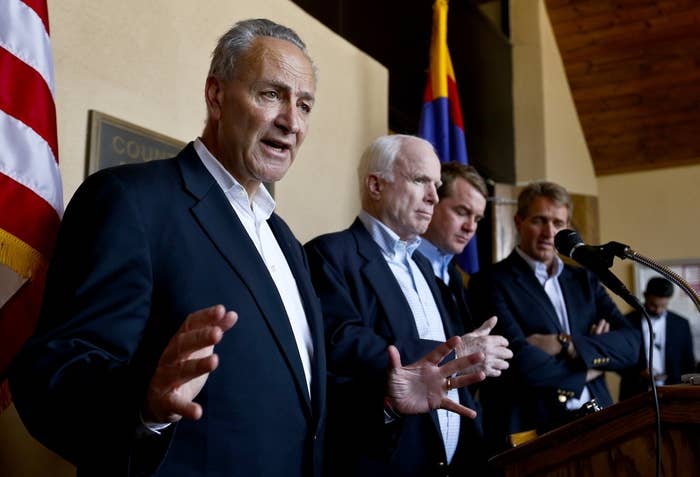 The Evangelical Immigration Table, a group of Christian leaders and pastors lobbying for an immigration reform package that includes a pathway to citizenship, announced the launch of a radio campaign that will run ads across four states to reach members of Congress in their home districts this week while on recess.
The group, founded last summer, will run the ads on Christian radio stations in Texas, Colorado, North Carolina, and Florida, to advocate for a "biblical approach to this very complex issue," said Rev. David Fleming, a pastor and member of the Immigration Table, on a conference call Tuesday with reporters.
The ad buy is part of a "six-figure campaign targeting evangelicals through Christian media," said Noel Castellanos, who heads the Christian Community Development Association. Last month, the organization ran a similar radio ad in South Carolina.
Evangelical leaders framed the immigration reform movement as a moral question that falls in line with the Bible, specifically the verse, "I was a stranger and you welcomed me," from chapter 25 of the Gospel of Matthew. "It is impossible to read the scriptures and not conclude that how we treat the stranger among us is very connected to our Christian faith," said Castellanos.
"As Christians, we should be known by our love," he added. "Our dysfunctional immigration system breaks up families and causes suffering."
Richard Land, a leader of the Southern Baptist Convention, said the Immigration Table campaign does not cast support "behind any one plan or any one political figure." The object of the campaign, rather, is "to lift up the moral issues at stake in this debate — and they are profound," Castellanos said.
Fleming cited a shift in opinion on the question of earned citizenship for the 11 million undocumented immigrants in the United States.
"We see the immigrant as a person created in the image of God. They're husbands, they're wives, they're parents, they're children," said Fleming. "We have a system that just isn't working, and is not only ineffective and inefficient, it's unfair and unjust."
But members of the group also acknowledged the large numbers of Christian conservatives who oppose a path to citizenship or stay out of the immigration reform debate altogether. A study out last week from the Pew Research Center found that 58% of white evangelical Protestants believe immigrants "threaten traditional American customs and values."
Castellanos argued that evangelicals who oppose immigration reform have been "listening to the voice of the extreme."
"As more of these pastors and conservative Christian leaders continue to speak out and educate on this issue, people go, 'OK, I get it. That makes sense,'" Castellanos said.