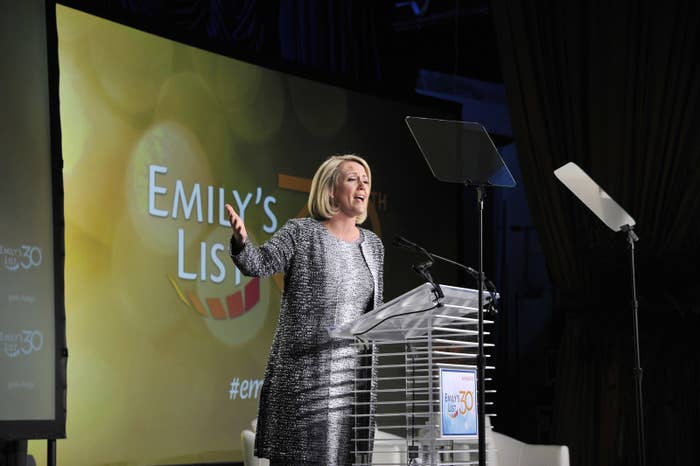 At EMILY's List, officials are tearing down a wall in the Washington headquarters, adding enough space for a new conference room and another 25 to 30 staffers. On the campaign team, they've nearly tripled their state and local staff. And for the first time, they've built their training program into a stand-alone department, adding a new role for vice president of training, and a spot on the senior leadership team.

For the 32-year-old organization, founded with the mission to recruit and elect pro-choice women, Donald Trump's presidency has marked a record level of political engagement — and a rush to meet the moment at a new and uncertain scale.

"This is it," said Stephanie Schriock, the president of EMILY's List. "I almost feel like we've been practicing for three decades for this moment."
The reason for that, and for the recent efforts to expand key programs, is this: In the nine months since the election, more than 16,000 women have reached out to EMILY's List to inquire about running for office, many of them first-time candidates new to politics. In the two-year period from 2015 to 2016, the group heard from a total of 920 women — a record-setting number at the time. "That was our Hillary bomb," Schriock said. "That was an amazing year for us."
If 2016 was supposed to be the year that electrified women with Hillary Clinton's historic campaign, then either that didn't happen outright or something extremely unusual has happened since her loss. In the span of a few weeks, the health care debate on Capitol Hill sent "another thousand requests" rolling into the website portal, an official said.
"It grows by 20 to 50 people a day."
The explosion of interest has nevertheless come at a tense moment for Democrats, who continue to sort out the party's ideological and organizational future after a divisive 2016 primary campaign and devastating presidential loss, with record electoral deficits at the state and local level. Even in recent weeks, amid headlines about Trump, Russia, and the failed Republican health care effort, Democrats managed to make their own — fighting over a new slogan, and opening a tense debate over who stands where on the idea of a "litmus test" in the party on the issue of abortion.

Schriock, a campaign veteran who took the helm of EMILY's List in 2010, succeeding founder Ellen Malcolm in the group's first leadership change, said that 2017 will change the "size and scope" of its work, but not the work itself. That revolves largely around the idea of a "pipeline" of women in politics, recruiting and advising candidates early on. ("EMILY" stands for "early money is like yeast.")
Of the 16,000 women who have contacted EMILY's List, half are under the age of 45, according to Schriock. "These are women who are going to be running for decades to come." At the least, she said, these women have crossed over what the group sees as its biggest recruiting obstacle: "a woman saying, 'Yes, I am interested in running for office.' That's so much of what we do. We sit down at the table and say, 'Just say yes. Please say yes. Or don't say no.'"
Schriock put it more bluntly: "These are not women who are waking up and saying, 'I'm running for the US Senate today.' They're not men," she laughed. "They just wake up and want to run for president. That's what they do."
So far, EMILY's List is backing at least 42 candidates. Many are statewide incumbents already in the "pipeline." Some, however, are among the wave of first-time, nontraditional candidates that emerged after 2016, and are seen by Democrats as a potentially powerful force in the midterm elections. (One that Schriock highlights is Chrissy Houlahan: air force veteran, businesswoman, "angry at the election," "called us up," now running for Congress in Pennsylvania.)
EMILY's List officials said the group is currently in touch with 130 women across 80 U.S. House districts about the possibility of running in down-ballot races. What happens with the 16,000 more broadly comes down, in part, to scale. The team tasked with state and local candidates has nearly tripled in size, but still only stands at 14 people. Eight are "advisers" based regionally in states like Michigan, Wisconsin, Montana, Virginia, and North Carolina, officials said.
The revamped training department, led by Mũthoni Wambu Kraal, an EMILY's List official since 2009, is now working to create a digital platform that can reach the influx of interested women en masse through webinars. The group has already held in-person trainings, and plans to hold 25 this year.
Schriock said the training itself won't be all that different from previous years.
"They just need basic tools and support, especially emotional support, to step up and run."