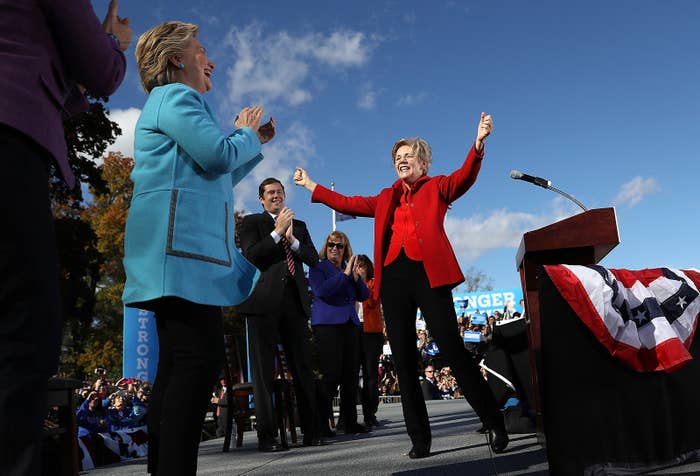 MANCHESTER, New Hampshire — "You do know I could do this all day?"

Sen. Elizabeth Warren stated the obvious on Monday afternoon as she held nothing back here during a campaign rally with Hillary Clinton, unleashing a blistering rant on Donald Trump, his alleged instances of sexual assault, and his statement during the last presidential debate last week that Clinton is, as he put it, a "nasty woman."
"Donald Trump disrespects — aggressively respects — more than half the human beings in this country," said Warren, speaking alongside Clinton and Senate candidate Maggie Hassan outside an ivy-covered hall at Saint Anselm College.

Warren then launched into one of her fiercest tirades against Trump:
He thinks that because he has money, he can call women fat pigs and bimbos. He thinks that because he's a celebrity, he can rate women from 1 to 10. He thinks that because he has a mouthful of Tic Tacs, he can force himself on any woman within groping distance.

Well, I've got news for you, Donald Trump, women have had it with guys like you. And "nasty women" have really had it with guys like you. Get this, Donald, nasty women are tough, nasty women are smart, and nasty women VOTE. On Nov. 8, we nasty women are gonna walk our nasty feet to cast our nasty votes to get you out of our lives forever.
Clinton, seated with Hassan to Warren's right, couldn't help but laugh as the Massachusetts senator's voice rose with each line, the crowd cheering along. Warren, one of Clinton's most active surrogates, is perhaps Trump's biggest antagonist in the Democratic Party, and figured out early on how best to rally Democrats against him.
"She gets under his thin skin like nobody else," Clinton said Monday.
The joint appearance, their second of the campaign, came as Clinton faces fresh scrutiny over revelations contained in the thousands of stolen emails from campaign chairman John Podesta, made pubic in staggered releases on WikiLeaks. The emails reveal Clinton's paid speeches to financial firms and show strategists deliberating over the candidate's position on the Trans-Pacific Partnership.
Warren delivered her familiar lines on Wall Street — "corporations are not people," she yelled into the mic — but did not comment further on Clinton's liberal bona fides.
The senator instead used Monday's New Hampshire event to hammer into Trump and the Republican incumbent Senate candidate here, Kelly Ayotte, who withdrew her support for the GOP nominee after news of his lewd comments about women.
"For more than year, Donald Trump has made headlines almost every day — and where has Sen. Kelly Ayotte been?" she asked the crowd of 4,000 people.
The line of attack — tying Republicans to their nominee — is one Democrats have employed against down-ballot candidates in the final weeks of the race. Clinton has been more reticent to take on the fight against Republicans running for House and Senate, spending months instead casting Trump as more extreme than the GOP.
"Donald Trump calls Latinos rapist and murderers — Kelly stuck with him. Called African-Americans thugs, and Kelly stuck with him. Trump attacked a Gold Star family, and Kelly stuck with him. Trump compared himself to dictators and praised Vladimir Putin. Kelly stuck with him. Trump even attacked Kelly Ayotte, and called her weak — and Kelly stuck with him!" Warren said to laughter.
"Now Donald Trump's not doing so well, and Kelly is running as fast as she can away from him. I will say one thing. Donald Trump sure has made Kelly Ayotte dance. Day one, she loves him. Day two, hates him. Day three, she's back with him."
"Boy," Warren said, "spins around and around."
Clinton took the lectern after Warren. "I don't know about you," she smiled, "but I could listen to Elizabeth go on all day."