Eliot Spitzer Collects Few Signatures, Talks To Lots Of Reporters At Campaign Kickoff
Dismissing his hecklers, Spitzer says, "I've got skin as thick as a rhinoceros."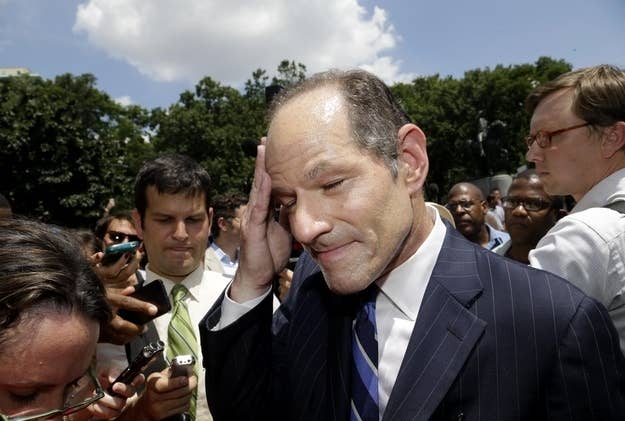 On a 90-degree day in New York City, with sweat dripping down his face and neck, Eliot Spitzer launched his comeback campaign for city comptroller at his first public appearance in Manhattan's Union Square, where he began to collect the nearly 4,000 signatures needed before Thursday to get his name on the ballot this fall.
The former New York governor, who resigned five years ago amid a prostitution scandal, announced his comptroller bid late Sunday night, and made the rounds early the next morning on television and radio shows to promote his campaign.
In Union Square, where he was slated to start collecting signatures, Spitzer talked with few voters, spending the majority of his hour-long appearance answering questions from a group of about 50 reporters.
Spitzer carried his own nominating petition sheet, and collected about seven signatures before leaving by taxi.
Although the former governor said he would easily be able to collect his 3,750 signatures by the deadline — now just three days away — he did not appear to have a campaign staff in place at the petition drive. Few volunteers could be spotted around Spitzer's gaggle, though a campaign spokesperson later told BuzzFeed that eight canvassers in total were in Union Square that afternoon collecting signatures.
"We have four days, and we're going to be out here every day. I'll be at subway stations, I'll be walking on streets. This is gonna be a fun operation," Spitzer said, adding that he will eventually have "30 to 50 people in no short order" working or volunteering for his campaign.
"If I weren't surrounded by 30 cameras, I'd probably speak to some real voters," he said. "You guys are here today and it's wonderful. By Thursday morning you'll be on to the next story."
Asked if it felt good to be back in politics after his five-year hiatus — which he spent teaching and hosting ill-fated cable news shows on CNN and Current TV — the candidate said, "It feels a little claustrophobic right now. It's a little hot in here. But you know, I love it. I love the maelstrom. I love the screaming. I love the shouting. What I love most of all is doing things for the public."
Although several voters approached to offer their support, Spitzer was also heckled by a loud bystander for the first 10 minutes of his petition drive.
"Eliot, why are you late? Were you with a hooker?" the heckler boomed, referencing the prostitution ring scandal that ousted Spitzer from the governorship. "Did you leave your black socks on?"
"Very clever," Spitzer replied.
"I don't engage with hecklers," Spitzer said later. "What I do is talk to voters — any voter who wants to have a real conversation."
"When we go to the ballpark, we heckle the pitcher who throws one bad pitch. I sympathize with the hecklers," he said. "We have a little bit of the heckler in each one of us. At a certain point it passes the line of decorum, but you know, this is New York, this is politics. I'm game for it."
"I've got skin as thick as a rhinoceros," Spitzer added.
The press gaggle — which Spitzer threatened to escape multiple times to talk instead with voters, but never did — focused in large part on ex-Rep. Anthony Weiner, who launched his own political comeback bid last month. Weiner resigned from Congress two years ago in the wake of his infamous Twitter scandal, and is now a frontrunner in the New York City mayoral race.
But Spitzer said Weiner's candidacy influenced his decision to run for comptroller "virtually not at all."
"That had nothing to do with it," Spitzer said. "It was influenced by one question only, and what I thought that question was: Can I make an argument to the public to give me a chance to work for them once again as I did as attorney general, as assistant district attorney, as governor?"
Spitzer also denied rumors that he and his wife, who stood by him during the 2008 scandal, are now separated. Asked if he has his wife's full support in the comptroller race, Spitzer said, "That's correct."
Spitzer is running in the Democratic primary against Manhattan Borough President Scott Stringer, who has establishment support from party leaders and city unions.
But Hank Sheinkopf, the veteran New York City political strategist who has worked with Spitzer in the past, said that it would be foolish to underestimate the former governor's chances. "Anybody who discounts Eliot Spitzer is an idiot," he said, in an impromptu discussion with reporters in Union Square, where he had been walking through the neighborhood by "coincidence" before Spitzer arrived.
Sheinkopf added that Spitzer could launch the comptrollership into a 2017 mayoral race if he wins this November. "No one runs for comptroller so he can spend his life in the comptroller's office," he said.
The candidate, though, dismissed that idea that he would parlay this race into another. "I run for positions that I want to have because I enjoy the capacity to use the job for what is. That's what I plan to do," he said. "I'm running for the job I want, all right?"
"What I'm looking for is the chance to be heard," Spitzer said. "That is what I'm looking for."
This article has been updated to reflect the number of canvassers at the event.