Draft Elizabeth Warren Campaign Forges On To New Hampshire
The groups behind the draft effort dismiss a new interview in which Warren says she will not run for president. Run Warren Run launches in New Hampshire.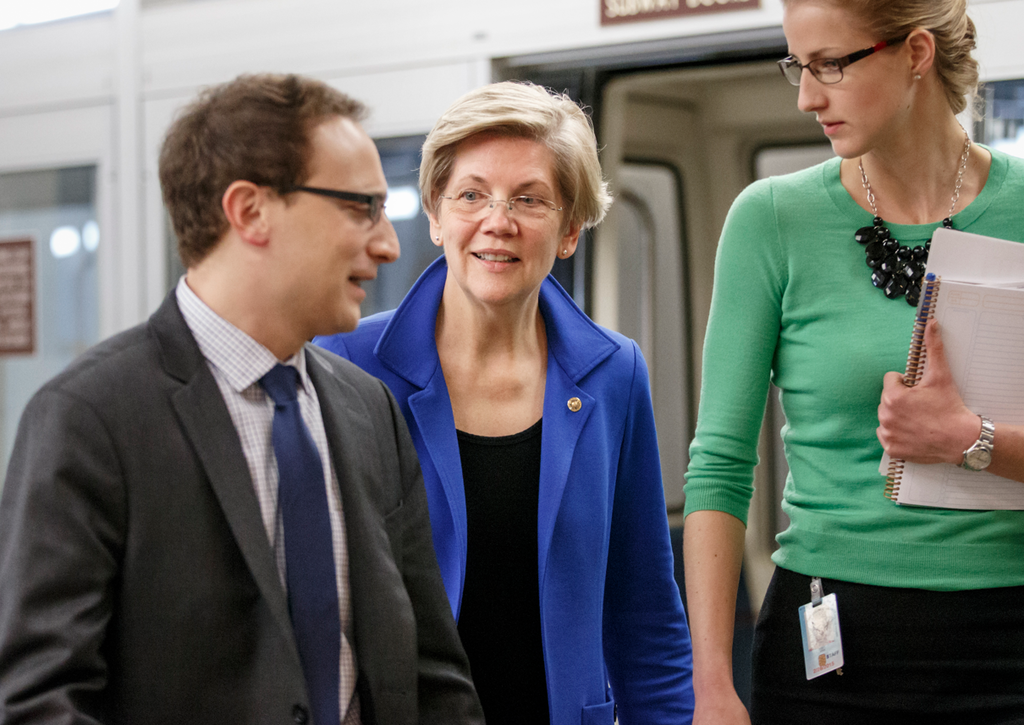 The effort to draft Elizabeth Warren into the next presidential campaign — a race she has denied interest in nearly 50 times now — continues on this weekend to New Hampshire, the state that historically holds the election's first primary.
MoveOn.org and Democracy for America, partners in the national Run Warren Run draft that launched last month, will host a second "kick off" event in Manchester this Saturday. Their first was in Iowa last month, the week they launched what some Democrats eye as an ill-fated attempt to get Warren in the race.
Both groups expect their local New Hampshire members to attend the event at the Riverside Room, a space with standing room for about 150 people. Their Des Moines drew a crowd of about 75 attendees, including reporters and operatives.
Warren, the senior senator from Massachusetts and an avatar of Democratic Party's progressive flank, has disavowed other efforts to draft her as a candidate.
When another a super PAC called Ready for Warren launched last summer, Warren's lawyer issued a response disavowing the group. The senator, her lawyer stressed, "has publicly announced that she is not running for president in 2016."
The progressives supporting MoveOn and Democracy for America's draft campaign are still hoping her mind can be changed: They often point out that Warren has repeatedly used the present tense, not future, when ruling out 2016.
A spokesperson for Democracy for America, Neil Sroka, told the Washington Post last month that any denial in the future tense would be enough to close the door completely on the possibility of a White House bid — and enough to end Run Warren Run. "The way this speculation will end is if she says, 'I am not running and I will not run,'" Sroka said at the time. "That would end the draft effort."
On Tuesday, as the groups rolled out the details of their New Hampshire event, Fortune published a Warren interview that seemed to promise the closest thing yet to the "Shermanesque statement" the groups say they need.
"So are you going to run for president?" Warren was asked.
"No," she replied.
MoveOn and Democracy for America waved off the comment as nothing new.
"We understand that reporters are required to follow every twist and turn of the 2016 race, but let's be clear: This isn't a new position for Sen. Elizabeth Warren," a joint statement from the groups read. "Warren has been clear for years that she isn't planning on running. If she were running, there wouldn't be a need for a draft effort.
"We launched the Run Warren Run campaign to show [her] the tremendous amount of grassroots enthusiasm and momentum that exists for her entering the 2016 presidential race and to encourage her to change her mind."
MoveOn, the country's largest progressive group, started the draft campaign after polling its 8 million members. Officials have said the online organization will invest a minimum of $1 million into the campaign. Democracy for America, another liberal group, has said it will contribute an additional $250,000. MoveOn also has plans to hire organizers on the ground in both Iowa and New Hampshire.
Between MoveOn and Democracy for America, more than 241,000 people have signed the petition to draft Warren into the presidential race. (Nick Berning, a spokesperson with MoveOn, said that figure is a "de-duped number," meaning supporters who have signed up through both groups are not counted twice.)
A spokesperson for Warren did not reply to a request for comment.