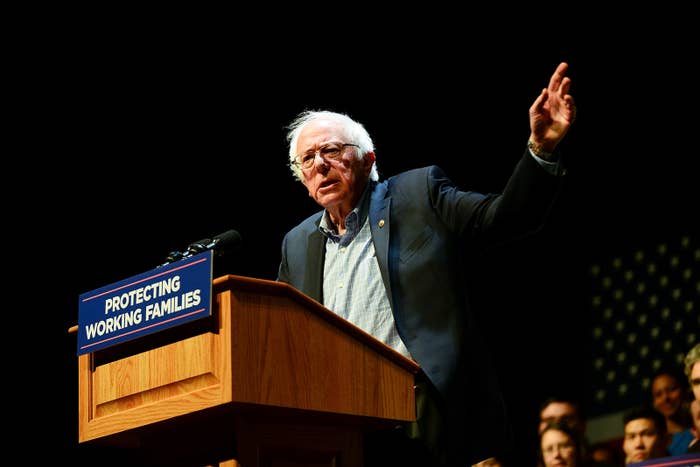 Bernie Sanders allies aren't worried about a new rule approved over the weekend that requires Democratic presidential candidates to publicly affirm that they are a member of the party at the time of their announcement.
The rule mandates that candidates seeking the nomination must state "in writing" to the chair of the Democratic National Committee that they are (1) a member of the party; (2) would accept the party's nomination; and (3) would run and, notably, "serve" as a member of the party if elected to the White House.
As laid out in the "2020 Call for the Democratic National Convention," a set of rules for candidates and delegate selection that DNC members voted into effect at their annual meeting in Chicago on Saturday, the written affirmation will be delivered to the chair through a predetermined DNC form.
The party's Rules and Bylaws Committee has yet to outline the wording of that form. (In the "2020 Call" document, it's listed as a "TBD" appendix entry.) The DNC has also not determined exactly how the party would penalize candidates who do not follow the rule. When asked about plans to enforce the new measure, a DNC official said the Rules and Bylaws Committee will address the question in the future.
"Our team will be preparing regulations after this weekend's vote that will address this," said Xochitl Hinojosa, a DNC official, "but we don't expect this to be an issue for our candidates."
For Sanders, the longest-serving independent in congressional history, the implications of the rule are somewhat unclear — though top aides and supporters believe it won't be an impediment should he decide to seek the nomination in 2020.
"I view this as zero barrier to anything," said Jeff Weaver, his 2016 campaign manager.
Weaver declined to say whether Sanders would provide the DNC with the written affirmation required by the new rule.
DNC officials have insisted the rule is not aimed at Sanders, though some in his orbit see it differently. "Some people denied it was aimed at Bernie. Other folks didn't," said another former top aide Mark Longabaugh, who called the rule both "inconsequential" and "childish."
The senator's party affiliation, a point of controversy and complaint among some longtime Democrats, was also a subject of some confusion during the 2016 primary — at least in part because there is no party registration in his home state of Vermont.
When he jumped in the race in April 2015, reporters asked if Sanders would join the party. "No, I am an independent," the senator replied. (In Federal Election Commission paperwork filed that same day, however, Sanders wrote "Democratic Party" under the line entry for party affiliation.)
Ahead of the February 2016 primary in New Hampshire, Sanders declared himself a Democrat in order to comply with rules requiring candidates to be "registered members" of a party before securing a spot on its ballot line. Sanders filled out the form as a Democrat, facing no challenge from officials at the New Hampshire state party.
Beyond the matter of ballot access in a handful of similar states, Sanders never officially registered as Democrat, because there is no party registration in Vermont. Al Gore, the Democratic nominee in 2000, had a similar issue as a voter in Tennessee, where there is also no party registration.
Later that spring, Weaver indicated that Sanders would continue to self-identify as a member of the Democratic Party even after the primary. "He's a member of the Democratic Party now for life?" a reporter asked. Weaver responded in the affirmative — "yes, he is" — but in the months since the election, Sanders has stated when asked that he is an independent. "If the Democratic Party is going to succeed," he told MSNBC last year, "it's gonna have to open its door to independents."
Asked about the new DNC rule, Sanders allies point to a number of factors that prove his Democratic "bonafides." For one, they say, the party's last chair, Rep. Debbie Wasserman Schultz, never took issue with his status as a Democratic candidate in 2016. Since then, Sanders has raised money and campaigned for Democrats and served in Senate Democratic leadership.
They also cite a resolution passed earlier this year by the Vermont state party affirming that any federal candidate who receives its endorsement "shall be considered a member of the Democratic Party for all purposes and entitled to all the rights and privileges that come with such membership at the state and federal level."
"Bernie Sanders absolutely qualifies to run as a Democratic candidate," said Longabaugh. "It's just a little bit of pettiness on somebody's part to pass this rule."

Democrats approved the new party affiliation requirement last weekend as part of a package of sweeping changes meant to make the nominating process more fair and transparent. The new rules will drastically reduce the influence of so-called superdelegates and require caucuses to offer absentee voting, same-day registration, and public vote tallies.