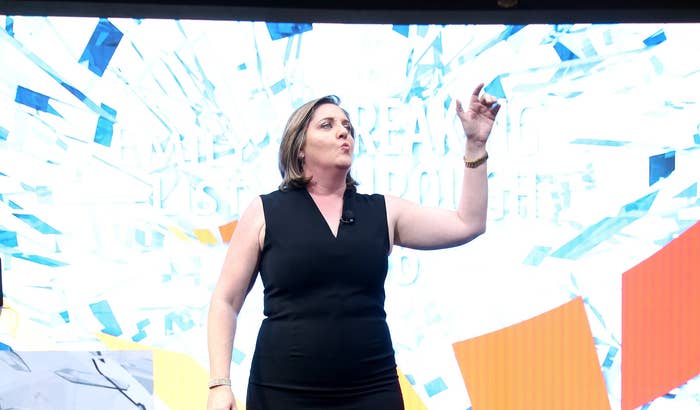 Two months into his tenure as chair of the Democratic National Committee, Tom Perez has named a new CEO, veteran strategist and organizer Jessica O'Connell, to lead party operations ahead of his plans for a far-reaching internal reorganization.

O'Connell, 43, last served as the executive director of EMILY's List, a prominent Washington-based group that seeks to recruit and elect pro-choice women.
The hiring, confirmed by a DNC official, concludes an interview process involving more than 20 candidates, led by Perez and a small committee. O'Connell will run day-to-day operations at the DNC and oversee a restructuring that will reimagine the finance department, political operation, and tech and surrogate efforts.

The goal of the reorganization, outlined by two sources familiar with the plans, is threefold: to position the DNC as an ally in 2017 and 2018 races, a partner for activists in the movement to oppose Donald Trump's presidency, and an operation better equipped to function without relying on a Democrat in the White House.
Perez, who campaigned for the chair's job on his record as a "turnaround agent," has worked with his aides to reexamine the DNC's org chart, laying out initial ideas for "silo-busting" and creating a "new culture for more collaboration" on a transition call with Democrats on Wednesday, according to a person briefed on the call.
With O'Connell, Perez is looking to add additional capacity to the DNC's existing departments. One plan, sources said, was a new training program aimed at activists in the so-called "resistance" movement. Others include a mobilization department to build locally on grassroots activism, a reinvigorated surrogates operation to place Democratic voices across state media, a new effort within the political department to ensure a better working relationship with members of Congress and party entities such as the Democratic Congressional and Senatorial Campaign Committees.
Most of the changes have yet to be finalized. But many, particularly in the case of the finance department, will move to adapt to a reality without four principals in the White House. After relying on the fundraising power of the Obamas and the Bidens for eight years, Perez told Democrats on the Wednesday call, the party will have to diversify their event-based model. The DNC is considering a new prospecting desk to locate new donors and meet small-dollar donors where they are, sources said.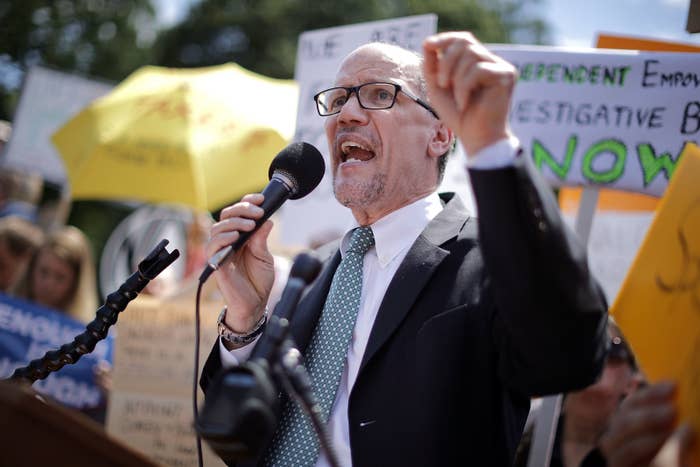 Perez, the 55-year-old former civil rights lawyer and labor secretary, took the helm of the DNC at a time when the institution had become a major source of frustration among voters on the left. His predecessor, Florida Rep. Debbie Wasserman Schultz, resigned last year after hacked internal emails showed the DNC had unfairly favored Hillary Clinton over Bernie Sanders in the Democratic primary, heightening disdain among progressive activists toward the party's establishment powers.

These tensions spilled into public view earlier this year during the chair's race, a tight battle between Perez and the favored candidate on the left, Rep. Keith Ellison, and again last month during a week-long unity-themed tour with Sanders, where protesters drew national headlines about a still-divided Democratic Party.
O'Connell, the incoming CEO, has not worked closely with Perez before, bringing a fresh face to a building led not just by the former labor secretary, but Ellison, now the party's deputy chair. (A close Ellison adviser, Will Hailer, who has been helping with the DNC transition, was also considered for the job, the sources said.)
The DNC is still conducting final interviews for new finance and political directors.
O'Connell, who helped oversee federal and local races at EMILY's List, has also served on congressional campaigns and as the director of operations on Clinton's 2008 presidential bid. After Trump's election, she worked to launch "Run to Win," a grassroots recruiting and training program at EMILY's List for new candidates.
She will be the first openly gay staffer leading the DNC, the spokesperson said,
Perez, in a statement provided by the DNC, cited O'Connell's organizing experience as an asset as the DNC gears up "for critical elections in 2017, 2018, and beyond."