DHS Secretary Promises Secret Service: We Will Fix Unpaid Overtime Problem
Because of federal income limits, many Secret Service agents who have spent their year covering Donald Trump, Hillary Clinton, and others haven't been paid for overtime work in months.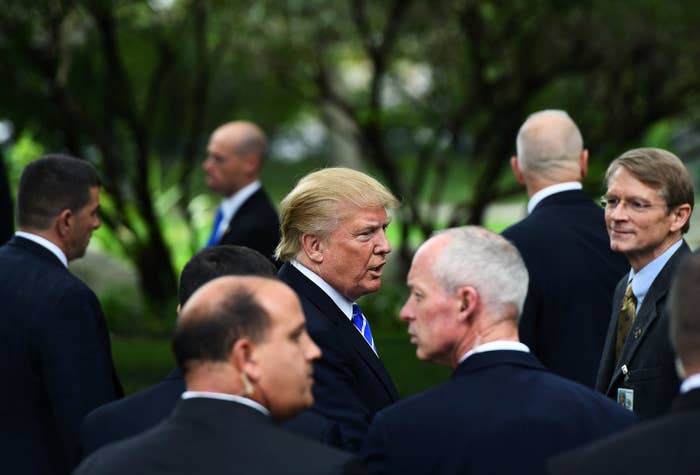 WHITE PLAINS, N.Y. — In an agency-wide email to the Secret Service, Secretary of Homeland Security Jeh Johnson promised to address the salary limits that have prevented hundreds of agents from earning paid overtime during the election, telling agents, "You deserve our full support."

"We must and will fix this," Johnson said in the email, sent on Oct. 28, days after BuzzFeed News and other outlets reported that an annual cap on federal salaries has meant that many agents regularly work overtime free, maintaining around-the-clock hours to protect the candidates and their families in a historically demanding presidential race.
"Throughout this busy election year," Johnson said, "I know that the Secret Service has been working non-stop to protect the presidential and vice presidential candidates and their families, coordinate security for the two conventions in Cleveland and Philadelphia and the UN General Assembly, while continuing in your normal protection and law enforcement assignments."
"You have done so with skill, dedication, and professionalism, and without complaint. You deserve our full support."
Johnson also released a public statement on the same day, urging Congress to pass a provision in the House and Senate to raise the Secret Service salary cap during presidential election years, including, retroactively, in 2016. The measure is part of the 2017 Appropriations markup for the Department of Homeland Security. But since Congress has only approved funding at current spending levels, and not through a larger budget bill, the measure has not gone through.
In his email, provided Monday by the Secret Service, Johnson told agents that the unpaid overtime is "another reason why this Department, and its men and women, need from Congress a full-year appropriation rather than funding by short-term continuing resolutions."
The measure would raise the annual cap by about $10,000, from $160,300 to $170,000, during election years. Once overtime drives an agent's aggregate pay beyond the federal limit, they may no longer earn paid overtime, even as they regularly work long past their 50-hour week.
The fix would enable agents to earn more of the hours they work. But during an election, many would still "max out," as agents put it, well before the end of the year. With the demands of the campaign season at an all-time high, many agents assigned to the presidential race stopped earning overtime as early as this spring.
For many inside the Secret Service, the pay controversy is seen most of all as a morale issue. On the road, it is not uncommon to hear agents remark on the fact they routinely work hours for which they will never be paid while traveling with the campaigns, working for long stretches away from families at home. (And agents don't forget it: Every two weeks, a line on their pay stub notes the dollar amount of capped out overtime.)
The salary limit has also been a source of resentment outside election years.
One federal agent recalled maxing out in the wake of 9/11. The devastation of the attack required grueling and important work.
By the end of the year, his overtime worked out to 54 cents an hour.