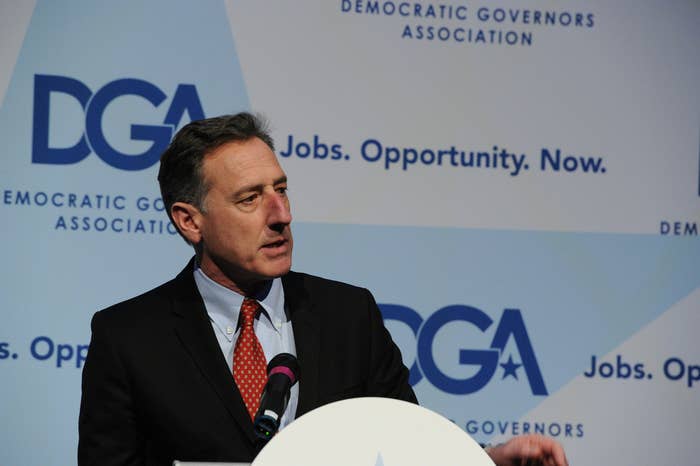 MILWAUKEE — Congressional Democrats might be wringing their hands over next year's midterm elections, but party leaders eyeing the 36 gubernatorial races slated for 2014 see not only a more favorable electoral climate but an opportunity to play offense against Republican incumbent field.
The Democratic Governors Association isn't worried about what political scientists call the six-year itch — the sitting president's sixth year in office, when his party historically suffers losses in Congress. Peter Shumlin, the governor of Vermont and the chair of the DGA, said Democrats would make up for their losses in 2010, when the GOP flipped 11 statehouses on the wings of the Tea Party movement that gave rise to a Republican majority in the House.
"We've got a great story to tell, and for some reason, the national press hasn't been telling it," Shumlin said in an interview this weekend at the National Governors Association's annual summer meeting. "What's been forgotten is that in 2010, we had more new governors elected than anytime in American history. It was the same electorate that sent all these Tea Party folks to Congress, and they won more governors' mansions than anyone would have ever envisioned."
Republicans made an easy ascent to their statehouse majority three years ago in part because of the large number of open races: In 2010, only 13 of the 37 incumbent governors ran for another term, clearing the field in a total of 24 races.
Next year, far more incumbent candidates will be in play. Some sitting governors may lose to a primary challenger — in Illinois, Gov. Pat Quinn is already up against fellow Democrat Bill Daley, a member of the Daley family dynasty that has dominated Chicago politics for decades — but according to the University of Virginia's Center for Politics, 2014 will be a chart-topping year for incumbent candidates regardless. They estimate that 30 of the 36 incumbents will seek reelection next fall, breaking the record 26 that ran in 1960.
Shumlin, the two-term governor of Vermont, is up for reelection himself next November. He predicted the DGA would hold the 14 statehouses controlled by Democratic governors whose terms are ending (including Rhode Island's Lincoln Chafee, who switched his registration from Independent to Democrat earlier this year), and also make gains in vulnerable Republican-controlled states like Pennsylvania, Michigan, Maine, South Carolina, and Florida.
The DGA chair also identified "real opportunities" in states like Wisconsin, Iowa, and Ohio — "to name a few," he said.
Of the 30 Republican governors now in office, 19 are up for reelection — and many in states President Barack Obama won handily in last year's election.
Next year's midterms, Shumlin argued, would be a "referendum" on right-wing governors "constrained by a radical social agenda."
"Whether focusing on limiting women's rights, going after immigrants, going after labor, going after working Americans, limiting the rights of gays and lesbians — whether governors focusing on a radical Tea Party agenda, versus growing jobs and economic opportunities, is a recipe for success," Shumlin said. "And I don't think it is."
"We're really optimistic," he added.
But then again, so was Louisiana Gov. Bobby Jindal, Shumlin's counterpart at the Republican Governors Association. Speaking in Milwaukee's Pfister Hotel last Sunday, Jindal told reporters his incumbent candidates would get a "steadily better" reception from voters once election season proper sets in early next year.
"It's not going to be about party labels or 30-second ads," Jindal said. "It'll be about four years of job growth, four years of balancing the budget, four years of taking on big problems like pension reform, education reform, and tax reform."
Jindal argued that even Republican governors running for another term in states Obama carried — like Govs. Scott Walker of Wisconsin and John Kasich of Ohio — would win their races on what he called the "products of [their] reforms."
"They've got a great, great story to tell," Jindal said.
Although Shumlin and Jindal appear equally confident, much about the 2014 gubernatorial contest remains unknown: Both the Republican and Democratic fields have yet to set in the six open races next year, and it will be months before we know the outcome of primary challenges to incumbents.
Additionally, political handicappers don't foresee a dramatic sea change for either party. Governing magazine reasoned that the best-case outcome for Democrats would be a net gain of four seats, and for Republicans a net gain of three seats.
The Rothenberg Political Report names Florida and Michigan, two states with Republican incumbent candidates, as the most competitive to watch next year. In Florida, Gov. Rick Scott will face Tea Party opposition from the right in light of his support for the Affordable Care Act's Medicaid expansion. In Michigan, Gov. Rick Snyder will have to defend last year's controversial right-to-work legislation and more recently his decision to file bankruptcy for Detroit.
But asked about Snyder and Scott, Jindal was confident the two would make it through hard-fought reelection battles.
One sign of the GOP's good prospects in 2014, Jindal said, are the Republican candidates running in the two off-year gubernatorial elections this fall: Attorney General Ken Cuccinelli, in a close race against Terry McAuliffe in Virginia; and incumbent Gov. Chris Christie in New Jersey, who is running for his second term and leading state Sen. Barbara Buono by an average of 30 points in the polls.
Since she got in the race last December, Buono has failed to close in on Christie's wide lead, despite the state's Democratic makeup. While acknowledging the "challenging" nature of the race between Buono and Christie, Shumlin cautioned that it is "by no means over."
But the DGA head would not say whether his organization would provide support in the way of television ads. "I've been working closely with Barbara, because we want to win. We're not gonna start spending big money until we see evidence that we're gonna win. And so we're continuing to assess that."