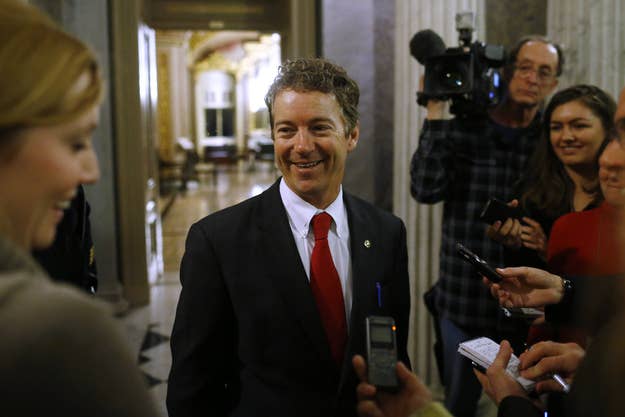 After just one Democrat participated in Rand Paul's filibuster Wednesday — a thirteen-hour stand against the nomination of John Brennan over administration drone strikes — Senate liberals defended their absence from the floor, calling the filibuster a "distraction" that wouldn't "move this issue forward."
Spokesmen for two Democrats on the Senate Judiciary Committee, including Senator Chris Coons of Delaware, referred BuzzFeed to Wednesday's hearing with Attorney General Eric Holder, where members of the committee from both parties condemned the secrecy around the president's drone program.
"Senator Coons has publicly called for a rethinking of the United States strategy on drones and remains committed to being an active part of that discussion," said Ian Koski, his communications director, "but in his two years in the Senate, he's seen dozens and dozens of filibusters and didn't believe another filibuster would help move this issue forward."
"Filibustering the confirmation of the president's nominee for CIA director just didn't feel like a constructive venue for that discussion," added Koski.
Asked why more Democrats didn't come to Paul's aid, Sen. Max Baucus of Montana said, "Each has his own view. To be honest, I haven't been focused as much on that issue, an da lot of others probably haven't either. I assume that's the reason."
One Senate staffer said Democrats were privately "amused by the whole thing."
"There was a sense the Paul filibuster was a distraction from the real issues of privacy and civil liberties, and was just not an issue worth spending an entire day on in the Senate," said the Democratic staffer. "When Senators are getting ready to break ranks, you feel these tremors before it actually hits, and we didn't hear any of that yesterday."
Sen. Mark Begich, a Democratic from Alaska, said he shared several of the concerns Paul expressed on the Senate floor, but felt that joining the filibuster would have been a distraction from Congress's work on the federal budget.
"I'm grateful that Sen. Paul drew attention to this issue," Begich said. "However, we have important Senate business ahead of us and millions of Americans still struggling to pay the bills. That is my focus."
Asked about Democrats' lack of support for the filibuster, Missouri's Sen. Claire McCaskill offered, "A lot of people weren't in the building yesterday."
"I am 100 percent behind him that we need drone oversight," she told BuzzFeed, adding that she respected "his overall theme."
"I really respect that he maybe is going to teach the rest of the Republicans that, if you're going to throw sand in the gears, have the courage to stand up and make a point of view known," she said.
Other Democrats held up Paul as an old-style lawmaker worthy of admiration for his thirteen-hour effort. But despite their appreciation for their colleague, the Senators said they didn't agree with his stance enough to ultimately join him on the Senate floor and buck one of the president's nominations.
"I don't agree with what he said, but I still agree with his right to filibuster," said Michigan's Sen. Carl Levin. "Does the president want to bomb people in restaurants? No. I don't think the president wants to."
Senator Bernie Sanders from Vermont, an Independent, said, "I respect anybody who's going to go to the floor and talk for 12 hours to defend his or her point of view. But the lesson is you can do that, but after that, 50 votes should prevail. Obviously I don't think we should be using drones against American citizens in the United States."
But despite retroactive praise from Senators like Sanders, Paul was without much Democratic support Wednesday. Oregon's Sen. Ron Wyden, an outspoken critic of the administration's stance on civil liberties, was the only Democratic member from the upper chamber to join Paul.
The Senate ultimately approved Brennan's nomination Thursday afternoon by a vote of 63-34.
With additional reporting by Rebecca Berg and John Stanton.
Correction: McCaskill said she supports increased drone oversight. An earlier version of this article misquoted her.