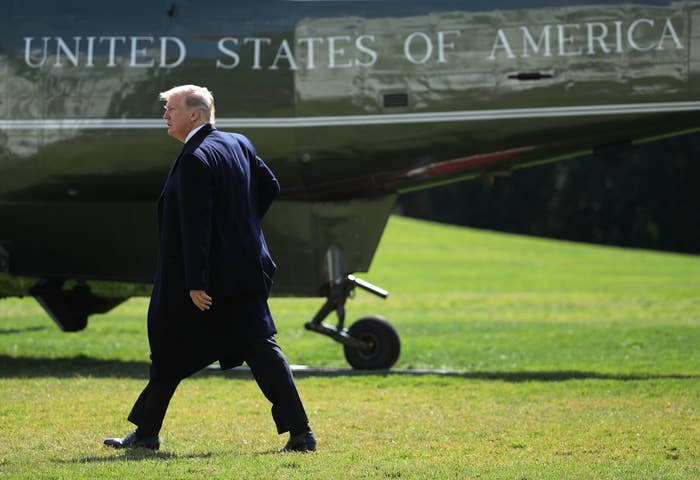 Democrats at the Center for American Progress estimate that President Trump still has upwards of 900 second- and third-tier appointees to push through the Senate.

And in the liberal think tank's new "war room," the objective is to scrutinize each one, from assistant to more minor federal agency employees, raising questions about qualifications and conflicts of interest that promise to tie up floor time, bog down Republican efforts in Congress, and delay Trump's legislative agenda.
The political arm of the Center for American Progress, called the CAP Action Fund, is one of the central entities in Democrats' sprawling effort to oppose Trump.
In an interview on Thursday, the group's senior strategic adviser, Adam Jentleson, outlined an ambitious and wide-reaching plan to vet nominees, push for an independent investigation into the administration's ties to Russian intelligence, direct grassroots activists to protests and town halls, produce policy analyses on Trump's proposals, and build out a growing team researchers and press operatives in what Jentleson described as a plan to "expand indefinitely" in the Trump era.
"We'll never reach a point where we say, 'OK, that's enough,'" he said.
This week, CAP brought on Chris Hayden to help lead the war room as communications director, Jentleson said. Hayden has worked extensively in states that favor Trump, most recently in Missouri for Jason Kander, a national upstart who narrowly lost a race last year for U.S. Senate, as well as for the state's sitting senator, Claire McCaskill, and the former U.S. senator from North Carolina, Kay Hagan.
Earlier this year, the group also hired Corey Ciorciari, formerly of Hillary Clinton's presidential campaign, as the war room's policy and research director, filling out a still growing team that now comprises about 20 of CAP's 340 or so employees.
Most of Trump's top cabinet nominees have been approved — and will continue to be, given the Republican majority in the Senate. But Jentleson, who last served as a senior aide to former Senate Minority Leader Harry Reid, said CAP will keep casting scrutiny on the president's lower rungs of government appointees.
"Those are the people who are going to be actually writing and implementing the policy," Jentleson said. "It's a tremendous number of people. For them to be at all feasible, the vast, vast majority of them have to pass by unanimous consent, so all it takes is one objection to slow them down."
Trump has already faced what some call a historic delay in his confirmation push. The CAP strategy could help detain Republicans even longer, holding major legislative priorities in limbo. "Floor time is a finite resources," Jentleson said.
Originally founded as a progressive think tank in 2003, CAP officials have also sought to use the "institutional knowledge" of the organization's large cadre of policy experts to produce what Jentleson called "razor sharp policy analysis that impacts the debate and that really helps drive and sustain grassroots energy," citing two recent studies on Wall Street gains and middle-class losses under Trump.
The anti-Trump focus marks something of a readjustment for an organization that has spent most of its existence under the two-term presidency of Barack Obama, and comes at a time when what unifies the Democratic Party most is opposition to the president, rather than singular policy aims or a shared economic message.
But the shift is also a return to CAP's roots. The think tank and political group was formed opposite George W. Bush, and amid the liberal activism of the 2000s. "It thrives in the opposition," said Jentleson, who has worked at CAP twice before.
During the Bush years, CAP put together a policy blueprint, Strategic Redeployment 2.0, for Democrats who opposed the war in Iraq war but wanted a strong military posture. Jentleson said the CAP war room will now look to do the same with a new "economic narrative," attempting to reframe progressive policy into a message that will be as salient on the left as for "moderates, Independents, and soft Democrats."
The promise to play a key role across the party's opposition effort — from research to protests and policy — is a tall order for CAP's war room, still in the process of hiring researchers and a press team under Hayden. ("I hate to use 'building an airplane as we fly it,' because it's a cliche," Jentleson said. "But it's really true.")
The month before the inauguration, the group emerged as one of several entities hoping to help lead the anti-Trump efforts Democrats refer to as "the resistance."

Others include the former Clinton super PAC, Priorities USA, and the constellation of liberal groups headed by operative David Brock, including American Bridge, which has launched its own opposition research-based war room alongside CAP's.
Apart from the Washington-based organizations working directly with Senate leaders, a number of activist-based groups have sprung up, leading weekly protests and spear-heading a more aggressive movement to pressure Democrats to take a harder line on Trump — even threatening incumbents with primary challengers.
But Jentleson said most of the groups are working together so far. Many are led by strategists who worked with one another for years in Washington, he said, ticking off names like Bradley Beychock at Brock's groups and Brian Fallon at Priorities, who used to sit next to Jentleson every day when they both worked in the Senate.
"I have not yet run into an instance where there were too many cooks in the kitchen," Jentleson said. "It's people who have very long relationships. You haven't seen any backbiting."