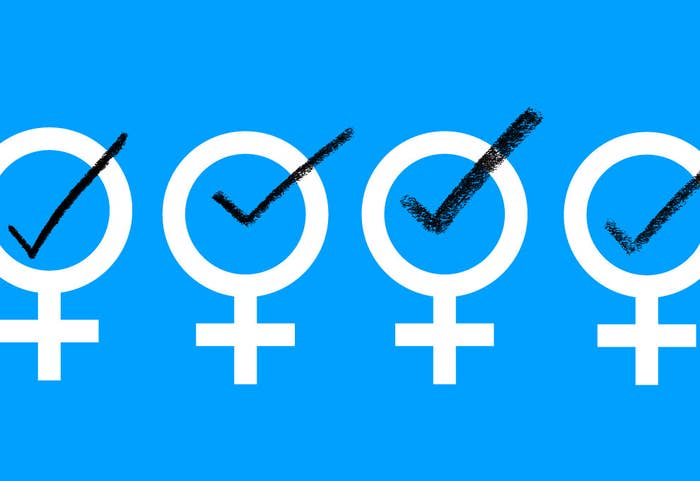 The video opens with a familiar setup: Scott Wallace, a Democrat announcing his campaign in Pennsylvania's 1st Congressional District, speaks in grave tones about Washington's "chaos and dysfunction." Clips from recent news footage, pixelated and grayed-out, flash across the screen — Donald Trump in the Oval Office, Donald Trump gesticulating at a podium, Donald Trump walking across the White House lawn, Donald Trump with Paul Ryan and Mitch McConnell.
"We need someone representing us in Washington who will stand up to Donald Trump..."
Wallace appears on camera, seated in a living room, ready to introduce himself to voters.
Except what he says is this: "So I thought, wouldn't it be great if Bucks County Commissioner Diane Marseglia would run for Congress?" The music changes — light and playful, like he's hatching a perfect plan — and beside him, the would-be woman candidate appears in the living room.
"Me?" Marseglia exclaims. "I was honored. But I told Scott…I thought he should run!"
Wallace's announcement video, unveiling his candidacy as the next-best option to a woman, reflects a new turn in the era of Trump in Democratic primaries this year: Women candidates, party strategists say, are benefiting from a built-in advantage unlike any previous election cycle. Not only are women running for office in record numbers — they're securing top spots in crowded primaries against male rivals who are better known and have spent more money.
Democratic operatives see the dynamic as a singular and unprecedented moment in which women represent "change" in the eyes of voters — a view fused by the #MeToo movement, the sitting president, the 2017 Women's March, and a new cohort of nontraditional, first-time candidates who've stepped up to run for office as veterans, doctors, lawyers, and mothers.
"Me, run?" Wallace asks in his introduction video.
"You bet!" says Marseglia, delivering her stamp of approval.
Celinda Lake, a veteran Democratic pollster who casts 2018 as a "real change" in the way voters perceive women, let out a laugh when told about Wallace's ad. "You used to have to say, 'Despite the fact that I'm a woman, I'm qualified.' Now you have to explain why you're not a woman."
Democratic operatives stress that when it comes to the general election, the dynamic may not play out the same way.

But in primaries across the country, they said, women are outperforming expectations.
In Texas's 7th Congressional District, Laura Moser, advanced to a May 2018 runoff election alongside Lizzie Pannill Fletcher — defeating two male candidates who outspent her on voter contact. In Virginia's legislative races, 11 of the 15 seats flipped by Democrats were overturned by women up against male incumbents. And in the crowded primary for Illinois' 6th Congressional District, a man, Sean Casten, won the race with just 30% — because his rivals, five women, cumulatively collected nearly 70% of the vote. Casten's victory, as one Democratic strategist put it, was "the exception that proves the rule" in a year when officials have begun to assume that there's a thirst for women on the ballot. "It's now a given on conference calls."
"There is a trend where all things being equal, a woman candidate in a race is receiving a lift," said Ian Russell, a consultant who served for nearly six years at the Democratic Congressional Campaign Committee, the arm of the party that oversees competitive House races.
"The Republicans know that they have a problem on their hands — and they know that their problem is exacerbated when a well-funded woman nominee is facing off against a Republican, probably a man, who will have to defend what's going on with Trump and Congress," said Russell, who is working against Wallace, the candidate for Pennsylvania's 1st District, in a Democratic primary.
When Wallace launched his campaign in January, telling voters about his efforts to recruit Marseglia, another Democratic woman, Rachel Reddick, was already in the race.
Reddick, a Navy veteran running for office for the first time, is not the favorite heading into the May primary against Wallace, a self-described "patriot millionaire" who is outspending her on television in the Philadelphia markets, and could self-fund in a competitive general election against the Republican in the race, Brian Fitzpatrick, whom Democrats hope to unseat.
For groups like EMILY's List, a national Democratic organization that supports pro-choice women, the race will be a major test case for women running in this year's remaining primaries, where the Washington-based group has been aggressive in making endorsements. By the end of 2016, EMILY's List had endorsed 41 women in congressional races. As of this week, six months from the election, the organization has backed 53 House candidates — a number that officials expect to increase steadily as the year goes on. In Texas alone, EMILY's List endorsed in five primaries: Two of the women won outright; the other three progressed to the May runoff.
In California — a crucial state for Democrats in their effort to take control of the House — several women running in key primaries have seen less success: Both women vying for the nomination in the race against Republican incumbent Dana Rohrabacher have dropped out. In two other closely watched races to replace retiring GOP Reps. Darrell Issa and Ed Royce, women Democratic candidates are not expected to make it through the June top-two primary.
If there is an electoral shift happening in 2018, however, operatives agree it's tied to a larger cultural one. More than 36,000 women have reached out to EMILY's List about running for office. (The previous record: 920 women in the 2016 cycle.) Women candidates are breastfeeding their children in campaign ads. ("I'm a mom. I'm a woman. And I want to be your next governor," Maryland gubernatorial candidate Krish Vignarajah says in one.) And researchers have found that the #MeToo movement to end sexual harassment and workplace misconduct is playing out at the ballot box. (Half of millennial women say it will make them more likely to vote for female candidates, according to an April study by the Barbara Lee Family Foundation.)
"Everything from the Women's March to #MeToo and #TimesUp to watching the incredibly powerful women gymnasts call out Dr. Larry Nassar means what we're seeing is women stand up and demand to be heard," said Christina Reynolds, who serves as the group's vice president of communications. "And women are supporting each other in that effort."

For Lake, the longtime Democratic pollster, the potential advantages for Democratic women come down to one key shift: "In 2016, women were much less likely to be perceived as change," she said. "People, particularly younger women, said, 'We've got women. We've got Sarah Palin. We've got Hillary Clinton. That's not change, and in fact, they haven't changed things enough.'"
"In 2016, women were almost status quo," Lake said. "In 2018, women are change."
CORRECTION
Sean Casten won the primary race in Illinois' 6th Congressional District. An earlier version of this story misstated the district in which he was running.