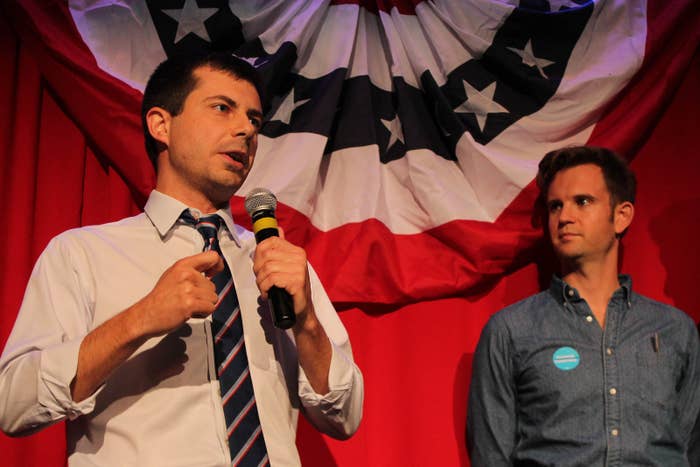 Pete Buttigieg, the 35-year-old mayor of South Bend, Indiana, is pursuing a new ambition in national politics: changing the vocabulary of the Democratic Party.

Buttigieg, known as Mayor Pete, is forming a PAC called "Hitting Home," with the goal of reorienting the party, its policies, and its rhetoric around a single message: that Democrats strive to "protect and support people going about their lives."
"There is no policy area that can't be talked about in these terms," Buttigieg said during a recent interview at a bar in Manhattan's Herald Square. "It's the same reason I'm philosophical about waste water and filling pot holes — and it's the same reason I care about equality issues and wage issues and health care."
The PAC, Buttigieg's first major political effort since his campaign for chair of the Democratic National Committee, will work toward "a renewed politics of the everyday" — a way of articulating message and policy in terms that are personal, not ideological.
"At the end of the day, if you wanted to fit [those policies] on a left-right spectrum, it's going to bring you to core progressive beliefs," Buttigieg said. "But I don't think that's the best frame."

"If we can get back to people's lives, it kind of frees us from [ideological labels]."
The approach makes Buttigieg something of an outlier in a party where Democrats are measured by their progressive credentials, and their willingness to oppose President Donald Trump. This week's defeat in the Georgia special election instantly sparked a debate over ideology and strategy — with party officials on the defense, and liberal groups claiming that a more progressive candidate would have won.
For Buttigieg, the Ossoff race served as "a reminder that being against Trump isn't going to be enough," he said. "People have to know what you're about."
It's a difficult proposition under Trump's presidency, which Buttigieg described as a "mesmerizing horror show," and a "spell" that could overtake the Democratic Party. "That show can be hypnotizing," he said, "and I'm worried that our national politics could get oriented around it, rather than people's actual experience."
Hitting Home, which is set to launch in earnest after Labor Day, will support state and local candidates "who can explain a policy agenda in terms of what it's going to mean in people's lives," Buttigieg said — i.e. how it "hits home". The mayor also plans to develop a paid media strategy, creating TV ads that would "elevate" voters with stories about real-world policy effects, particularly health care legislation.
Buttigieg's hope is that the "politics of the everyday" approach is also a winning one. Putting the "lived experiences of Americans front and center," he argued, might shift the party's "center of gravity," attracting supporters first to the policies, then to the candidates, and perhaps eventually to the institution itself — "not the other way around."
The PAC, more so than the DNC campaign, offers Buttigieg a natural bridge between his work in South Bend and his growing national profile. He expects to start traveling more frequently after the summer. In September, he will deliver the headline speech at an annual fundraiser in Iowa, the Progress Iowa Corn Feed.
In today's Democratic Party — with lines still drawn between Clinton and Sanders, establishment and grassroots — Buttigieg can be hard to place. The young mayor is openly gay, a red-state Democrat, a Rhodes Scholar, and a Naval Reserve officer who served in Afghanistan. In the DNC race, when reporters asked him to describe his ideological leanings, he seemed to enjoy dismissing the premise altogether.
"When you step on the stage, people want to fix you onto a spectrum and find a box to put you in," he said back then. "I spent Thanksgiving in a deer blind with my boyfriend's father. Identity buckets aren't comfortable places for me to be in."