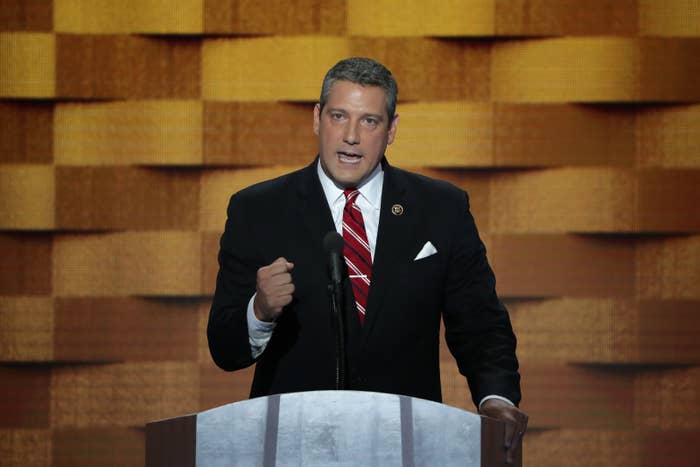 YOUNGSTOWN, Ohio — A small crowd here at a labor hall received a jarring warning about Donald Trump on Wednesday morning from their congressman, Democratic Rep. Tim Ryan, during an event with President Bill Clinton on behalf of his wife's campaign.
"He will gut you, and he will walk over your cold dead body, and he won't even flinch," Ryan said of Trump as he introduced the former president at the International Union of Operating Engineers Local #66.
"He'll climb over your cold dead body and get on his helicopter."
Ryan, Ohio's longtime Democratic congressman from this sweep of steel country, referred specifically to what he said a Trump presidency would mean for labor workers.
"I don't mean to be graphic," Ryan said before launching into the metaphor. "But this guy, to our friends in the trades, to our steel-workers he's been treating very, unfairly, very unfairly…" The congressman trailed off.
"Keep goin'!" a man in the crowd yelled.
"Right?" Ryan said. "I don't mean to be dramatic. But that's what's at stake."
The 43-year-old was one of the Clinton campaign's earliest and most enthusiastic surrogates, signing onto the nascent "Ready For Hillary" effort in 2013, more than a year before it became clear that the former secretary of state planned to run.
Bill Clinton appeared here on Wednesday morning as part of a two-day bus tour across Ohio, a state that has become increasingly competitive against the Republican nominee in recent weeks.
As he took the stage, the former president praised Ryan as one of the few people in congress with a head and a "heart."
"I think we ought to give Tim Ryan another hand," he said.