Dean Chambers, Original Unskewer, Returns To Tackle Jobs Numbers
The founder of Unskewed Polls isn't buying this month's jobs numbers. Dean Chambers wonders how, weeks before the election, BLS "would magically show" a lower unemployment rate.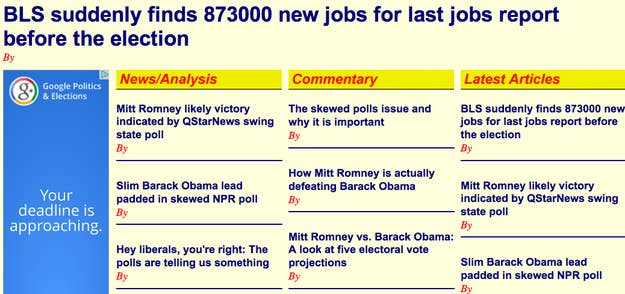 Dean Chambers, blogger at examiner.com and founder of the website unskewedpolls.com, has weighed in on today's jobs report. In line with his theory that national pollsters are oversampling Democrats, Chambers believes that the Bureau of Labor Statistics has fudged its numbers.
An excerpt from Chambers's new post — headlined, "BLS suddenly finds 873000 new jobs for last jobs report before the election":
The latest jobs report from the Bureau of Labor Statistics (BLS) was released today, the last one to be released before the November election, shows a sudden increase in employment by 873,000 jobs that decreases unemployment to 7.8 percent. Of those 873,000 jobs that materialized this month, 582,000 of them are part-time jobs. The astounding numbers were met with instant criticism from many quarters and many sides of the political debate. The same report says 114,000 jobs were added to the economy last month. Economists say the economy needs to create 150,000 jobs each month for the unemployment rate to remain constant.

...The BLS report shows 114,000 new jobs created in the last month, yet somehow, magically, 873,000 workers were suddenly employed this past month. One has to wonder where the remaining 759,000 jobs came from. The BLS report does not explain this sudden rise in employment or how this number is calculated. President Obama promised if his $825 billion stimulus bill was passed, it would cause unemployment to fall below 8 percent. Critics find it quite ironic that the last jobs report released by the Bureau of Labor Statistics before the presidential election would magically show an unemployment rate below that key rate of 8 percent to meet that campaign promise from the president.