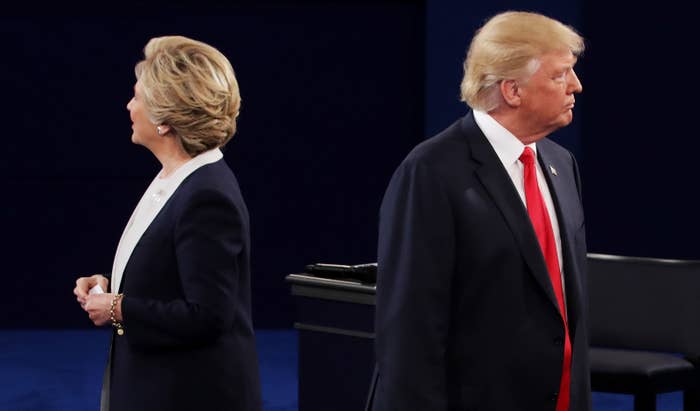 More than 120 top Democratic donors will spend next week's inauguration near Miami at the Turnberry Isle resort for three days of closed-door meetings and strategy sessions with elected officials, progressive leaders, and key strategists — all organized by David Brock.
Participants next week include familiar faces: attorneys general, state and federal officials, representatives from the four major labor unions, Stephanie Schriock of Emily's List, Cecile Richards of Planned Parenthood, and Ilyse Hogue of NARAL Pro-Choice, as well the five candidates running for chair of the Democratic National Committee, who will participate in a forum on Saturday and mark the close of the conference.
Brock, a prominent strategist with a web of liberal groups, organized what he's calling "Democracy Matters 17." He plans to hold a regular retreat as often as twice each year and, he said in an interview, eventually build it into a donor network dedicated to political causes and capable of funding groups beyond his own.
"We really aspire to be like the Kochs," Brock said.
There is no other network in politics that comes close to rivaling the size of Charles and David Koch's immense conservative network, funded by the billionaire brothers. What Brock hopes to emulate is a political machine that offers Democratic donors the same firm, guiding hand that the Koch operation embodies on the right.
Brock said Democrats need a donor network built to fight the same political battles, with the same level of control over how and where money is spent.
The existing major donor network on the left, the Democracy Alliance, focuses on funding an array of other liberal groups, including non-profits and think tanks.
What Brock proposes in Democracy Matters, he said, would be a political machine. But the Clinton hitman-turned defender, now without a Clinton project for the first time in years, did not dispute the idea that a new liberal donor network could pose a challenge to the DA, which he argued has left a void opposite the Kochs.
"The DA has veered away from politics," he said. "This conference is openly political."

Gara LaMarche, the president of the Democracy Alliance, said he is planning to attend part of the Democracy Matters conference next week. The network funds a variety of progressive policy and advocacy groups, including Brock's own press watchdog organization Media Matters.
The DA, he added, has seen about 50 new members in the past few years. And given "deep concern about Trump," LaMarche said, the DA has organized a summit on regaining power in 2018 and 2020 state races at their next meeting in Washington.
The Brock retreat will offer donors a lineup of closed-door meetings focused almost entirely on ways for Democrats to claw back political power and oppose the next president: Clinton pollster John Anzalone on "Tactics To Win"; Chicago Mayor Rahm Emanuel and veteran strategist Ron Klain on Donald Trump's first 100 days; former U.S. attorney general Eric Holder, by videoconference, on redistricting; and three sitting attorneys general on strategic role of Democratic states in the first term.
Next week's retreat, according to Brock, has drawn interest from new donors. Of the 120 who are confirmed to attend, about one third, he said, have never given to one of his organizations, including a "new contingent" from the Silicon Valley community.
Brock's move toward a donor network makes one in a list of other prominent Democratic groups that unveiled plans to transform, expand, or retool, with many competing for the same donors and indistinct roles that make up the loosely termed "Resistance."
Both American Bridge, Brock's group, and the Center For American Progress, run by Clinton ally Neera Tanden, have been presented as a central clearing house for research. (Neither Tanden nor Guy Cecil, who runs another central group, Priorities USA, will be attending the Brock conference.)
Brock is already planning the second Democracy Matters 17 conference for the fall, followed next year by "Democracy Matters 18" retreats. It is not clear when he hopes to be able to start raising for other groups, or how that network would be structured or its groups selected.
Brock hosted his first donor retreat in 2013, where Bill Clinton keynoted, but his groups were the only ones represented. Next week's Democracy Matters conference will be his featuring other organizations, but the event is still aimed at promoting and raising a undisclosed multimillion-dollar amount for four of his organizations: American Bridge, Citizens for Responsibility & Ethics in Washington, ShareBlue, and Media Matters.
Brock said that any group at the conference will benefit alone from access to 120 donors. The group will also include 10 of Clinton's top fundraisers, he said, each of whom raised more than $1 million for the campaign. Brock declined to provide any donors' names.
In their closed-door meetings, donors will receive two debriefs on the 2016 loss, one from AFL political director Michael Podhorzer, and the other from Jon Cowan of Third Way. Other sessions include Roberta Kaplan, a top litigator in the Supreme Court marriage cases, on "Holding Donald Trump Accountable To The Court," as well as "Democratic Messaging That Can Work" from Schriock of Emily's List, John Neffinger of the DNC, and former congressman Harold Ford Jr.
The conference's more eclectic offerings include a welcome speech from liberal newscaster Keith Olbermann; cameos by two Republicans, Bill Weld and Richard Painter; and a session on "Fake News: What It Is and What To Do About It," led by Brock's former boyfriend of 10 years, James Alefantis, owner of Comet Ping Pong, the D.C. pizza place that became ensnared for weeks in #pizzagate, the campaign to spread viral and vulgar fake news stories involving Clinton at the restaurant.
The conference sessions, running Thursday to Saturday, will take place almost entirely behind closed doors.
Brock said he is planning to credential press for his opening remarks, as well as an interview with Sen. Jeff Merkley and the forum with the five DNC chair candidates.