David Brock Asks Benghazi Committee: Why So Interested In Me?
Clinton confidant fires back after becoming subject of closed Benghazi hearing: "If all the Republicans have left to nail [Hillary Clinton] with is Media Matters and Blumenthal, this is an investigation that may as well shut down."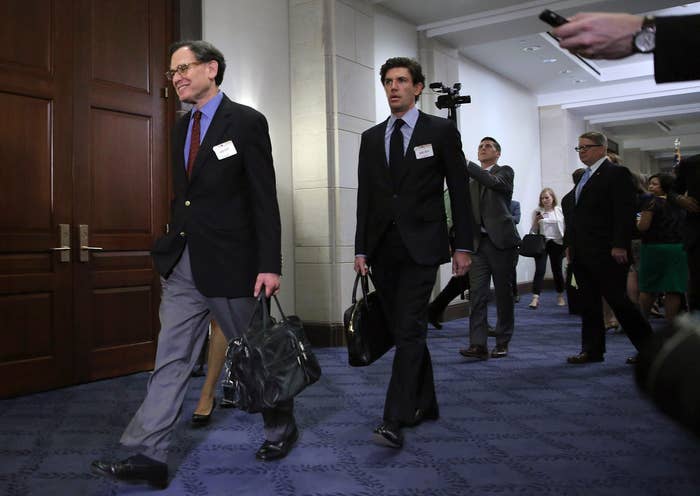 Sidney Blumenthal's deposition before the House Select Committee on Benghazi last week lasted nine hours. There were hundreds of questions: more than 270 about his business activity in Libya; 160 about his relationship with the Clintons; and some 20 about the terrorist attack on the U.S. compound where four Americans died in 2012 during Hillary Clinton's tenure as secretary of state.
There were also 45 questions, according to the Democrats who sit on the Republican committee, about the group Media Matters and its founder David Brock.
Blumenthal, a former journalist who joined Bill Clinton's administration in 1997 and stayed close to the couple since, became a focus of the Benghazi investigation last month after the New York Times reported that he'd advised Clinton, then secretary state, on matters pertaining to Libya while pursuing financial interests there.
But the committee, chaired by Rep. Trey Gowdy of South Carolina, has also taken an interest in Blumenthal's work for Brock, another Clinton adviser, and his suite of entities supporting her campaign for the Democratic nomination. Blumenthal currently works as a paid consultant to Media Matters as well as American Bridge, a super PAC founded by Brock to work against Republican candidates, a spokesman for Media Matters told BuzzFeed News.
In an open letter on Monday afternoon, Brock said his relationship with Blumenthal was well-known, described the committee's focus on Media Matters as politically motivated, and joined calls from other Democrats for Gowdy to reverse his decision to keep private the transcript from Blumenthal's deposition.
Gowdy said on Monday that the transcript should not be treated differently from others, which remain private. He also noted that Clinton has not shown the committee equal transparency: On Monday, Gowdy released a new batch of emails from Clinton that she did not previously produce voluntarily, he said.
Brock, though, said that the members of the committee were keeping the transcript private "to save themselves from political embarrassment." Blumenthal and his lawyers, according to Brock, were told by "the lead Republican lawyer for the committee" that the nine-hour deposition had produce little of use: "'Maybe we got five minutes worth of something,'" they said afterward, Blumenthal told Brock.
"At this point, it's obvious that the committee's intended target is potential Democratic presidential candidate Hillary Clinton," Brock said, referring to the congressional investigation as the "House Select Committee on Media Matters."
"If all the Republicans have left to nail her with is Media Matters and Blumenthal, this is an investigation that may as well shut down," said Brock, whose groups worked in the lead-up to Clinton's campaign to support her likely run for president.
Because the transcript of the deposition has not been made public, it's not clear what specifically the committee asked Blumenthal.
In his letter, Brock said that one focus was Blumenthal's possible role in the production of four Media Matters articles about coverage of Benghazi. Another was whether Blumenthal had been involved in a statement about the committee from Correct the Record, another Brock group aimed at defending Clinton. (Brock said that Blumenthal had no part in any of the aforementioned activity.)
A spokesman for the Benghazi committee declined to comment for the record.