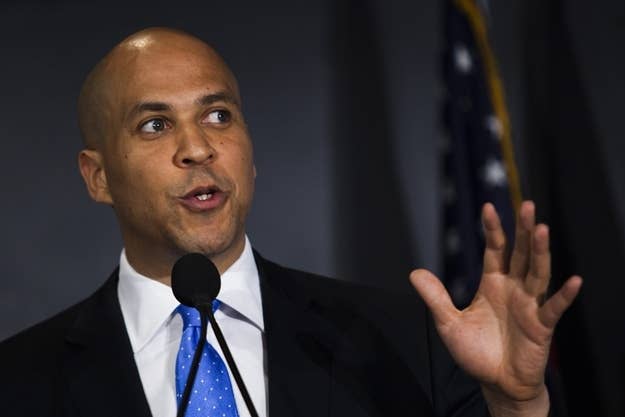 TRENTON, N.J. — There was some confusion late Monday morning about where Frank Pallone, the 25-year veteran of Congress, would announce the Senate campaign he's been waiting years to run.
His staff told reporters the day before to prepare for a press conference in front of the New Jersey division of elections building on Trenton's State Street, where Pallone would hand-deliver the nominating petition signatures required to get his name on the special election ballot. But heavy rain up and down the Garden State caused his office to move the event last minute to the ballroom of a Marriott downtown. When the rain let up an hour later, they moved it back to State Street. And by the time Pallone and a bevy of reporters arrived on location at 1:30 p.m., it was pouring again. The event, it was decided, would be held inside an art gallery off the lobby of the government building.
It was in this improbable venue, standing at a makeshift podium in front of small sculpture of a woman with no head or arms — "NUDE, possibly 1939, bronze," read the label on the display case — that Frank Pallone pitched his candidacy for U.S. Senate to a line of television cameras and a handful of newspaper reporters sitting cross-legged on the gallery floor.
Behind him, signs for Steve Lonegan, a Tea Party activist and the first Republican to get in the race, were still taped to the wall from his own jerrybuilt press conference earlier that afternoon. Candidates from Lonegan to Pallone to state assembly speaker Sheila Oliver, stopped by the space to submit their signatures before the 4 p.m. filing deadline for the special election to replace the late Sen. Frank Lautenberg.
"This is gonna be a race of making clear what my record is and how I can make a difference — and I'm excited about it," Pallone said, before wrapping up his press conference in the gallery.
The congressman didn't leave many convinced. Later, after he had submitted his signatures and left, one reporter joked to another, "Did you see how unexcited Pallone looked when he said he was excited?"
But how excited could he really be, up against Cory Booker?
The Newark mayor — a rising national star who made himself famous with Twitter and served as a prominent surrogate on President Obama's reelection campaign last year — has already managed to far outshine his rival candidates, particularly Pallone, who has long wanted to succeed Lautenberg in the senate, and is trailing Booker by more than 40 points, according to polling released this week.
Pallone is finding out what it means to run against a celebrity: The scene Monday on State Street, lackluster and wet with rain, couldn't have differed more from Booker's weekend on the campaign trail, where his persona as a "superstar mayor" cast a shadow over the other the other candidates, who are unknown throughout the state by comparison.
But Booker's status as a national political icon is, on a smaller scale, reminiscent of Obama's celebrity in 2008, when he was greeted at campaign stops more like a rock star than a presidential candidate. The phenomenon was eventually used against him in a briefly effective McCain campaign attack ad that compared Obama to Britney Spears and Paris Hilton, and mockingly called him "the biggest celebrity in the world."
While Booker's star power has so far been a boon to his candidacy, giving him enviable name recognition in New Jersey, it will also be central to the case against him made by his opponents, who are already framing the campaign as celebrity versus substance. Meanwhile, Booker is enjoying the advantages of being the most popular candidate in the field.
Booker made two stops Saturday — the first at the sleek headquarters of Audible.com, a company he helped bring to Newark; and the second at a senior center in Willingboro, a town in the southern part of the state. He was met at each event by national press, and swarms of adoring, picture-snapping supporters. Bill Bradley, the former senator and basketball star — and a celebrity politician in his own right — made introductory remarks at both stops.
In Willingboro, a pastor made a point of telling Booker what a star he is, referencing the incident last year in which Booker ran into a burning building to save a neighbor.
"Over the years, we've seen you as a mayor who puts himself in harm's way," said Charles Levi Martin, a reverend at a nearby church. "In the fire! In the flood! In the rain! In the storm!"
"As a member of the clergy in this Willingboro community, we want to commend you! For the way you put yourself in the cruciform state — for this state, for this people," Martin said. "We have your full back. I want you to know that."
Booker thanked him, but pushed back against the hero characterization, as he often does. "The media often focuses on these individual actions and the like," Booker said. "What I know — and what you know very well, pastor — is that that spirit is not just evidenced in an individual political leader, but is evidenced all over our state."
But Booker moved around the room like a star in Willingboro. It took him more than an hour just to leave the event. "Oh my god, guys. Oh my god!" said a group of teenage girls, giggling as they reviewed a picture they took with Booker once he had already moved on to the next fan.
Later, on Monday, while the other candidates were filing their signatures, a re-run of Booker's appearance on the Dr. Oz show happened to air on New Jersey's channel five. By then, though, Booker had already left the state for a trip to California, where Facebook founder Mark Zuckerberg is hosting a fundraiser Tuesday for the campaign, according to a Booker aide.
Pallone, meanwhile, had been scheduled to appear on ABC's Good Morning America on Monday, a staffer said, but the network canceled the booking to make more time for the news about the National Security Agency leaker.
Though if you ask him about Booker's popularity, Pallone will tell you it doesn't matter much.
"It's not going to be an issue of who is best known," he said. "Ultimately, those who go to vote in August are going to look at the record and choose the best candidate. It doesn't become a popularity contest."
One voter, Cathy Giancolla, a local Tea Party activist who attended Lonegan's press conference, said Booker's popularity may even dissuades voters.
"Somebody explain to me why Cory Booker is so popular," she said. "We have media personalities now running our country — all we're doing is putting stars in Washington. That frightens me. We are not looking at issues anymore — we're looking at your tweets."
Although it may explain the vast divide in the polls now, Booker's popularity may not carry him through the primary unscathed if a candidate like Pallone can muster organizational support, Patrick Murray, of the Monmouth University Polling Institute, told reporters at Pallone's press conference.
"Even though Cory Booker has astronomical numbers in terms of popularity and media attention, particularly among new jersey democrats, we don't know how many of those people are actually gonna show up to vote in the middle of August," Murray said. "It could come down to who has the best organization support."
"Cory Booker is popular. The question is how deep is that popularity," he said. "We know it's broad, but it might not be deep enough."