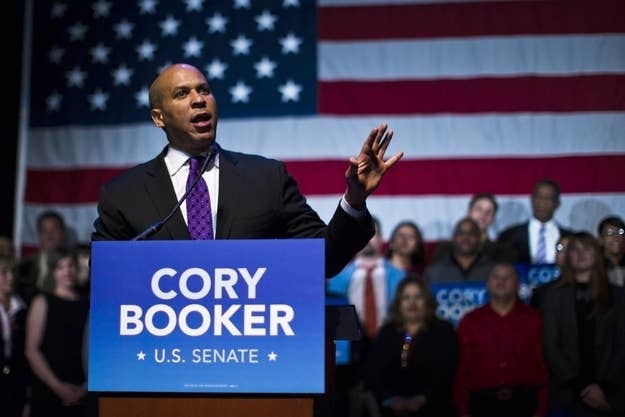 Cory Booker, the Newark mayor who won the special election in New Jersey last week, will become a U.S. senator next Thursday, Oct. 31, BuzzFeed has learned.
A source close to Booker's office said that Vice President Biden plans to administer the official oath of office at 12 p.m. that Thursday, the day of Halloween.
Booker has had little time to prepare for his transition from City Hall to the Senate. He will arrive in Washington just two weeks after winning the election to succeed the late Sen. Frank Lautenberg by 11 points over his Republican opponent, Steve Lonegan. Booker replaces Sen. Jeffrey Chiesa, the Republican interim senator, appointed by Gov. Chris Christie after Lautenberg's death in June.
Booker has already been prepping for the move from Newark. Earlier this week, his campaign announced that Louisa Terrell, a former aide to President Obama and then-Sen. Biden, would lead his transition to the Senate as chief of staff. Terrell, whose hire was first reported by Politico, currently serves as director of public policy at Facebook and comes to Booker's team as a Washington veteran.
The state of New Jersey has yet to certify the results from the Oct. 16 special election, but sources say that process is expected to wrap up as early as this Thursday. If certification does not take longer than anticipated, Booker will advance to the Senate as planned on Halloween day at noon.
Update: The campaign confirmed the date and details of Booker's swearing-in event in a press release Wednesday evening.