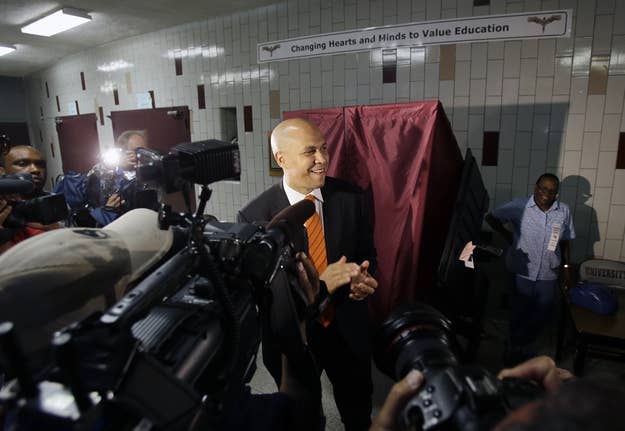 LONG BRANCH, N.J. — On Wednesday, Cory Booker's position on military intervention in Syria was clear: He opposed it.
In an interview on HuffPost Live, Booker said that he was "profoundly war weary"; that the United States "should not be going to war" or "unleashing missiles"; and that he disagreed with President Obama, his biggest booster, on whether the use of chemical weapons automatically requires a military response.
"I'm not drawing the red line that I know the Obama administration did," he said.
Booker, the Newark mayor and frontrunner to replace the late Sen. Frank Lautenberg in the U.S. Senate this October, is already a Democratic Party star. And he emerged that day, somewhat unexpectedly, as one of the party's biggest names resisting action in Syria — just as Obama and Secretary of State John Kerry were readying an aggressive case to do the opposite.
But by Friday, as the White House made a public push for a strike on Syria, Booker softened his anti-war language and emphasized that, as a candidate, he does not have access to the intelligence briefings offered to sitting members of Congress.
By Saturday morning, after the administration declassified information about the gas attack that killed more than 1,400 people last Wednesday, Booker said his "default position [was] peace and non-violence always," but suggested that he'd wait to see "what the president decides."
And by Saturday evening, after Obama announced that he would seek Congressional authorization for the use of military force, Booker released a statement that praised the president for consulting Congress and urged members to return to Washington "immediately to consider this matter."
But Booker remained noncommittal as to whether he supports or opposes military intervention, and did not say how he would vote on the issue as senator, unlike his Republican rival Steve Lonegan, who said Saturday afternoon in a statement that he would cast a vote against the measure.
Booker did vow that, if elected, he would "always approach the question of military intervention as a last resort," but he declined in the statement to weigh in specifically on the White House's support for the use of force in Syria. He stressed instead his belief that the administration must lay out "clear, achievable objectives and a credible path to achieving them."
"As part of the process of working with Congress," Booker said, "I expect that the president will clearly delineate what the strategic objectives are, and what limited military action will specifically achieve in Syria."
The Newark mayor noted again that "as a candidate for office," he does not have access to classified information.
Booker's reaction to President Obama's announcement, delivered Saturday afternoon in the Rose Garden, reflected a more circumspect approach to the crisis in Syria relative to the impassioned case he made to HuffPost Live against another war. And it may have offered a glimpse at some of the challenges he'll face if elected — he is the overwhelming favorite to win — when his bold rhetoric meets legislative reality.
Even as he walked the Jersey Shore boardwalk with Rep. Frank Pallone at a campaign event Saturday morning, before Obama's remarks, Booker maintained that he hasn't changed his anit-war stance. "My default position is peace and non-violence always," he said, during a brief interview in Long Branch. "Any action should be the last possible choice that we make."
Asked about the declassified intelligence report that detailed the death toll of the Aug. 21 gas attack — 1,429 people, at least 426 of whom were children — Booker called the figures "very compelling" and acknowledged a moral obligation to act in some form.
"Obviously, there needs to be a response, but the question is what is it, and is it going to be perfectly attenuated to the outcomes we want," he said. "All these things, I think, are in the president's mind, and we're going to wait and see what decision he makes."