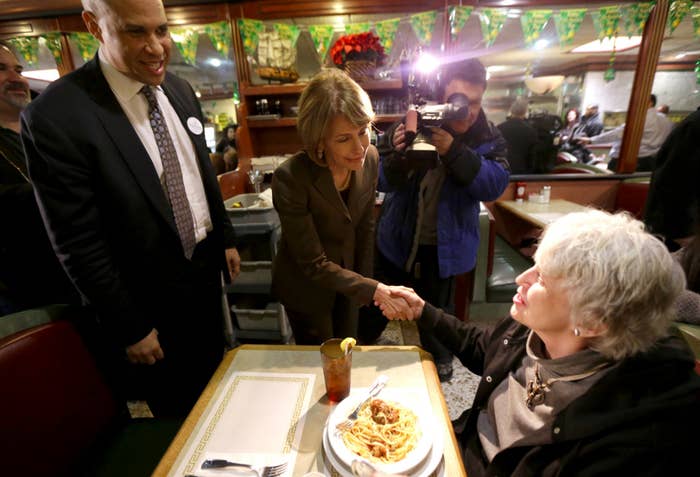 NEWARK, N.J. — At his first campaign event in support of New Jersey's Democratic candidate for governor, Cory Booker was at pains to demonstrate that it's not always about Cory Booker.
The mayor of Newark, a rising national star and an all but certain candidate for U.S. Senate next year, hosted state Sen. Barbara Buono in his city Tuesday afternoon during what was billed as a "listening tour" up Ferry Street, where the two lawmakers visited with four businesses, posing for photos and stopping for small-talk with patrons along the way.
It was the first event in what Booker — whose long, public deliberation last year over his own possible gubernatorial bid rankled members of the state party establishment — has promised will be an extensive campaign in support of Buono, a political unknown in some corners of the state relative to popular incumbent, Republican Gov. Chris Christie.
"I'm gonna raise money for her, I'm gonna stump across the state for her, I'm gonna write her a personal check," Booker said, standing beside Buono, during a press conference in the small backroom of Andros Diner, the last stop on the tour through Newark's Ironbound neighborhood. "Mark my words," he said, "By October, this is going to be a close race."
Booker's efforts on behalf of the gubernatorial campaign will lend Buono some badly needed name recognition, which her staffers have identified as their biggest hurdle in the race this fall. (A poll out last week shows the state Senator with 22 percent of the vote, and Christie with 58 percent.)
When Booker promised he'd spend the year "crisscrossing the state" for the campaign, Buono added, "But can you get me on Oprah?"
"I'll try to get her on the couch with Oprah as well," Booker said.
But the "listening tour," despite the mayor's best efforts, gave way on occasion to moments focused more on Booker than the actual candidate.
At the press conference, he fielded questions about his chummy relationship with Christie — "my friend," Booker called him — and had to fend off reporters ready with inquiries on topics that had nothing to do with the governor's race.
As the event came to a close, Booker paused in the back of Andros, with Buono still at his side, to take about five questions from members of the press who wanted to know about a murder in Newark the night before, or about Booker's recent gun control pow-wows with New York City mayor Michael Bloomberg. ("I don't think there's a time when Mayor Bloomberg I talk where we don't talk about guns — and we talk often," the mayor said.)
Buono looked to the door — wondering, it seemed, whether she should make for the exit or stay beside the mayor as he rattled off answers into outstretched microphones and tape-recorders — but from where he stood, Booker blocked the narrow path to the front of the diner. Buono stayed in place beside her campaign partner for the day.
After a staffer finally pulled them away — "Mayor, mayor, we need to go," said the aide — Booker and Buono posed for one last picture behind the front counter with five Andros staffers who chatted excitedly in Spanish as the candidates got into position.
The cameras snapped away and Booker, with an arm around Buono, shouted, "El Próximo Gobernador!"
But one woman behind the counter, the owner of Andros, followed up Booker's cheer with one of her own, which she shouted even louder to the galley of press and flashing lights in front of her: "El Futuro Barack Obama!"