Cory Booker Supporters Look Past The Senate To The White House
On the night of the Newark mayor's first big election, fans say they're ready for a Booker presidency. "Of course I want him to be mayor, then senator, then president."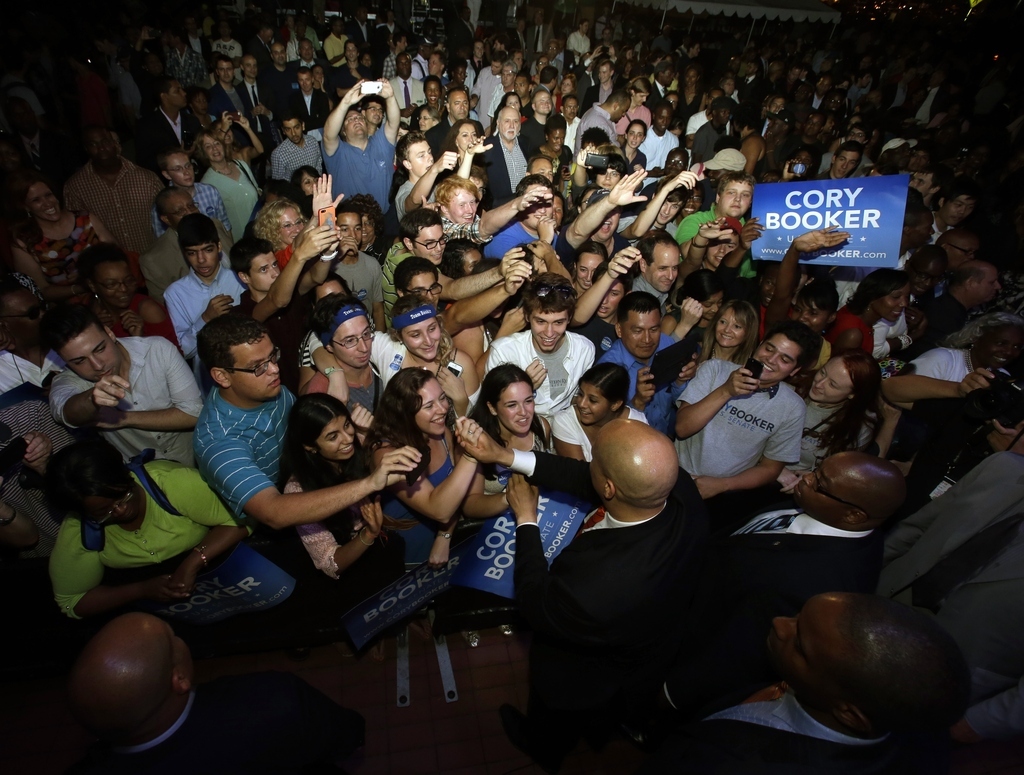 NEWARK — Five hours before topping the polls in his very first statewide election, Cory Booker got an earful from Faye Bowen, a 10-year resident of Newark who, while posing for a picture with her mayor, told him he better set his sights higher than the U.S. Senate.
"I hope you become president, dammit!" Bowen said as a campaign staffer snapped their photo in Newark Penn Station, where the candidate spent the afternoon greeting voters on Tuesday — primary day in New Jersey. Booker, who later that night would become the Democratic nominee in the special election to replace the late Sen. Frank Lautenberg, didn't acknowledge the comment, but kept a steady smile as Bowen bounced away from the crowd swelling around him.
Booker may not spend his idle hours thinking about a run for president — he said earlier this month that he, "unequivocally," has no interest in a White House run in 2016 — but his supporters certainly want him to consider it.
Voters backing Booker described the special election Tuesday as "just the beginning" for the two-term mayor who has long been a national figure, but whose career is extending for the first time beyond the city limits of Newark. Before and after Booker's victory speech outside the Prudential Center, many expressed the hope that the mayor likely bound for the Senate this fall would one day go all the way to Pennsylvania Avenue.
"I've been here, and I've seen the change from this mayor right here," said Bowen, 49. "Of course I want him to be mayor, then senator, then president — hey, hey, hey!" she laughed. "This is just the beginning for him."
Raquel Cagley, a lifelong resident of Newark, said Booker's new status as a statewide candidate gives him "a national platform where people can actually see him and know about him and his vision," she said after Booker's speech. Cagley, 40, was among the hundreds of supporters gathered to hear Booker speak.
"Absolutely without a doubt he will go beyond the senate," she said. "Everyone here has seen that from a long time ago. It's the first step of many more to come."
Chris Cashman, a registered Republican who said he hadn't voted for a Democrat in 30 years, vowed his support for Booker in the general election, scheduled for Oct. 16, and also voiced his confidence for the mayor's prospects in Washington.
"He's not going to fall into the traditional gridlock of Washington where they're just so entrenched in voting with their party," said Cashman, a 50-year-old resident of Princeton, citing a theme Booker himself highlighted in his speech Tuesday night. "He'll be able to bridge the gap between Democrats and Republicans."
"I do think he has the potential there to go all the way. I really do," Cashman said.
Booker, for his part, said he was focused on the general election ahead, where he'll face off against Republican nominee Steve Lonegan, the conservative former mayor of Bogota.
"It's absolutely my first statewide campaign," Booker said on his way out of the Prudential Center, as rain began to fall just after the candidate's speech came to a close. "I'm so excited to be able to represent the whole state, and especially in places where I think we need even more advocacy, for cities like Camden, Paterson, Passaic, Asbury Park."
"But we've got some challenges still to go through," Booker said. "We've got two tough months ahead. I can't take anything for granted. I'm going to make sure I try to earn every vote in New Jersey and also continue to serve the city of Newark."
Earlier this month, when asked by Politico if he would rule out a run for president in three years, Booker gave a definitive, "Absolutely, yes." He promised to finish Lautenberg's unfinished term and subsequently serve another six years in the upper chamber. "No presidential, no VP, no," he said.
Some fans at the Newark rally shared Booker's reluctance to look too far down the road. "I don't think he's thinking right now, 'Oh yeah, one day I'm gonna run for president,'" said Andrea de Sa, a 22-year-old local resident. "I'm just really excited about where is right now, and I think that's where he wants to be."