Cory Booker Stays Untouchable
Despite an eleventh-hour spate of negative press coverage, the Newark mayor heads to a likely primary victory Tuesday, with his image largely unscathed. Booker even previews support from his future colleagues in Washington.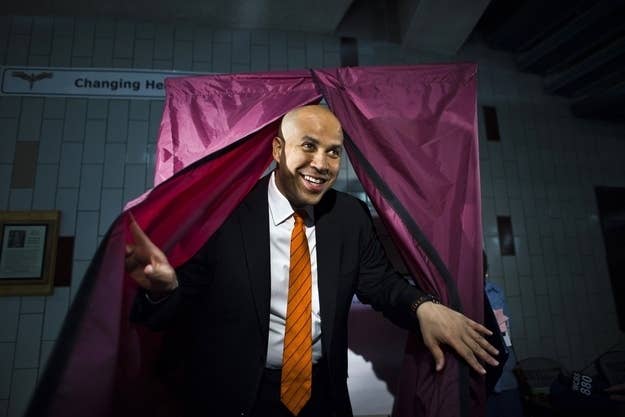 The weekend before the biggest election of his life, Cory Booker had problems: His digital media company was the subject of two critical articles in The New York Times; his personal finances were under scrutiny; and the Republican he'd be facing in the general was on the warpath before polls had even opened for the primary.
But Booker, who leads his three Democratic opponents by a 40-point spread in most surveys, brushed aside his critics in the days and hours leading up to Tuesday's primary in the special election to replace the late Sen. Frank Lautenberg.
Save for a spate of unfavorable press this past week, Booker has been able to skate, nearly unchallenged, through the 10-week summer sprint. His rivals — Assembly Speaker Sheila Oliver and Reps. Frank Pallone and Rush Holt — barely criticized Booker's campaign throughout the race. The two congressmen, thought to have the best chance of putting a dent in Booker's wide lead, each released two half-baked negative advertisements, and neither did much to damage the frontrunner. Holt, in a television spot that hit airwaves last week, said Booker "is no progressive," while Pallone released a web ad suggesting a chauffeur drove Booker around in a limo. "Jersey needs a senator who drives a Chevy," Pallone said. "Let the other guys take the limo."
Booker, with a clear path to victory in his first federal election, continued this past weekend to campaign unscathed through the final period of the primary, acting as if the slew of recent critical coverage — particularly of Waywire, the video aggregation website he co-founded last year — was of no consequence.
"I am exhausted. I passed exhaustion somewhere, but I'm having a good time," he said before a rally in Hackensack in an interview on his campaign bus, which is painted with a picture of Booker's face and a quote that reads, "When you bring people together to focus on our problems, even the most difficult things become possible."
"There's been hundreds of stories written about it," said Booker in response to a question about Waywire, which according to the Times is struggling despite investments from big-name Booker allies like Oprah Winfrey and Google's Eric Schmidt. "So, it's not necessarily new news. I've gotten a lot of encouragement from people who have said, 'You believed in an idea. You got a company off the ground,'" he said. "It's actually doing really well."
Booker denied reports that the company's "attempts to sell or merge intensified this summer" amid disappointing performance and the realization that its well-known founder would be moving on to Washington, D.C.
"That's just patently wrong," he said. "You're always entertaining people who say, 'Hey, we're interested in your company — come and talk with us.' So absolutely not. In fact, if anything, we're continuing to draw financing for the company."
"They were drawing their information from unnamed sources," he added. "And I've said, should I be elected to the United States Senate, I'll lift the bar, we'll go above and beyond what's required by the Senate by stepping off the board and putting the holdings in a blind trust."
Booker argued that his connection to Waywire, in which he has valued his holding at $1 million to $5 million, would only help him in the Senate. "This is a guy who's gonna go to Washington who actually has some business experience," he said, pausing before adding a requisite clarification: "...should I win."
In interviews and in campaign stops across the state, Booker often slips in such modest asides — that he'll go to Washington "should I win," or be a U.S. senator "God willing" — but his campaign has a feeling of inevitability around it that even his opponents acknowledge. Booker, for his part, already has plans to make his mark in the upper chamber from "day one."
"I want to be a different kind of senator," he said at a town hall with female voters in Teaneck Saturday afternoon. "On day one, November 17, if I should wake up in the morning and be a United States senator, I want to take all these things and just push change in our state," he said.
Booker promised statewide reforms that go beyond the traditional scope of a senator's responsibilities in Washington, citing as one example an incentivized tip line he created in Newark to help make arrests for unlicensed gun owners. "That has led to getting hundreds of guns off our streets," he said.
"There are things I can start doing right away," he told BuzzFeed. "I understand that in Washington it takes a while, in the same way that, in being mayor, we couldn't get the first new hotel off the ground in the first year — it took time to put everything in place. So I hope to move quickly, and right away I plan on talking to leaders all across the state in bringing innovations from Newark."
Booker, in fact, said he's already started forming working relationships with his future colleagues in the Senate. Some senators' names, he teased, would even show up on his next campaign filing.
"I think the next disclosure will show if or if not some senators actually contributed to our campaign," he said. "Look at our next filing to see if possibly some senators have contributed."
"I have people who I legitimately consider friends there," he added. "Should I make it past the primary, I will talk more abundantly about that."
Senate Majority Leader Harry Reid has already said he fully expects Booker to join him in Washington later this year. Asked in an interview with PBS about the dearth of African-American Democrats in the Senate, Reid said simply, "Well, just hold your breath, Cory Booker's on his way from New Jersey. That'll happen in October."
But for now, Booker isn't indulging Reid or the polls or the fact that his colleagues in the primary have all but surrendered Tuesday's fight: "I don't want to get ahead of myself," he said.