Cory Booker Shows 15 Years Of Tax Returns
Federal income tax returns show the senate candidate made fewer charitable contributions than previously suggested. Booker will also step down from the board of Waywire, his digital media company.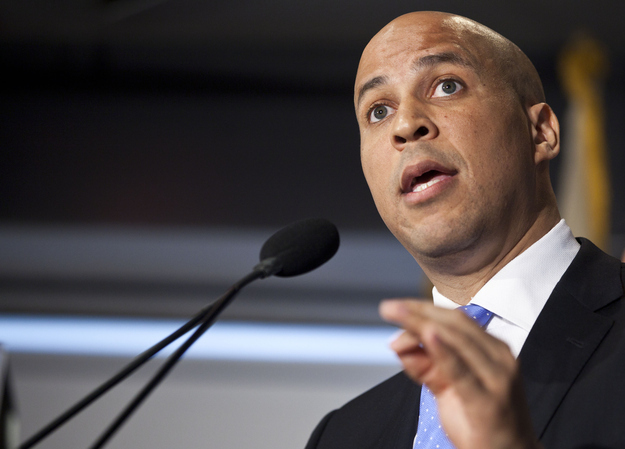 NEWARK — U.S. Senate candidate Cory Booker released 15 years of federal income tax returns Friday afternoon. The filings revealed an average effective tax rate of 26.29% and shed some light on the mayor's personal finances dating back to his first year as a city councilman.
Booker's tax rate for 2012 was 36.89%, the most he has paid since 1998, when he was first elected to the Newark Municipal Council. His tax rate has never fallen below 18%, according to the filings, which aides allowed reporters to view for several hours. The campaign will not be making the documents available for public viewing online.
The returns show Booker took in an average income of $261,476 per year, with much of that money deriving from paid speeches. The speeches supplemented an annual income from City Hall that ranged from a low of $83,000 in 2006 to a high of $152,000 in 2011. From 2000, when Booker started giving speeches, to 2012, he has made $1,317,715, after taxes, addressing audiences.
In that same time period, he gave $149,347 to charity. (Booker's campaign said in March that he has given roughly $620,000 in charitable donations since 2009 — an aide accounted for the difference with 2013 giving, which he said figures so far at $469,906.)
Although Booker kept the majority of the money he made from public speaking in the last 12 years, he told The New York Times in March that he kept almost none. "Even though I am entitled to keep it," he said, "after Uncle Sam takes his share and after I've given away hundreds and hundreds of thousands, I've kept very little of it, if any."
Booker's tax returns for 2012 did not disclose any information about his holdings in Waywire, a digital media company Booker founded last year. "There was no income that was derived from the holding, and it wasn't sold, therefore it doesn't have to appear on an income tax form," said Booker's communications director, Kevin Griffis. Before the special election primary in August, Booker came under scrutiny for his involvement in the website, which reportedly has struggled despite high-profile investments from the mayor's most prominent boosters.
The campaign told reporters in a memo that Booker "is stepping down from the Board of Waywire and that he will donate his shares in the company to charity," though they did not specify to what organization.
Documents provided by Booker's office earlier this year show that the mayor has given to the charity he himself founded, Newark Now, every year from 2009 to 2013.
The tax filings also show that Booker's accountant overpaid his taxes by $100,000 in 2007 — a "clerical error" Griffis says wasn't discovered until the campaign began reviewing his returns earlier this year.
The documents show that Booker also received roughly $21,000 from consulting work from 2000 to 2002; $25,000 from a teaching fellowship at Stanford University in 2003; and $688,500 from a buyout agreement from 2007 to 2012 with his old lawfirm, Trenk DiPasquale, in which he had an equity stake.
Booker's filings show limited investment activity. But the Newark mayor did make a perhaps ill-advised sale of 25 shares of Netflix stock in 2003 for a profit of $172.
In the memo to reporters, the campaign also called on Steve Lonegan, his Republican rival in the Senate race, to release years' worth of tax returns.