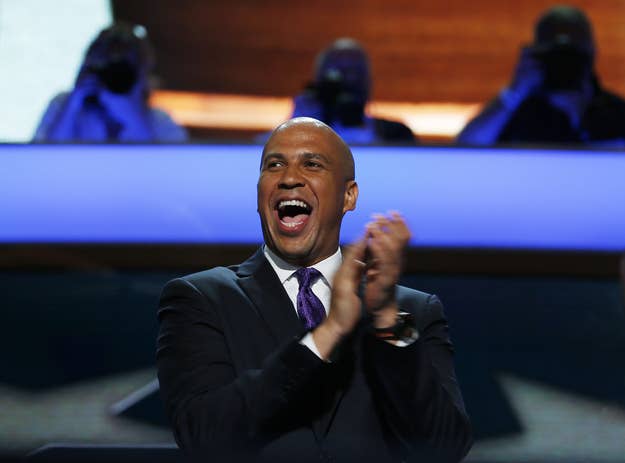 Newark Mayor Cory Booker, one of the Democratic Party's brightest stars and its favored challenger to Gov. Chris Christie next year, may defer that race for a chance to run for Senate the following year, said a prominent supporter of the mayor.
"It's a more real option than people realize," the Booker backer told BuzzFeed.
With Christie's approval rating at 72% — the highest ever measured for a New Jersey governor — in the wake of his handling of Hurricane Sandy, Booker could have an easier time facing a different candidate in the 2014 Senate race, fighting for the seat of current Democratic Sen. Frank Lautenberg, who is expected to retire in 2014 at the age of 90.
"The benefit of 2014 is that he's more likely to win," said Ben Dworkin, director of the Rebovich Institute for New Jersey Politics, who noted that Republicans — shadowed by their national party's conservative stands on federal social issues — have not won a statewide Senate race since 1972.
Booker said Monday morning on CNN's Starting Point with Soledad O'Brien that his political future remained undecided, noting that he hadn't yet ruled either option.
"I'm putting a lot of people I trust around me," Booker said on the show, "trying to make the decision based simply on this — where I think I can make the most difference in the city I love and the state I love and the nation I pledged my life to."
And another New Jersey Democratic source said Booker will likely announce his decision at the end of this week or early next week.
"He has multiple options before him," said the official. "I get the sense that he's genuinely struggling with it. He would very much like to do it, but there's also the Senate, which seemingly is a path of less resistance. But I think that he wants to run for governor."
Without Booker in the race, the popular Christie would likely face a lower-profile candidate like Assemblyman Louis Greenwald, Congressman Frank Pallone, State Senator Barbara Buono, or former New Jersey Gov. Dick Codey.
"The conventional wisdom is there are two levels of candidates — there's Mayor Booker, who has the fund-raising ability to go toe-to-toe with Gov. Christie, and then there are any number of other qualified candidates who don't have the same star power," said the Democratic official.
And with such a strong Christie foothold coming out of Sandy, said Dworkin, "the biggest incentive for Booker to wait to 2014 is that it's an easier path to win."