Cory Booker Raked In $1.3 Million From Speeches Since 2008
The Newark mayor gave about 75% of his earnings to charity.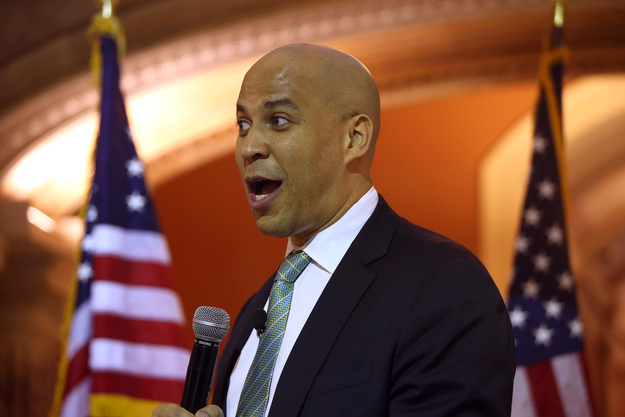 Newark Mayor Cory Booker made a total of $1.3 million from 90 paid speeches from 2008 to April 2013, according to financial disclosure forms filed by his office ahead of a campaign for U.S. Senate next year.
Booker paid roughly $467,000 in taxes on the speeches during the five-year period. The filings, provided to BuzzFeed by Booker's office, show he gave nearly $620,000 — or just under 75% of the earnings after taxes — to charities and nonprofits. That leaves an income of about $232,000 from the speeches over the last five years.
Booker has come under fire for traveling outside the city of Newark to deliver speeches and make public appearances. But earlier this year, he told The New York Times he gives nearly all of his speaking fees to charity.
"Even though I am entitled to keep it," he said, "after Uncle Sam takes his share and after I've given away hundreds and hundreds of thousands, I've kept very little of it, if any."
Most of the charitable donations, said Booker's campaign spokesman Kevin Griffis, went to Newark nonprofits and churches.
The filings show Booker made a salary during the 2012-2013 reporting period of $174,500. The forms show Booker did not take in any earnings from his digital media company, Waywire.
The majority of the speeches — 42 in total over the last five years — took place at institutions of higher learning. Twenty two took place at corporations, including Google, MetLife, and General Mills.
"The speaking opportunities have provided benefits for the city of Newark," Griffis told BuzzFeed in a statement. "They have helped the mayor connect to philanthropists and developers and attracted talented people to the city. Further, his talks have helped to increase and improve the city's profile, and allowed the mayor to make significant contributions to Newark non-profits and organizations hit especially hard during this difficult economic time."
Booker only released a U.S. Senate financial disclosure form for the 2012-2013 reporting period, but his office provided reporters with a full list of compensated speeches since 2008, as well as a list of entities to which he has given and during what year. But the list does not specify how much Booker gave to which charities, and on how many occasions.
The filing shows he gave a donation of some amount the Newark Now, the charity Booker founded in 2003, every year from 2009 to 2013.
Correction: Booker earned a salary of $174,500 during the 2012-2013 reporting period. An earlier version of this item mischaracterized the figure.
Booker's financial disclosure filing:
Booker's paid speeches:
(This document, provided by Booker's office, lists only 89 of his speeches, accidentally omitting one, a speech given at Bridgeport Child Advocacy on April 27, 2010, in Bridgeport, CT, according to the mayor's spokesman. Booker gave a total of 90 paid speeches from 2008 to 2013.)