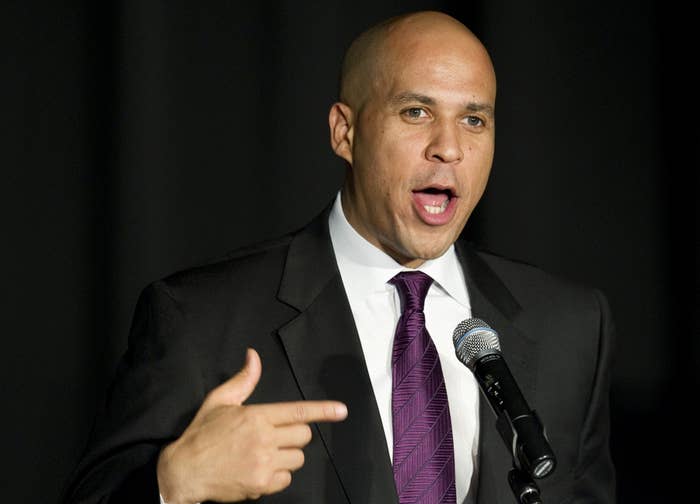 Newark mayor Cory Booker will hold a fundraiser in support of his run for U.S. Senate next month in Palm Beach, Fla., BuzzFeed has learned. The event sets in motion a campaign that has, until now, been held in abeyance pending a decision from Frank Lautenberg, the 89-year-old U.S. Senator from New Jersey whose seat Booker hopes to win, to retire and not seek a sixth term in office.
Despite Lautenberg's announcement Thursday afternoon that he would in fact step down in 2014, Booker insisted Sunday morning on CBS News's Face the Nation that his run for Senate remains a mere possibility. "Clearly it's a job that I'm interested in," Booker said. "I'll spend the coming months working on and exploring that."
But next month's fundraiser is a clear sign that Booker is already laying the groundwork for a serious campaign.
The event, a lunch reception on March 23, 2013, will take place at the home of Christina and Robert Baker, located just outside the Palm Beach Country Club, with tickets priced at $5,200 per guest, the maximum individual contribution for a primary and general election. A listing for the fundraiser on Booker's website, found Saturday night, has since been removed.
Reached by phone Sunday morning, Christina Baker confirmed that she and her husband would be hosting for Booker, whom the couple met around the time of his first mayoral campaign in 2006. Robert Baker, founder and CEO of the shopping mall development company National Realty & Development Corp., has several properties in New Jersey and met Booker through his work there, his wife said.
"We've met him several times," said Baker. "We think very highly of him and are very happy that he's been as successful a mayor of Newark as he has been. He would be a good leader in the Senate, and our government needs good leaders."
Baker's company manages 70 shopping centers and business complexes across 14 states, and provides space to brands such as Wal-Mart, Target, Kohl's, and Sears, according to the NRDC website. Although campaign finance records don't show the Bakers as active political contributors, the couple gave $5 million this year to help build the Christina and Robert C. Baker Prostate Cancer Care Center, a new wing of Johns Hopkins' Brady Urological Institute.
"My husband and I usually don't do this. We're new to the arena," said Baker, of political fundraising. "It was pretty much a knee-jerk reaction. We heard that he was running, and we wanted to support him."
Baker said plans for the fundraiser came together just "this week," although she would not specify whether the event was established before or after Lautenberg's retirement announcement on Thursday. "I didn't even know whether Lautenberg was going to try to reclaim his seat or not. It wasn't about that," she added.
Baker said the fundraiser next month will be "very intimate," with just 26 attendees, including the Bakers, Booker, and Bookers' long-time fundraiser, Bari Mattes.
With Lautenberg out of next year's race, Booker may face New Jersey Congressman Frank Pallone, who has long expressed interest in the senior Senator's seat and has $3.5 million of cash on hand for a campaign.