Cory Booker: Medical Experts, Not Politicians, Should Decide Ebola Policies
"Sen. Booker is relieved that Kaci Hickox is on her way home."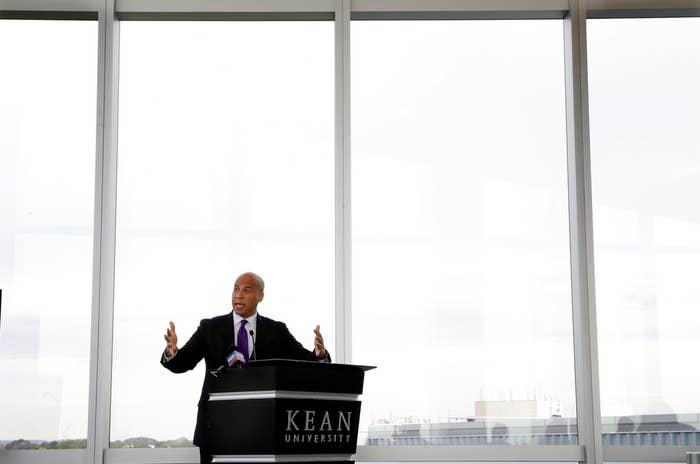 Sen. Cory Booker believes Ebola policies should set by medical experts, a spokesperson said on Tuesday in a comment that implicitly knocked the mandatory quarantines imposed last week by Govs. Chris Christie and Andrew Cuomo.
Booker, the junior senator from New Jersey, has not directly said whether he disagrees with the policy that kept Kaci Hickox, a nurse returning from Sierra Leone, in confinement in New Jersey over the weekend.
But when asked about Booker's stance, a spokesperson said the senator believes that elected officials should rely on medical professionals to handle the Ebola scare.
"While the senator is concerned about the spread of Ebola, he believes that medical professionals — not politicians — should establish clear guidelines for protecting our population from this disease," said Beth DeFalco, the Booker spokesperson.
"Sen. Booker is relieved that Kaci Hickox is on her way home and that she appears to be in good health," DeFalco said.
Booker, a Democrat, has kept relatively quiet on the Ebola quarantines imposed by Christie, his friend and sometimes ally.
The Republican governor has had to defend the mandatory quarantines for health care workers flying home from the three West African countries affected by Ebola outbreaks.
Booker's office did not comment on whether the senator had been in touch with state government officials about the quarantine in the last week. A spokesperson for Democratic Sen. Bob Menendez, the senior senator from New Jersey, did not respond to an emailed request for comment about the state Ebola policy.
Hickox, the nurse, was allowed this week to complete her quarantine at home in Maine.
After returning from Sierra Leone to New Jersey, Hickox insisted she had not experienced any symptoms of the virus, and she vocally opposed the quarantine. It violated her rights, she said. (State officials said Hickox did show signs of a fever.)
Christie and Cuomo imposed the mandatory quarantine policy late last week, after the first case of Ebola in New York. The policy has faced criticism from public health officials as overcautious, vague, and a potential deterrent to health workers traveling to affected areas. The White House has reportedly pushed back against the states on the policy.
Cuomo relaxed part of the New York policy, allowing people who had direct contact with Ebola patients to remain at home during their quarantines. And the CDC on Monday announced revised guidelines for monitoring those who travel to affected areas.
Christie said on Tuesday morning that New Jersey's plan would not change. "We're not moving an inch," he said in a televised interview on NBC.
"Our policy hasn't changed, and our policy will not change," Christie said.
Earlier this month, Booker toured Newark Liberty International Airport to meet with officials about the enhanced Ebola screenings that have been put in place.
He said at the time that he did not support a travel ban from the three West African countries affected by Ebola. "I will rely on the experts," he told a reporter.
Booker said he wanted to be careful not to "politicize" the issue.