Cory Booker Launches Senate Campaign As Washington Outsider
Standing alongside Sen. Bill Bradley, Booker made the case against D.C., but promised not to go negative. "I do not run from challenges — I run toward them."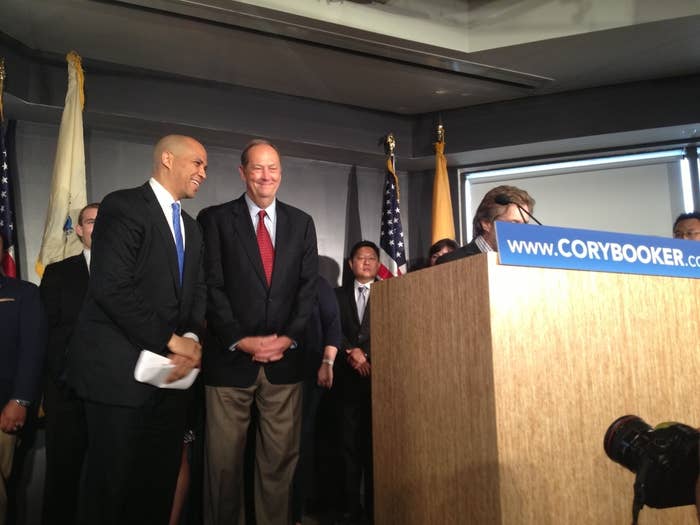 NEWARK, N.J. — Mayor Cory Booker kicked off his U.S. Senate bid Saturday morning by casting his campaign as a way to bring change to a dysfunctional, dead-locked, and partisan Washington, D.C.
Booker made his announcement from the headquarters of Audible.com, a company he helped bring to Newark six years ago. The Newark mayor was introduced first by Audible's CEO, Don Katz, and second by a surprise guest, former Sen. Bill Bradley, the onetime basketball star who was known as a no-nonsense, non-partisan lawmaker during his 18 years in office.
"I will tell you this: I've gotten to know a lot about criticism," said Booker during his speech, which was streamed live on cable news, and delivered in front of 15 television news cameras and a bevy of reporters. "But there's on thing everyone has to admit about my life as a professional, and that is that I do not run from challenges — I run toward them."
Booker said he has helped bring change to Newark, decreasing the crime rate and increasing business and development over his seven years in city hall.
"There is another city in America that needs some change," said Booker. "Too many have come to believe that Washington, D.C., is a place where nothing can get done."
The Newark mayor, who said as early as last December that he was interested in filling the senate seat held by Lautenberg, who passed away Monday at age 89. Two other Democratic candidates, Reps. Frank Pallone and Rush Holt, will face Booker in a competitive special election primary, now just 66 days away.
Asked about his competitors, Booker pledged to not "go negative" during the campaign.
"We have no intention of going negative," he said, "because frankly the people I'm running against are people I know."
But the mayor made a clear effort to differentiate himself from Pallone and Holt — two Washington veterans — as a Beltway outsider who could act, speak, and vote above politics. "This is what we need now — people who can help us transcend," he said. "This is the unique experience I will bring to Washington, D.C. ... not to talk about problems, but to run toward them."
Lest that strategy be considered "going negative," Booker was sure to add later, "I'm not knocking on the Washington establishment — I'm simply saying that we need another courageous voice in Washington, D.C., that's willing to take risks."