Cory Booker Is On His Way To The U.S. Senate
The Newark mayor wins the Democratic nomination in New Jersey's special election. In his victory speech, Booker promises to work outside party lines: "I won't care about red or blue," he says. [Updated]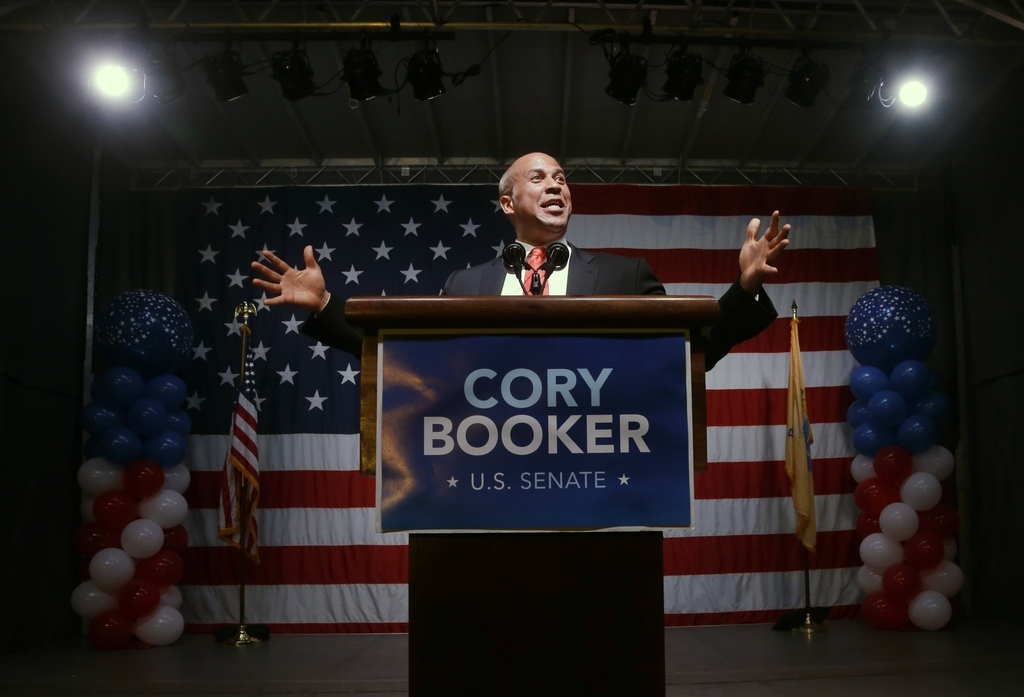 NEWARK — Cory Booker is well on his way to becoming New Jersey's next senator.
Less than an hour after polls closed across the state Tuesday night, the Associated Press called the New Jersey special election primary for Booker, with just 7% of precincts reporting their results. Booker led his primary rivals with 59% and more than 210,000 votes, surpassing turnout estimates.
The victory in the New Jersey special election primary — Booker's first statewide electoral contest — makes him a virtual lock for the U.S. Senate seat once occupied by the late Frank Lautenberg. He will face Tea Party candidate Steve Lonegan, who won the Republican nomination against Dr. Alieta Eck by a wide margin.
Because of the off-month election date and rainy weather, Booker said Tuesday afternoon he was feeling "absolutely cautious" about whether voters would turnout to the polls.
At a rally here in New Jersey's largest city, the hip-hop artist Q-Tip read aloud the results to a crowd of about 800 supporters and campaign volunteers outside the Prudential Center. "We may say goodbye to a man, but hello to a senator," said Q-Tip, of A Tribe Called Quest fame. From the stage, the back wall of which was draped with an outsize American flag, Q-Tip declared that regardless of the general election that lies ahead, Booker would be New Jersey's "new senator."
"The new senator is way ahead," he said, intermittently reading out election results from his iPhone as new information became available.
Booker addressed the crowd at 10 p.m. in a victory speech that promised a focus in the Senate on raising the minimum wage, supporting equal pay legislation for women, and making marriage equality "the law of this state, and our nation."
"I will not rely on convention," Booker said. "If you want somebody in Washington who simply plays by the same old rules, you should find someone else."
"I won't care about red or blue. I won't care about an insider's game," he added. "I will care about you. I will care about results for all the people in New Jersey."
Booker, repeating one of his favorite lines from the campaign trail, vowed "not to talk about problems, but to run toward them."
In a statement released by the Democratic National Committee, Chair Debbie Wasserman Schultz welcomed Booker's victory. "Tonight, voters in New Jersey have chosen as the Democratic nominee someone who has shown he's not afraid of challenges," she said. "He's shown he can get things done in Newark and this fall voters in New Jersey will send him to Washington to get things done in the Senate."
The general election is scheduled for Oct. 16. According to recent polling, Booker leads Lonegan in a head-to-head match-up by an average of 20 points. The Republican nominee in the race, who was the former mayor of Bogota, has already drawn heat in the race for a racially charged tweet his campaign published and then deleted about Booker.
In an interview with BuzzFeed Saturday, Booker said should he become the nominee, he would urge Lonegan to abstain from what he called "divisive" rhetoric.
"New Jersey needs a senator who will unite people, who's going to elevate communities, and that's really what I'm hoping to see," Booker said. "I'm pretty confident that's what New Jersey wants, and frankly that's what our nation needs — not people who are going to be divisive with our rhetoric."
He affirmed the sentiment in his speech Tuesday night. "He puts out his fists, I'm gonna extend a hand," said Booker. "He wants to be a flamethrower, I'm gonna be a bridge builder."
This article has been updated to include comments from Booker's speech, and reflect up-to-date election results and a more accurate crowd count.