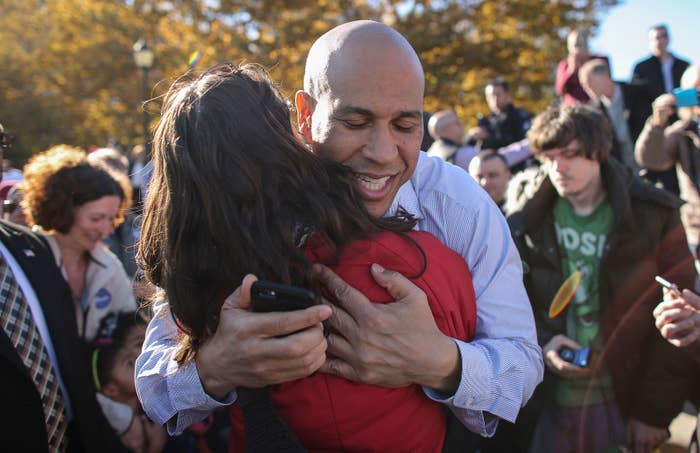 As a young man, Cory Booker kept a list of goals on whiteboards hanging above his bed. It started in middle school: be a kind person, get good grades, do well in sports. In high school, he wanted all As, three varsity sports, a football scholarship. Every day, as an undergraduate at Stanford, then a Rhodes Scholar at Oxford, then a law student at Yale, he woke up "determined and focused" — driven by a deep "clarity of ambition."
At 49, Booker is building the framework for a possible presidential campaign with the same unapologetic "definiteness of purpose," as he puts it in his memoir, that has propelled his fast rise in politics from a seat on the Newark city council, where he once called himself "the most ambitious person you'd ever meet," to the US Senate.
Where other potential candidates have sought advice on messaging, Booker has told strategists that he already knows exactly what he'd run on in 2020: a campaign about "love and inclusion" — the "ideal," as he sometimes describes it, "of radical love." He has held a flurry of meetings with operatives since the midterm elections, including with possible campaign managers. Multiple donors want to start their own pro-Booker super PACs. And for the past year, Booker himself has worked with intensity, often out of view, to develop close relationships in early-voting states like Iowa and New Hampshire — devoting hours not just to high-ranking officials but to junior staff and volunteers.
Should Booker run for president — a decision that could come as early as the end of the year, according to some members of his orbit — it will be in an idiosyncratic lane of his own making. If 2018 has divided Democratic politics into a puzzle of litmus tests, stark ideological labels, and an unending referendum on the mistakes of the campaign that made Donald Trump president, then Booker is a jagged piece at the center.
As a presidential candidate, he would effectively run on Hillary Clinton's failed slogan — "Stronger Together" — with the belief that it was the right message to take down Trump, but that where she faltered, he would be the right messenger. (Allies say he sees no value in a "fight fire with fire" approach.) As a senator, he has both worked in opposition to the administration and also delivered its sole bipartisan victory: a major reworking of the criminal justice system that Trump signed into law Friday. And after five years in Washington, he holds a reputation as both a progressive leader in the Senate and a friend to Wall Street with a long history of backing charter schools.
"I am not going to change or warp myself to try to win any political office. I am who I am," Booker said in an interview this week.
"If other political people think they need to warp themselves to fit what might be in vogue, or what have you," the senator added without completing his sentence. "What this country needs is leaders who will stand up and tell their authentic truths."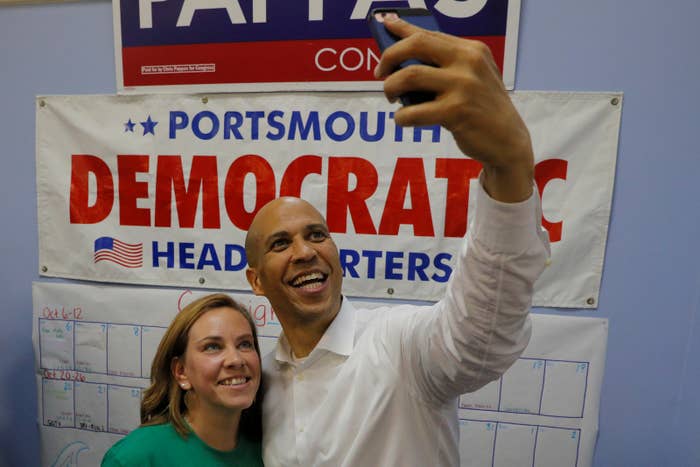 Booker has always been an unconventional politician. He's built his career on it. At the age of 27, the suburban-born Yale Law graduate moved into his first home in Newark — a one-room rental on Martin Luther King Boulevard where, in the early days, he used to kneel by the bathroom window, both "fascinated" and with "fear," to watch open-air drug deals. He was an outsider. When he ran for city council two years later, one of his mentors, Carl Sharif, told him to knock on every door in the Central Ward. Sharif's advice was simple: "Don't deny your suburban roots," Booker recalls in his 2016 memoir. "Be boldly, fully, and unapologetically myself with every person I met."
The same would be true for Booker as a presidential candidate. He would abstain from the food at the Steak Fry in Iowa, or a low-country boil in South Carolina, because he's a long-practicing vegan. (On a recent trip to New Hampshire, he was delighted to find a coffee shop in Manchester with excellent vegetable quinoa bowls.) He would turn down a beer with voters in any swing state, because he's never had a drink in his life. (As a Stanford undergrad, Booker was the designated driver at his own 21st birthday party.) He would not have a spouse to help out on the campaign trail, because he is single. (In preliminary meetings about 2020, operatives have questioned him about his personal life; he recently told the Philadelphia Inquirer that he is heterosexual.) And while Booker would rouse voters at any black church, he could also tell you about the teachings of Buddhism, his fondness for meditation, or his deep affinity for Judaism. (As a Rhodes Scholar at Oxford, he served as student president of the L'Chaim Society.)
Booker, known among current and former aides as a hyperactive boss who hardly sleeps and is never not firing off emails, considers himself his own best spokesperson. If you want to reach him, just send him a DM on Twitter or Snapchat. He will, most likely, respond. The approach renders him immediately accessible — a contrast to former presidential candidates like Clinton — but has also made discipline a recurrent issue.
In 2016, Clinton officials viewed Booker's freewheeling style as a powerful tool and a potential liability. Still, he was enough of a boon to the campaign that she came close to choosing him as a running mate. In the days before Clinton announced Sen. Tim Kaine as her pick, aides produced and printed "Clinton-Booker" signs in the campaign's signature sans serif. (Booker, Kaine, and former Iowa governor Tom Vilsack were the only vice presidential contenders to see their names printed on draft placards.)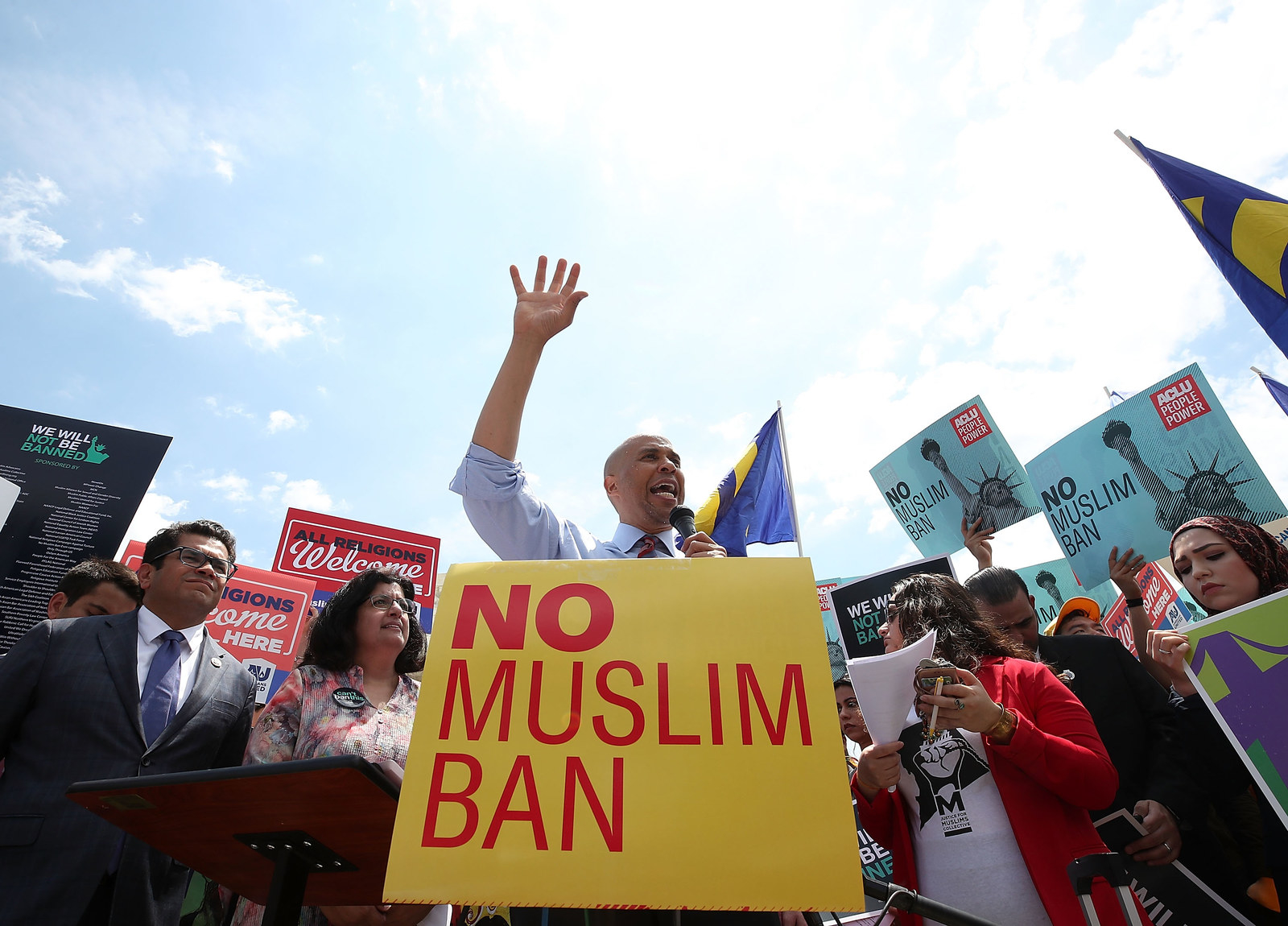 As Booker meets with consultants and potential staff ahead of the 2020 race, his aggressive strategy has made him a favorite in early-voting states — if not in polls then with the local Democratic infrastructure. New Hampshire party chair Ray Buckley calls him "the best friend New Hampshire Democrats had in 2018." And Jerry Crawford, a veteran Iowa strategist who remains uncommitted to a candidate but has taken a liking to Booker, said the senator's October speech at the state Democratic Party's annual fall gala was "as strong an appearance as I've ever seen in Iowa." (Booker and his team, sources around him said, started negotiating that speaking slot more than a year ago.)
"It rivaled Barack Obama in 2007," Crawford said.
"The guy eats more french fries than anyone I've ever seen."
Earlier in the year, on a Sunday this spring, when a handful of influential Iowa Democrats wanted to fly to Newark to meet the potential candidate, Booker set up shop in a local diner and met with the group in shifts — one or two people at a time. By the end of the outing, organized by Crawford, he'd been in the diner for eight straight hours. "The guy eats more french fries than anyone I've ever seen," Crawford said.
After trips, aides have made it a habit to scour social media feeds for Booker selfies from the campaign trail, print them out, and mail the pictures back with a personalized note. As a surrogate for candidates and state parties, he and his team instituted an across-the-board rule: "Never ask for anything," just "work hard, stay in touch, and be helpful." (Congressional Black Caucus staffers describe overt pitches about endorsements and deadlines from other potential 2020 candidates, but no such activity from Booker.) By the end of 2018, according to Booker's office, he'd raised $7 million for Democrats, including $300,000 in Iowa and $170,000 in New Hampshire.
That dollar figure included an event that Booker was never supposed to headline. This summer, organizers of a Martha's Vineyard fundraiser for Protecting Our Vote PAC found themselves in a pinch when former vice president Joe Biden, originally scheduled to appear, fell ill with pneumonia. The group called Booker, who jumped at the opportunity.
"There are very few people who can bring all corners of the Democratic Party together, including the vegan wing of the party."
"He more than anybody lends his voice to the entire Democratic choir," said Antjuan Seawright, a top South Carolina strategist who pointed out that the senator did not just focus on the traditional early-voting states. Booker, Democratic officials have noted, may be one of the few candidates who can claim to mix with the Martha's Vineyard set and serve as a sought-after surrogate in states ranging from North Dakota to Alabama.
"There are very few people who can bring all corners of the Democratic Party together, including the vegan wing of the party," said Seawright.
Booker views his own 2020 lane as most closely in line with the one that Sen. Kamala Harris or Rep. Beto O'Rourke might occupy, according to people in his orbit. He is not, he knows, an heir apparent to the voters who've historically gravitated to progressive icons like Bernie Sanders and Elizabeth Warren. (Notably, Sanders advisers do not describe Booker with skepticism: The Vermont senator, they've said, not only likes Booker but views him as a man who has the potential to inspire on the stump.)
"Our engagement with Cory has been like his record — a bit of a mixed bag," said Charles Chamberlain, the executive director of Democracy for America, a progressive organization that works closely with senators like Warren, Sanders, and Oregon's Jeff Merkley. "Cory Booker's staff has engaged with us from time to time, but of the progressive champions in our movement, he's one of the least to reach out."
In an interview this week, Booker didn't mind letting on that he's feeling fulfilled by his recent work in the Senate. Criminal justice work, he said, was a big reason he came to Washington five years ago. The Trump-backed First Step Act, passed in the Senate on Wednesday, was crafted to expand judges' discretion in sentencing, allow early release for certain federal inmates, and reduce some mandatory minimum sentences.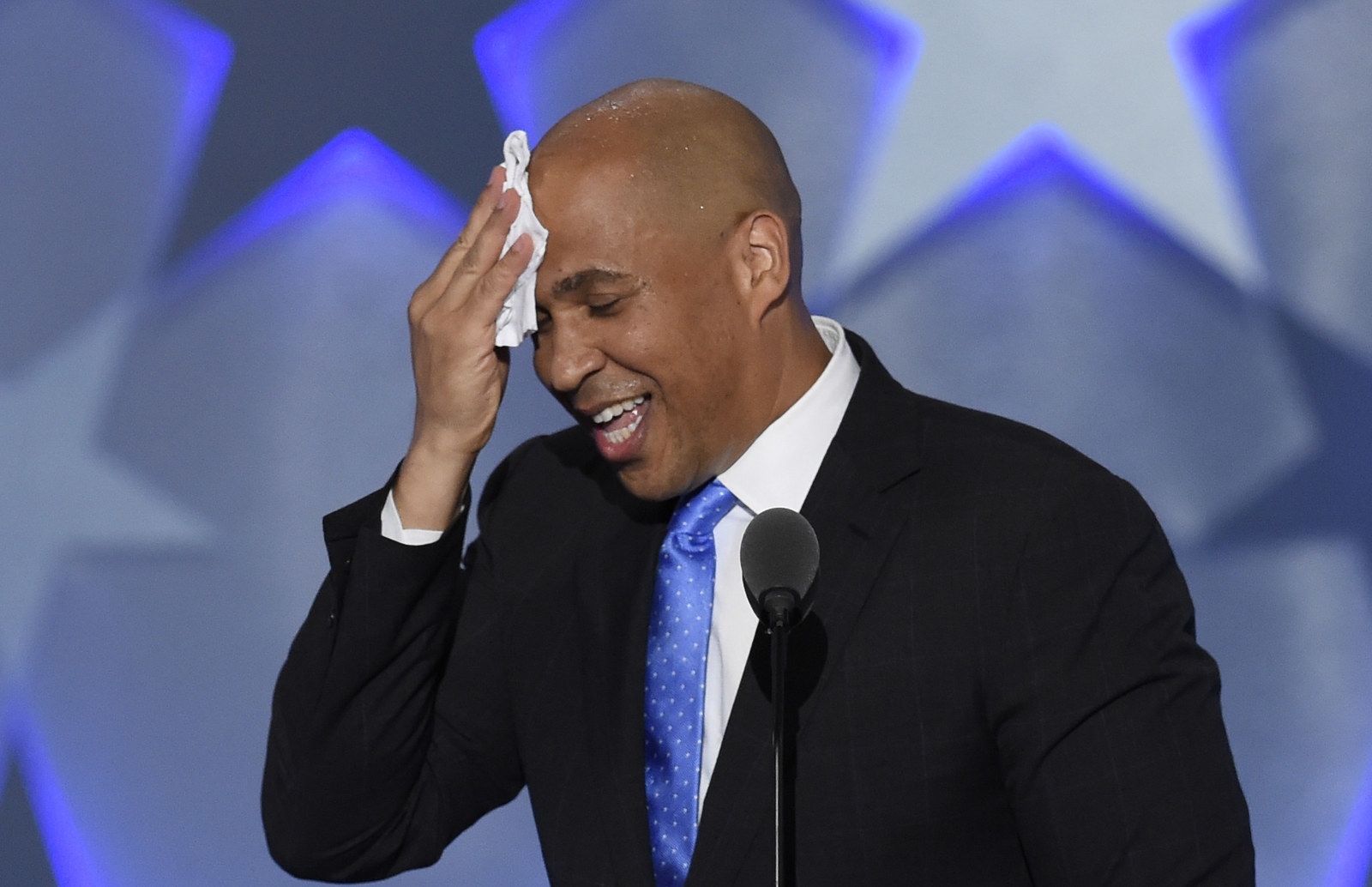 Booker first expressed support for the bill last month. Other likely candidates like Kamala Harris and Elizabeth Warren were slower to back the legislation, potentially setting the stage for an ideological debate in 2020 around one of Trump's few bipartisan acts. Booker just doesn't see the issue through a political lens. (He quickly dismissed a question about whether he'd stand with Trump if invited to a signing ceremony.)
The senator can, and frequently does, talk for hours about criminal justice. He thinks a lot about how to rehabilitate ex-offenders, legislate with compassion for victims, and administer justice humanely, particularly for juvenile offenders. He seems unconcerned if political figures view criminal justice fixes as a way to attract attention from the party's base on the left, or to bolster fiscal bona fides on the right. As Booker views it, criminal justice is the quintessential tableau to promote and pursue the relational themes he craves: the radical love, the courageous empathy, the collaborative spirit.
Activists have taken a more side-eyed view of the First Step Act, which only goes so far. Michelle Alexander, whose book on mass incarceration is the seminal work on the subject, has argued that the current system of politics — which exacerbated inequality in criminal justice in the first place — is ill-equipped to truly overhaul the system. When asked if he took issue with the idea that a self-professed "law-and-order" president would be the one to sign the bill, Booker said Alexander is one of the people who deserves credit for the change, calling her book, "very, very important."
"I look at this, having been in the Senate for five years, as a progression," he said. "And this is one milestone in that progression."
This week, Booker also helped do something that the Senate has failed to do for almost a century: pass legislation in the Senate that would make lynching a federal crime. It's the kind of work that's boosted Booker's profile with activists on the left — and mitigated some of their skepticism.
"There's no question that he's on our members' radar," said Democracy for America's Chamberlain. "But he isn't a conventional candidate. His biggest issue will be his answer for how he's going to stand up to corporate power."
Several prominent Democratic donors in Booker's orbit have already told other supporters about their plans to provide the senator with a stream of early money.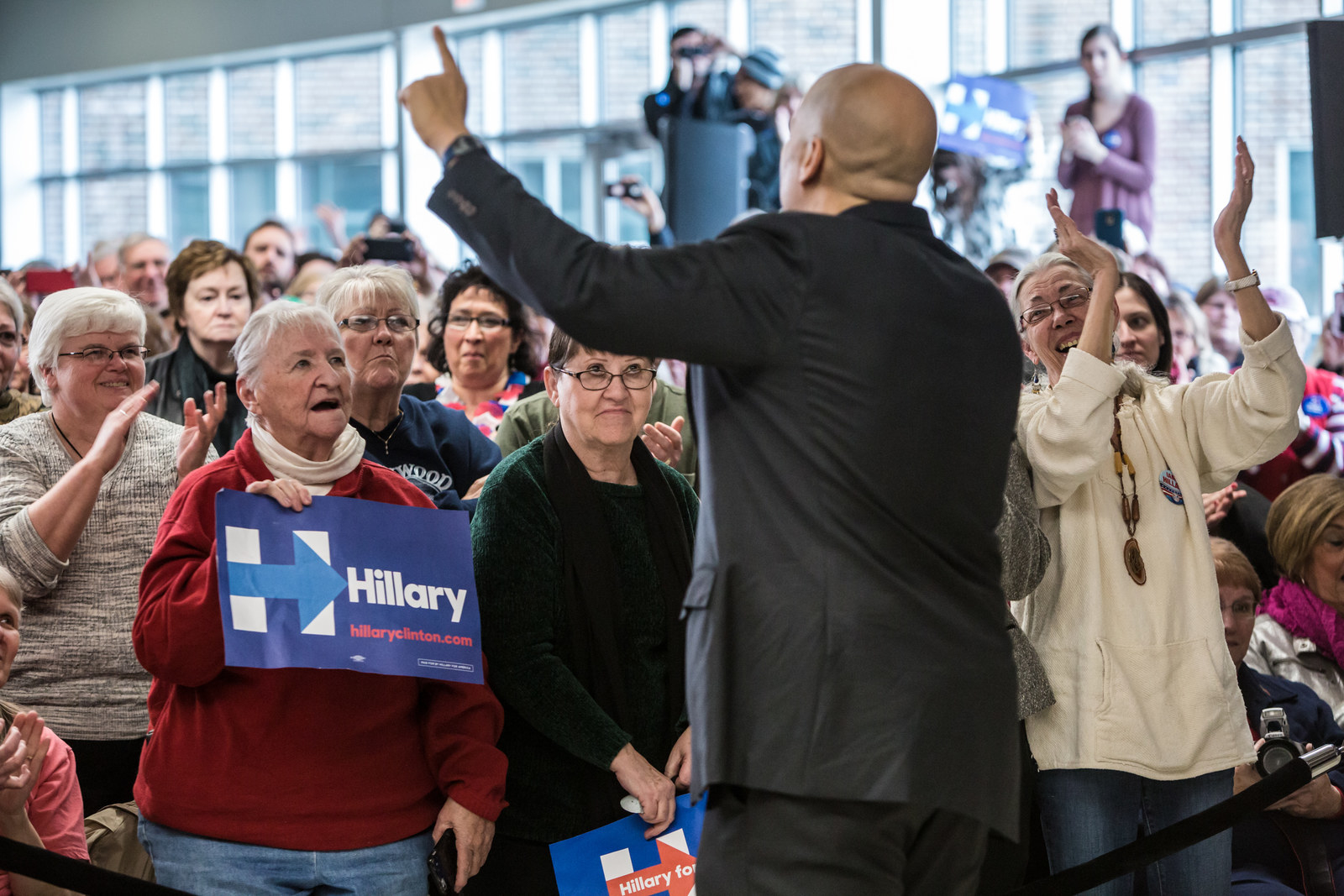 Boykin Curry, the hedge fund manager and longtime Booker contributor who founded a network of charter schools in New York City, has consulted friends about the idea of an outside pro-Booker super PAC. (Curry did not respond to an email seeking comment. His brother, Marshall Curry, the filmmaker who directed Street Fight, an all-access documentary about Booker's first mayoral bid in 2002, said he had no knowledge of Boykin's interest in a super PAC. "We sort of keep in our different lanes," he said.)
Donald Sussman, a donor who has spent millions supporting Democratic causes, has also indicated that he is ready to support a Booker campaign, according to two officials familiar with his thinking. (Sussman did not respond to a request for comment.) And another major Democratic funder, the San Francisco–based Steve Phillips, told the New York Times on Thursday that he is moving forward with plans for his own super PAC, regardless of whether Booker has made a final decision about launching a campaign.
Phillips, an early Obama backer ahead of the 2008 election, said he hopes to raise $10 million in the coming months and has already secured pledges totaling $4 million.
The PAC's name, Dream United, is a nod to Booker's own rhetoric — his memoir, United, calls for "empathy and connection," "responsibility and obligation" — though the senator's aides have already distanced Booker from any early-money projects.
"There has been no activity on his part or that of his team to organize or endorse the creation of a super PAC," said Jeff Giertz, a Booker spokesperson.
"Sen. Booker continues to weigh with his family and friends whether he should run for president, and any effort to draft him into the race is outside of his control and will not affect his decision."
This week, on the heels of a major Senate victory, Booker described his outlook with the same earnest drive as the student who kept whiteboards above his bed.
"I feel tremendously focused and clear on my goals," he said. "I have that same sense of clarity."