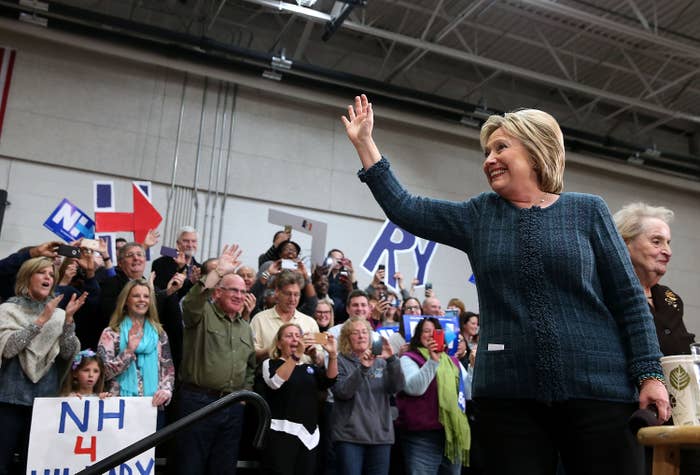 MANCHESTER, N.H. — Last spring, when she first faced questions about the personal email account she used as secretary of state, Hillary Clinton called for transparency. ("I want the public to see my email. I asked State to release them.")
Last fall, when she drew headlines about the scandal's effect on her "trustworthiness," Clinton touted her efforts to be transparent. ("I've gone longer and farther to be as transparent as possible. Nobody else has done that.")
And last month, when the intelligence community prevented the release of more than 20 emails, Clinton and her aides, again, demanded transparency. ("We firmly oppose the complete blocking of the release of these emails.")
But just days before the New Hampshire primary, amid calls to release transcripts from her closed-door paid speeches, Clinton hasn't been quite as forthcoming.
At the last Democratic debate, moderators asked whether Clinton would in the spirit of "full disclosure" be willing to publish transcripts of speeches she delivered after leaving the State Department in 2013 — including to financial firms like Goldman Sachs. "I don't know the status," Clinton replied, "but I will certainly look into it."
Contracts from two paid speeches — made public through records requests in 2014 — each include the same boilerplate language ensuring that Clinton alone owns the rights to the contents of her speech and any reproductions of her speech.
"The sponsor shall not have ownership rights of any kind," read both contracts for speeches to the University at Buffalo and the University of Nevada–Las Vegas.


The contracts from the Harry Walker Agency, which arranged Clinton's paid speeches from 2013 to early 2015, also require hosts to hire a stenographer.
The documents suggest that Clinton owns the transcripts of the speeches arranged by Harry Walker and would face no contractual restrictions on their release.

After the Thursday debate, Clinton aides continued to tell reporters that they'll "look into" the question. Over the weekend, they ruled out the possibility that she might release the transcripts to the public anytime before the Tuesday primary.
"She said she'd look at it," said Clinton chairman John Podesta on MSNBC. "She also said that once New Hampshire is done, she'll take a look at that."
The candidate and her campaign seemed unprepared for the question. In interviews this week, Clinton repeatedly declined to elaborate on what "looking into it" might entail. Her aides have gone no further — even though at least one publication, the Washington Post, has been asking about the speeches "for the last two weeks."
On Sunday, Bernie Sanders took up the issue himself.
Voters should "know what was said behind closed doors," he said on CBS News's Face the Nation, referring specifically to speeches she gave to financial firms.
"A lot of people think you know that's ultimately her decision," said Sanders. "I think it would be you know a positive thing for the American people to know what was said behind closed doors to Wall Street, but ultimately that is her decision."