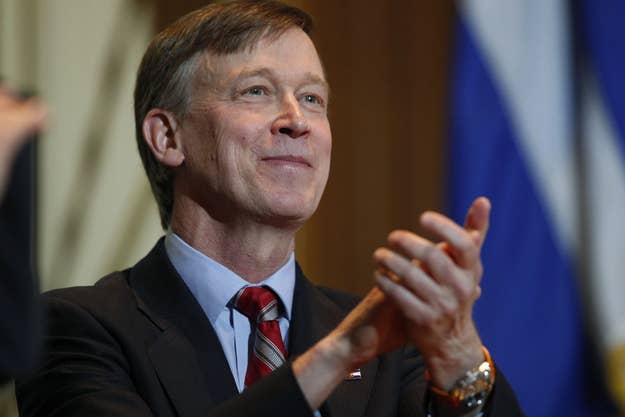 WASHINGTON, D.C. — Governor John Hickenlooper said Saturday that he and U.S. Attorney General Eric Holder are working to establish a legal framework for the Colorado measure, passed by a 55-45 margin on the state ballot last November, to legalize the recreational use of marijuana.
Although federal law still prohibits marijuana, Colorado is now one of two states — Washington state voters passed a similar law last fall — to have legalized limited possession and distribution of the drug. Despite the federal Controlled Substances Act, which classifies marijuana as a controlled substance, Gov. Hickenlooper signed a proclamation in December that placed the marijuana ballot measure into state law.
"I met with Eric Holder just at the reception during the Inauguration," Hickenlooper said. "It's a challenge for everybody. In the law of the land, marijuana is a controlled substance — it's illegal — but our voters felt, by a wide margin, 55 to 45, that it should be legal. So now we have a conflict."
Hickenlooper, a Democrat, said he did not personally support the marijuana measure but is now working to implement it at the will of his constituents.
"I did not support the initiatives for a variety of reasons, but our voters were pretty clear. We are agresively trying to implement it and do it in a safe way," he said. "I'm quite concerned about the effects of the high octane — the high level THC — in marijuana."
Hickenlooper said Holder was in fact open to finding a federal framework under which Colorado could maintain the newly passed state law.
"They're looking at how we can adjust something in the rule-making — is there something in the regulatory framework that we can accommodate the will of these voters, and can we do it in such a way that doesn't endanger or put undue pressures on our neighboring states or other states?" Hickenlooper said. "No one's got the answer on this one."
"They have an open door to discuss it and try to work through this," he added of Holder's team at the Justice Department. "There's more nuance to the law than just the black and white." One legal option, said Hickenlooper, would be to "go back to Congress and somehow change the controlled substance laws — they're open to all of that."
Gov. Jay Inslee of Washington has held similar meetings with Holder about his own state's marijuana law. "We're both in the same boat," said Hickenlooper.
"This is one of the real challenges of democracy," he added. "States are the laboratory of democracy, and sometimes sometimes someone in the corner of the laboratory is doing an experiment that you didn't approve, but that's the way our system works. When that happens, everyone's got to roll up their sleeves and work together."