Clinton: "We Should Be Supporting Planned Parenthood, Not Attacking Planned Parenthood"
The three Democratic presidential candidates addressed the Colorado shooting on Sunday night, with the frontrunner sharply calling for gun control.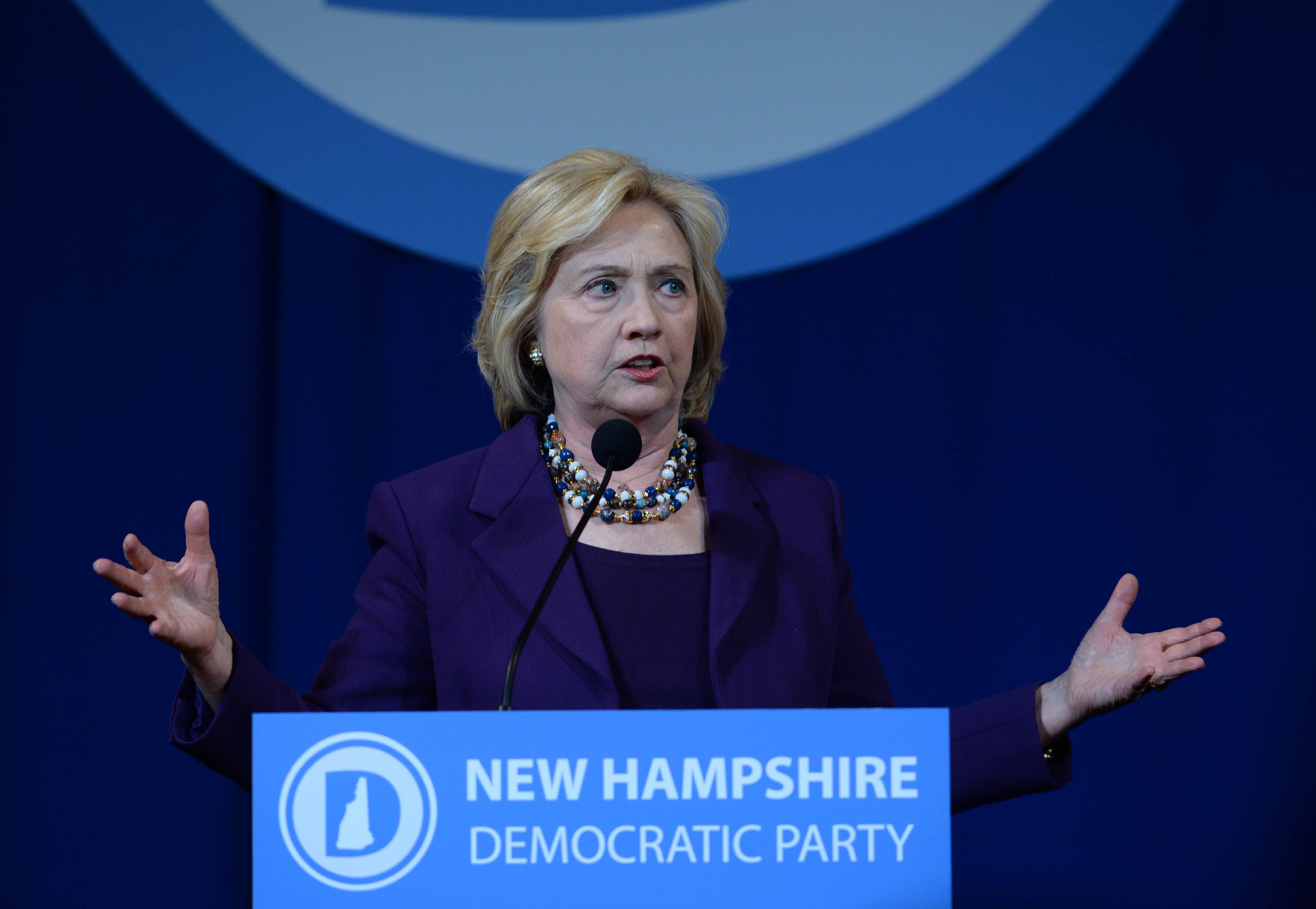 MANCHESTER, N.H. — Hillary Clinton offered a brief but forceful defense of Planned Parenthood on Sunday night, advocated for stronger gun restrictions, and spoke with dismay about the shooting spree at the clinic in Colorado Spring that killed three people over Thanksgiving weekend.
"The shooting on Friday was at, as you know, a Planned Parenthood clinic, a place where lots of women get health care they need — breast exams, STD testing, contraception and, yes, safe and legal abortions," Clinton said. "We should be supporting Planned Parenthood, not attacking Planned Parenthood."
Clinton, along with her Democratic opponents, Sen. Bernie Sanders and former governor Martin O'Malley, each addressed the shooting in speeches here at the state party's annual Jefferson-Jackson fundraising dinner in downtown Manchester. All three candidates called for the protection of Planned Parenthood, the women's health care and abortion provider suddenly at the center of a tangled political debate over gun laws, reproductive rights, and the motivations of Robert Lewis Dear, the man allegedly behind Friday's shooting in Colorado Springs.
"How many more Americans need to die before we take action?" Clinton asked the thousands of state activists, donors, and officials gathered at Manchester's Radisson Hotel.
After calling for "condolences and prayers" for the families of the three victims, particularly the lone police officer killed in action, Clinton ticked off the new gun measures she has already proposed as part of her campaign: "Common-sense steps like comprehensive background checks," she said, "closing the loopholes that let guns fall into the wrong hands — even people on the terrorist watch list."
"This is truly unbelievable," she paused, then raised her voice. "That after what we've seen in Paris and in other places — the Republicans will not bring up a bill that will prohibit anyone on the no-fly list from buying a gun in America…?"
And finally, Clinton added, there was the repeal of an immunity measure that protects gun manufacturers. It's one that Sanders voted for as senator. "That was a mistake, plain and simple," Clinton said, "and we need to reverse it."
Sanders, whose speech kicked off the dinner, made the briefest remarks on the shooting, folding the matter into a laundry list of other issues — same-sex marriage and women's rights more broadly — that he said would need defending before Republicans in Congress and in the election.
O'Malley, who spoke next, provided the more forceful condemnation of the shooting. Dear, 57, allegedly told police "no more baby parts," but much is still unknown about the motives that led him to turn a gun on the Planned Parenthood clinic.

The former governor, however, described the Colorado Springs tragedy as one among several recent mass shootings driven by "intolerance, racism, and hate." He described the massacres as nothing less than "acts of terror."