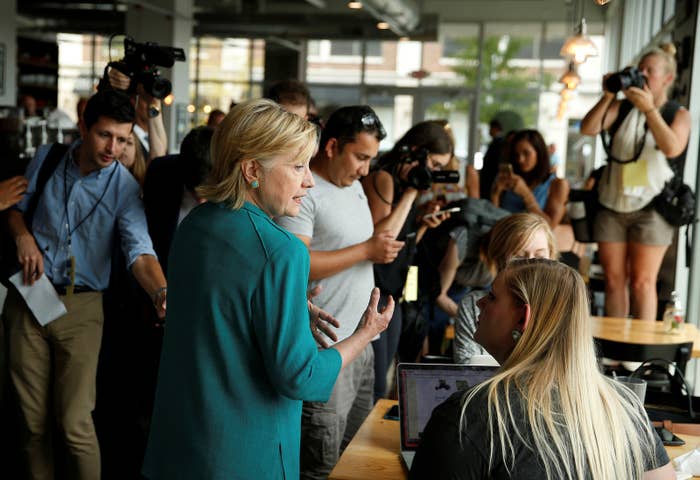 WARREN, Mich. — Hillary Clinton took direct aim Thursday at the issue that has weakened her credibility with progressives and made her opponent an unlikely populist icon for hundreds of thousands of working-class and blue-collar Americans.
Trade.
Clinton delivered an economic speech from the factory floor of Futuramic, an aerospace company here outside Detroit, the struggling home of American manufacturing, laying into Donald Trump's resistance to international trade deals as an approach "based on fear, not strength" and a cornerstone of the "America First" doctrine that she said would only "cut ourselves off from the world."
Since the start of the race more than 15 months ago, trade policy has created some of Clinton's most difficult political terrain, first against Sen. Bernie Sanders in the Democratic primary, and now against Trump, a Republican whose positions mark a major departure from the party's long-standing support for free trade deals.
Last October, as the race tightened against Sanders, the liberal senator from Vermont, Clinton distanced herself from the Trans-Pacific Partnership, a massive trade deal negotiated by President Obama's administration with Japan and 11 other countries. As secretary of state, Clinton argued in favor of the TPP, which she described as the "gold standard" for "open, free, transparent, fair trade."
Amid pressure from progressives last year, Clinton broke with her own past statements, saying she could not support the deal because of "unanswered questions" and currency manipulation that could possibly affect American jobs.
Last month at the Democratic convention, Clinton's support for the TPP came under question again when Virginia Gov. Terry McAuliffe, a longtime friend, suggested that once in the White House she might look to support or renegotiate the deal. Among progressives, there is also concern that the deal might be passed and signed during the upcoming lame-duck session of Congress. Progressive groups have said they want Clinton to publicly oppose such an effort.
On Thursday, in her speech here at Futuramic, Clinton spoke unequivocally about her stance on TPP, ruling the possibility of future support: "I will stop any trade deal that kills jobs or holds down wages, including the Trans-Pacific Partnership. I oppose it now, I'll oppose it after the election, and I'll oppose it as president."
Clinton acknowledged the anxiety over trade that Trump has channeled since the start of his presidential campaign and still talks about "all the time," she said.
"It's true that too often, past trade deals have been sold to the American people with rosy scenarios that didn't pan out," Clinton said, adding that enforcement has been too lax, to the detriment of American workers.
"Those promises now ring hollow in many communities across Michigan and our country that have seen factories close and jobs disappear."
Clinton promised to apply a firm hand to trade negotiations, set a "high bar" for deals, triple the number of trade enforcement officers, and create the role of a chief trade prosecutor. In recent polls, Clinton actually leads among voters when asked who they think would better handle trade.
Trump, she told a crowd of 450 invited guests, "may talk a big game on trade, but his approach is based on fear, not strength — fear that we can't compete with the rest of the world even when the rules are fair; fear that that our country has no choice but to hide behind walls."
"The answer is not to rant and rave — or to cut ourselves off from the world," Clinton said. "That would kill even more jobs."
"If Team USA was as fearful as Trump, Michael Phelps and Simone Biles would be cowering in the locker room, afraid to come out to compete," she added of the two star Olympians. "Instead, they're winning gold medals! America isn't afraid to compete."
Clinton's 40-minute address — one of a handful of major economic speeches she's delivered this year — came as a rebuttal to a new set of tax proposals, unveiled by Trump at his campaign event on Monday, including a new tax loophole targeting what's called "pass-through income" — income that passes through a business directly to its owners.
The proposal would help small businesses, as Trump has noted, but would also aid rich owners like the candidate himself, according to the Center on Budget and Policy Priorities.
"Let's call it the 'Trump Loophole,'" Clinton told voters here Thursday.
In her own campaign, the Democratic nominee has proposed a series of expensive investments in infrastructure, housing, education, and clean energy, all aimed at boosting wages and creating jobs, and paid for by a new tax on multi-millionaires and closing the so-called carried interest loophole. (Trump also supports ending the carried interest loophole.)
Clinton, whose campaign launched a new effort Wednesday at winning Republican and Independent voters, made another blunt pitch here for their support as she outlined her proposals.
Members of Trump's own party, she noted, have rejected what she described at various points on Thursday as his "outlandish ideas," his "negative, pessimistic view," and his "Trumpian spin."
"I hope that after giving a fair hearing to both sides," she said, "you'll join the millions of people across the country supporting our campaign, not just Democrats, but a growing number of Republicans and Independents, as well."