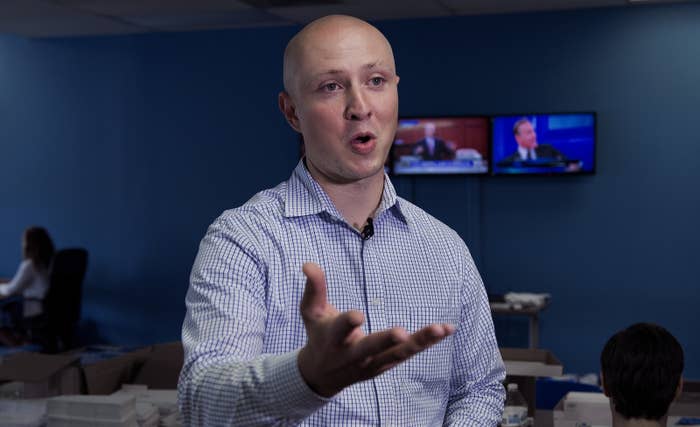 WASHINGTON — A longtime Hillary Clinton operative is launching a bid for vice chair of the Democratic National Committee, marking an early move inside Clinton's extended orbit to help shape the party in the wake of its surprise loss last month.

The staffer, Adam Parkhomenko, worked for Clinton's 2008 presidential campaign, co-founded the group Ready For Hillary in 2013, and served on her last campaign as the director of grassroots engagement before leaving for a role at the DNC.
Parkhomenko, 31, said Tuesday that he hopes to succeed former Minneapolis mayor R.T. Rybak, one of the party's current five vice chairs. Rybak, however, has already endorsed another Democrat to step into his own vice chair seat: Michael Blake, a New York assemblyman who worked on President Obama's campaigns.
The DNC has been seen at points as one of the party's less influential entities, with little structural influence in how Democrats run key state and federal races.
Still, after a blindsiding defeat to Donald Trump in last month's election, Democrats have cast competition for top DNC leadership roles, from vice chair to chair, as part of a proxy battle for the direction of the party. The election of one leading contender for DNC chair, Rep. Keith Ellison of Minnesota, would be seen as a victory for the progressive populist wing of the party that backed Bernie Sanders over Clinton.
Labor Secretary Tom Perez, another progressive and one of Clinton's most active surrogates, is also expected to enter the chair's race. Interim chair Donna Brazile, a veteran Democratic operative, stepped into the role this summer after a cyberattack on the DNC prompted the resignation of Rep. Debbie Wasserman Schultz.
Parkhomenko's candidacy also comes as hundreds of Clinton staffers have been searching for roles inside the party's newly shaken infrastructure after failing to deliver a race seen as one the former first lady should've been able to win.
Earlier this month, Virginia Democratic strategist Ben Tribbett said he'd been trying to recruit Parkhomenko to run in the state's upcoming lieutenant governor's race. The former Clinton aide has run for public office once before, losing a Democratic primary campaign for the Virginia House of Delegates in 2009 at the age of 23.
Parkhomenko said he has already secured support from a significant number of DNC members, who meet in late February to vote on the party's leadership. He pointed to plans to invest heavily in grassroots organizing — his focus on the Clinton campaign — and help retool the DNC's presence on the ground in the states.