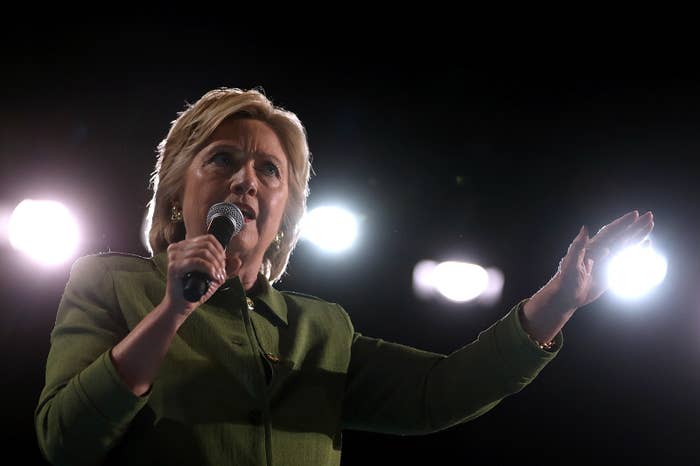 TAMPA, Fla. — Five small words from Donald Trump's 75-minute acceptance speech at the Republican National Convention shot out, leaving Hillary Clinton "shocked."

I alone can fix it.
The phrase, so Clinton argued to a crowd of 3,600 here on Friday in Tampa, encapsulated Trump's vision of an isolationist, divided America, driven by hate and fear, and led by an authoritarian president who "talks trash about America."
"'I alone can fix it,'" Clinton said, repeating the line with a raised brow. "Now, just think about that for a minute, because it's really important. His vision of America is one where we Americans are kind of helpless — where we need to be rescued. I can't really imagine him on a white horse, but that seems to be what he's telling us: 'I alone can fix it.' Well, he doesn't understand that Americans — we Americans — we are strong, big-hearted, results-oriented, generous people in America."
"That's not a democracy, my friends," she said, adding in stark terms that could very well be found in a conservative pitch for small government, "We had a revolution to make sure we didn't have someone who said, I can fix it alone."
The rally at the Florida State Fairgrounds, part of a two-day swing through the crucial battleground state, offered voters Clinton's first full rebuttal to this week's convention in Cleveland, where chants of "Lock Her Up!" were commonplace.

Clinton briefly acknowledged the at times vitriolic attacks ("It's hard to believe they spent so much time talking about me," but no solutions, she said) but argued that Trump himself had taken a "dark and divisive vision" to "a whole new level."
The appearance in Florida came as Clinton is expected to reveal her vice presidential selection, an announcement that appeared to be delayed Friday in the wake of a terrorist attack in Munich, another in a string of European attacks.
Earlier on Friday, Clinton hosted a small campaign roundtable in Orlando with people affected by the deadly attack on the gay nightclub Pulse, including leaders from the LGBT community, first responders, and family members of the victims.
She recounted for the crowd here that the participants had spoken about the virtues of being "on a team" and "doing his or her part" in the shooting's aftermath.
"I didn't meet any one of them who said, 'Hey, I can fix it alone,'" Clinton said, moving back to Trump. "I've never heard of an American leader, or at least someone who wants to be an American leader claiming that he's all we need."
Trump's speech on Thursday followed Ted Cruz's Wednesday speech, in which the Texas senator refused to endorse Trump — a fact that only slowly dawned on the Republican convention audience, but produced a firestorm of boos and jeers, especially when Cruz told viewers to vote their conscience in November. That, too, garnered Clinton's attention on Friday. "Something has gone terribly wrong when one speaker says 'vote your conscience' and gets booed," she said. "I mean, I never thought I would say these words, but, Ted Cruz was right!"
The Democratic National Convention is set to begin on Monday in Philadelphia. There, Clinton said, voters can expect to see a vastly different gathering: no "scary speeches," no people "yelling at us at the top of their lungs like they did all week."
"We will choose to be 'Stronger Together,'" she said, flanked by two signs bearing the phrase, a feel-good motto that her aides have put front and center this summer.
Her approach to the high-profile shootings and terrorist attacks, and toward the sense of voter frustration and anger, over the past year is multi-faceted: a call for safety and stability, and an appeal to collaboration and respect. "Now you can't really put this into laws, what I'm about to say — but we need more love and kindness in this country, we need more respect between and among our fellow Americans."
With that message comes an acknowledgment of that voter frustration as legitimate. "I know there are people who are feeling insecure and anxious about their lives, about their futures... I know that there's a lot of angst about all the changes that are happening in the world — technology, globalization — I understand all that."
But, Clinton, said, "I've never known us to basically retreat into the kind of isolationism that was being advertised at their convention. That is not who we are. Those are not the values that made this a great country."