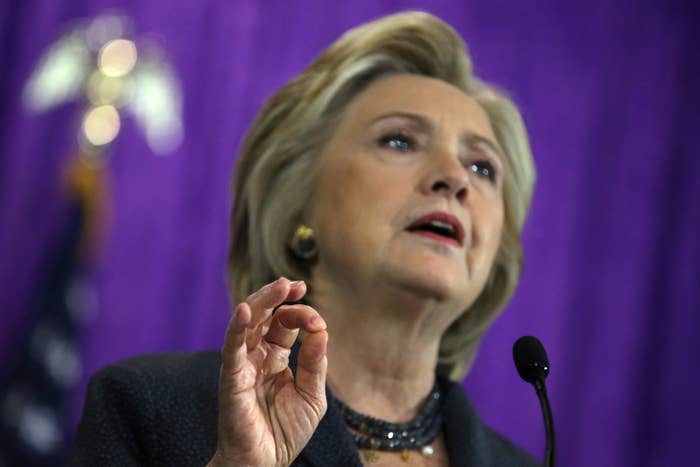 WASHINGTON — Hillary Clinton answered her opponent's admission Friday that Barack Obama was born in the United States with an ardent tribute to the president as a leader and a man of "class, grace, and integrity."
Accepting an award at the Congressional Black Caucus Foundation's annual gala, Clinton did not refer to Donald Trump by name, but addressed Obama directly before an audience of thousands here in the Washington Convention Center, calling him "one of the best presidents our country has ever had," even in the face of what she described as "hateful nonsense."
"I know I speak for not just everyone in this room, but so many tens of millions of Americans: Mr. President, not only do we know you are an America, you're a great American," she said. "And you make us all proud to be Americans, too.
"As Michelle says," Clinton added, paraphrasing the first lady's speech at a campaign rally on Friday afternoon in Virginia, "when others go low, we go high."
The 46th annual awards dinner, a black-tie gala hosted by the Congressional Black Caucus Foundation, featured a line-up of elected officials who spoke in urgent terms about the election this fall just one day after the Republican nominee acknowledged Obama's birthplace without an apology, and lying about his years-long involvement in fueling what's known as the birther movement.
The chair of the board of the foundation's directors, R. Donahue Peebles, opened the program by referring to Trump as a "bigot." Others, like Rep. G. K. Butterfield, Congressional Black Caucus chair, stressed the importance of "100% turnout in this election" among black voters.
Clinton's nine-minute speech here marked her first extended reaction to Trump's widely criticized event on Friday. His campaign stop, held inside the GOP nominee's new hotel in Washington, was billed as an event with veterans and a press conference, then later promised to emphasize his beliefs about Obama's birthplace. Instead, Trump offered 30 seconds of remarks on the subject, took no questions, and in the process promoted his new property.
For months, particularly in front of black audiences, the Democratic nominee has highlighted her opponent's central role in pushing the racist conspiracy theory that Obama was not born in the United States.
In a sharply worded speech to the NAACP this spring in Detroit, Clinton cast Trump as a direct threat to Obama's legacy as first the black president of the United States.
Trump, she reminded the crowd at that event, was the man who "led the insidious birther movement," who played "coy" with white supremacists, and hedged of questions about his support from fringe figures like David Duke. "We cannot let Barack Obama's legacy fall into Donald Trump's hands," she said.
At the CBC dinner on Saturday, Clinton addressed Trump with the same contempt, telling attendees here that the presidency can't "fall into the hands someone who doesn't understand" Obama's legacy, and "whose dangerous and divisive vision for our country will drag us backwards."
And, Clinton said, "it's not just the president he's been, but the man he is. Even when hateful nonsense is thrown their way, Barack, Michelle, their two beautiful daughters, have represented our country with class, grace, and integrity."
"It's not about birth certificates, it comes down to who will fight for the forgotten."