Clinton On Benghazi Committee: If I Were President, "I Would Have Done Everything To Shut It Down"
The former secretary of state has gone hard on the Benghazi committee over the past week, calling it a partisan effort.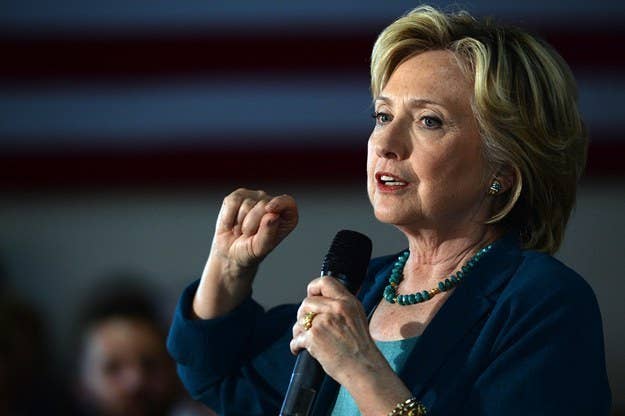 HOLLIS, N.H. — Her campaign has called the House Select Committee on Benghazi a "taxpayer-funded sham," a "Republican hit-job," and an investigation designed to drive down poll numbers and play "electoral politics with a terrorist attack."
On Monday, at a televised town hall here in New Hampshire, Hillary Clinton said as much and then some: She argued that the committee was set up "for the sole purpose of going after me"; she accused Republicans of exploiting the deaths of the four Americans killed in the Benghazi attacks; and she said that, were she serving as president, she would've tried to dismantle such a committee.
"This committee was set up as they have admitted for the purpose of making a partisan, political issue out of the deaths of four Americans," Clinton said in a live town hall with about 70 voters, hosted by NBC News. "I would've never done that. And if I were president, and there were Republicans or Democrats who were thinking about that, I would have done everything to shut it down."
Since the Republican-led Benghazi committee was established in 2014, coverage of the committee has largely focused on its interactions with the State Department and Clinton officials, rather than President Obama, who is rarely asked about it and has not often spoken about the committee.

Last week, Majority Leader Kevin McCarthy described how the Benghazi committee has affected Clinton's polling numbers — remarks that have been criticized by members of both parties, and allowed Clinton to argue the committee is a partisan effort.
"Everybody thought Hillary Clinton was unbeatable, right?" McCarthy said in an interview on Fox News. "But we put together a Benghazi special committee, a select committee. What are her numbers today? Her numbers are dropping. Why? Because she's untrustable. But no one would have known any of that had happened had we not fought."
Clinton, who is scheduled to testify before the committee on Oct. 22, raised the topic in response to a question from NBC News host Savannah Guthrie about the personal email account the former secretary of state relied on in the administration.
"I have to ask you if the tables were turned, if this were Dick Cheney or Karl Rove who had a private email account and a private server," Guthrie asked, "would you be as understanding?"
Right away, Clinton noted that some Republicans have sought to link the questions about her email use to the House investigation into the handling of the 2012 attack in Benghazi. "I would have never done that," Clinton exclaimed forcefully, her voice rising as she brought up the death of Ambassador J. Christopher Stevens.
"Look at the situation they chose to exploit to go after me for political reasons: the death of four Americans in Benghazi," she said. "I knew the ambassador. I identified him. I asked him to go there. I asked the president to nominate him."
"There have been seven investigations led mostly by Republicans in Congress, and they were nonpartisan, and they reached conclusions that, first of all, I or nobody did anything wrong, but there were changes we could make," said Clinton.
Guthrie asked Clinton if she agreed with Nancy Pelosi, the former Democratic Speaker of the House, who said recently the committee should be shut down.
"Well, I have to say that now that they've admitted it's a political, partisan committee for the sole purpose of going after me, not trying to make our diplomats who serve in dangerous areas safer — that's up to the Congress," said Clinton.
"If they're gonna have it still running, I'll be there. And I'm looking forward to answering questions about real things when I'm there."