Clinton: No, I Do Have Young Enthusiastic Supporters
A poll this week put Clinton down 50 points to Sanders among voters under 44 in Iowa. Her campaign continues to try to dispel the idea that it doesn't have enthusiasm.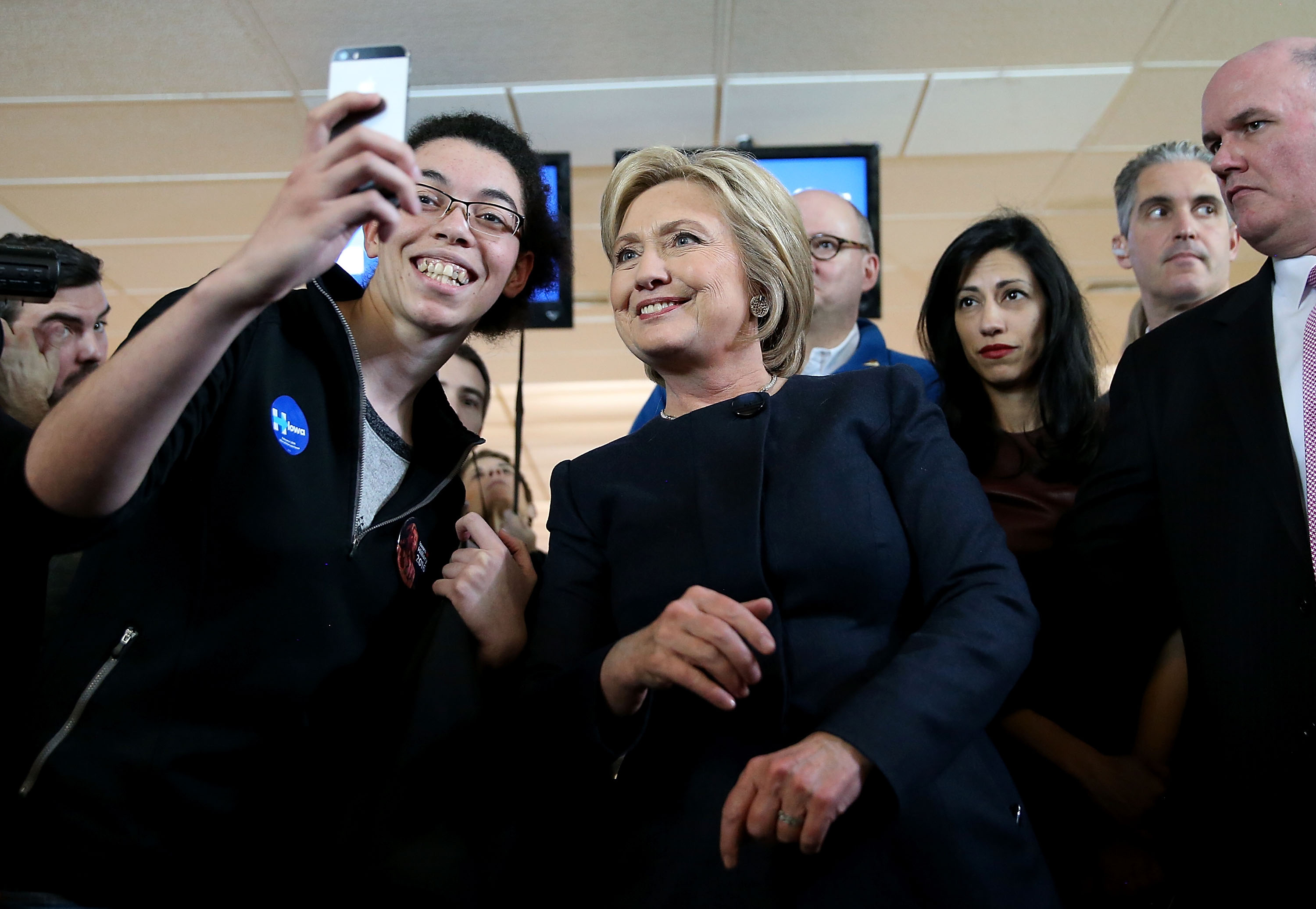 NEWTON, Iowa — At the end of a "Get Out The Caucus" event on Thursday night, near the front of the audience here at Berg Middle School, a young woman asked Hillary Clinton to respond to the "misperception" plaguing her campaign.
"I think that there is a misperception that young voters are not as adamant supporters of you as perhaps one of your opponents," she told Clinton. "As an adamant supporter of you for the past eight years, I have to ask: In these last few days before the caucuses, what do you have to say to my generation?"
The woman, who identified herself as a student, alluded of course to Sen. Bernie Sanders, whose campaign boasts major youth support and 2.5 million "grassroots" donations. Clinton and her aides, over the course of their nine-month campaign, have sought to dispel the impression that she lacks enthusiasm from young voters.
Clinton nodded along to the question, then argued that her campaign does in fact enjoy the same kind of support as her main rival in the caucuses.
"I feel very honored to have the enthusiastic support of so many young people across Iowa. They are working in my campaign. They are volunteering in my campaign. They are organizing on campuses," Clinton said. "And it means the world to me."
A Quinnipiac poll this week shows that likely Democratic caucus-goers from the age of 18 to 44 back Sanders over Clinton by a wide margin — 78% to 21%. The campaign addressed the enthusiasm question on Thursday in a email to supporters from the candidate: "Our opponent just doesn't seem to think we have the fight and enthusiasm to take this across the finish line," the email reads. "I disagree."
In Newton, Clinton acknowledged that young people often tell her at events how torn they feel between her campaign and the Sanders campaign.
"I'm also seeing more young people come to my events," Clinton said, "and frankly tell me — I'm going to shake hands with everybody now — they frankly say, I can't make up my mind between you and Sen. Sanders, and you know, I try to give them some of the reasons why I hope they will support me and, you know."
Then she launched into her case to young voters, a mix of economics, Obama's presidency, and protecting rights:
I want you to take advantage of what has happened in our country in the last years. To really open it up to more respect and more tolerance, and let's move away from all this mean-spiritedness and this insulting — that's not how we want to show our children and our young people how to live. I feel so strongly about that. And that comes from getting the economy going again, so you don't feel like you're not gonna have the chance to get a good job, a good middle-class life. It means getting those college loans paid off, getting those college bills down. It means making sure we've got health care and we don't rip it away from you. It means protecting your rights. I mean, the Republicans are against civil rights, women's rights, gay rights, voter rights, worker rights — it's a long list.